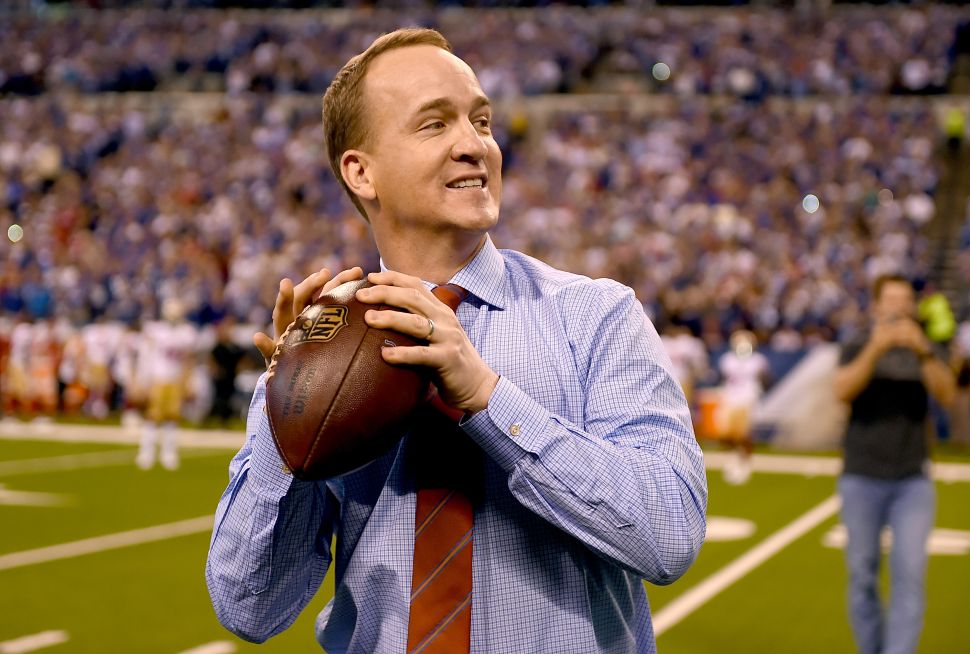 Can Peyton Manning help with the NFL's declining television ratings? ESPN and Fox sure seem to think so.
This year's Super Bowl attracted a total of 106 million viewers, with just 103.4 million through linear television. That marks the lowest total since 2009. Overall, the 2017 season dropped nearly 10 percent in the ratings compared to 2016, which itself was down eight percent from the year before.
Amidst this ratings skid, ESPN is shelling out $2 billion for the broadcast rights for Monday Night Football (MNF) against an estimated total of just $285 million in ad revenue. Fox, meanwhile, just wrote a check for $3.3 billion to the NFL for the rights to Thursday Night Football (TNF).
And they both want Manning to spearhead their respective game nights.
The New York Post reports that ESPN and Fox have been trotting out the full court press in an effort to lure Manning into the broadcasting booth, though the future Hall of Famer is reluctant to jump into such a role.
The former quarterback has never been shy about his plans for post-football life; he wants to assume a John Elway-type role, in which he acquires a minority ownership stake in a team and oversees football operations. Many assume that will eventually happen with his hometown Tennessee Titans.
ESPN just lost Jon Gruden, who they were reportedly paying $6.5 million a year, when he agreed to a 10-year, $100 million contract to coach the Oakland Raiders. The Worldwide Leader in Sports is reportedly willing to "back up the truck" for Manning. The network is also said to be considering an overhaul of its MNF format.
"If you were going to do it, this is the time," one source told the Post of such a move.
Fox has Joe Buck and Kevin Burkhardt on hand, though they also split their time with the MLB and Sunday football. The network's preference appears to be bringing in a new crew for the gig. They have reached out to Manning previously since he retired but have not yet been able to land him.