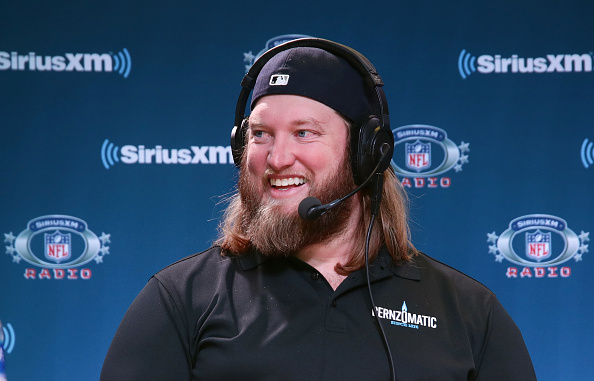 Former New York Jets center Nick Mangold is weighing a run for the seat that will be vacated by retiring Rep. Rodney Frelinghuysen (R-11), according to a report.
Last week, Frelinghuysen, 71—a 23-year incumbent and chairman of the powerful House Appropriations Committee—announced that he is stepping down from Congress at the end of his term.
He did not state why he was retiring. But he was viewed as one of the most vulnerable Republican incumbents ahead of the November midterm election.
Mangold, 34, played for the Jets from 2006 to 2016. He went to Ohio State University.
Essex County GOP Chairman Al Barlas said Mangold is a registered Republican who voted in three of the last five primaries, as well as six of seven general elections, according to POLITICO.
"I had a conversation with him," Barlas told POLITICO. "He's intrigued by the idea. He has to think it over and talk with his wife. After an 11-year playing career and a college career, he's enjoying being at home with his wife and kids."
Barlas also described Mangold as a "different candidate" who provides a "different name ID."
So far, the only Republican to formally launch a campaign in the race to replace Frelinghuysen is Assemblyman Jay Webber (R-Morris), who announced his plans to run for the seat last week.
Sen. Joe Pennacchio (R-Morris) and Republican Whip Assemblyman Anthony Bucco have exploratory committees. Other candidates currently weighing a bid in the GOP primary are Councilman Nicolas Platt and state Sen. Kristin Corrado (R-Passaic).
On the Democratic side, Mikie Sherrill, a former federal prosecutor and Navy veteran, is running for the seat. She is seen as the Democratic frontrunner given that she already has the support of Democratic county chairs in the district.
The primary will take place on June 5.
UPDATE: Mangold took to Twitter on Thursday afternoon to announce that he has no plans to run for the seat.