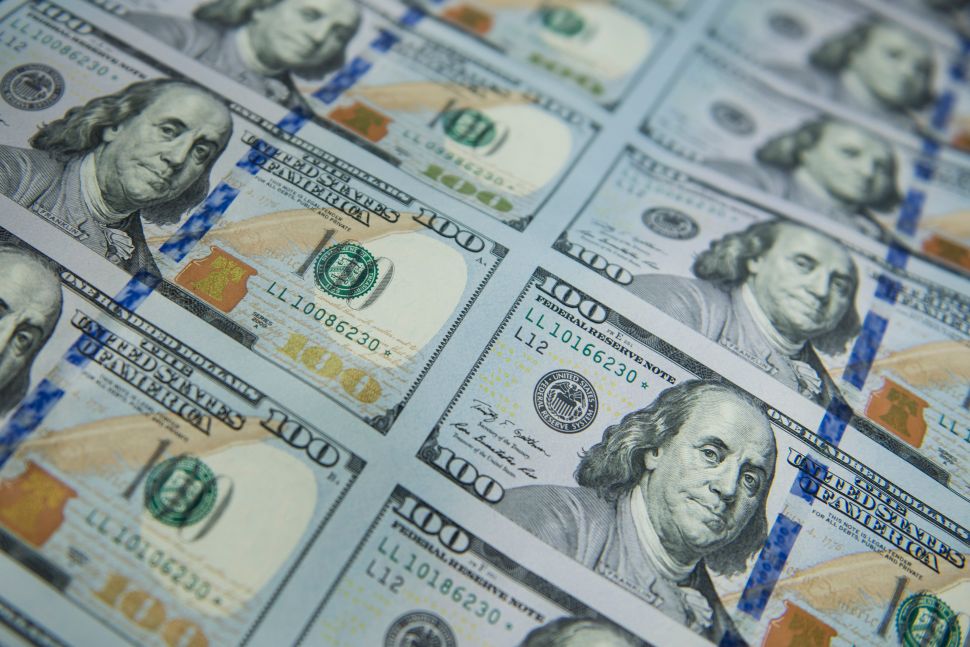 Returning the state sales tax rate to seven percent could raise $600 more for the state, while having little impact on most residents, according to a policy report that calls for the hike and recommends expanding the types of things people would have to pay taxes on.
In the report on the proposal by NJ101.5, a senior policy analyst for New Jersey Policy Perspective said the tax rate cut adopted as part of the push to hike the state gas tax "was a gimmicky tax policy that no one asked for, and reversing it back to its original rate will largely go unnoticed." But the move would have a big impact on the state's finances, analyst Sheila Reynerston said in the radio station report.
NJPP said the tax should be broadened to include accounting and bookkeeping, architects, attorney and engineer fees, among other things.
In the report, Reynerston said cutting spending alone won't help New Jersey's budget problems and that the state needs to consider ways to raise revenues.
"Keep throwing things at the wall until something sticks. If it's not the millionaires' tax, then let's revisit the estate tax. If it's not the estate tax, let's revisit the sales tax code," she said in the radio station report.
Quote of the Day: "There's all sorts of companies that are facing competitive pressures due to a changing marketplace or new technologies." — John Shelk, president of the Electric Power Supply Association, on a proposed $300 million per year to bail out PSEG, which operates two nuclear power plants in the state.
Murphy Signs First Bill, Restores Family Planning Funding
Gov. Phil Murphy signed legislation on Wednesday to restore funding for family planning services, reversing a decision by former Gov. Chris Christie to cut the money from the state budget.
Christian Hetrick, Observer Read more
Antony Ghee Announces Candidacy for Frelinghuysen's Seat
Antony Ghee, an investment banker and Army Reserve major, announced Wednesday that he will seek the Republican nomination for Congress in New Jersey's 11th district.
Christian Hetrick, Observer Read more
Report Says Increase, Expand NJ Sales Tax
The latest suggestion for how New Jersey can find extra tax collections for its imbalanced budget is focused on the sales tax—including returning the rate to seven percent to generate more than $600 million more for the state.
NJ101.5 Read more
Nuclear Plants Are Profitable: Should N.J. Electric Customers Be Asked to Pay More?
New Jersey electric customers are being asked to fork over $300 million a year to bail out one segment of a company whose stock hit record highs in December and whose earnings jumped 20 percent in its most recent report.
The Record Read more
Sweeney Forges Ahead with Major Tax Policy Review, No Input from Murphy Team
Major changes to the federal tax code recently enacted in Washington, D.C. may have significant and unexpected impact on the state economy, according to state lawmakers—particularly in a high-cost place like New Jersey. That's why Senate President Steve Sweeney has ordered a broad review of the state's entire tax and fiscal policy landscape, and he's named well-known outside policy experts to participate.
NJSpotlight Read more
Van Drew's Gun Record Riles Progressives in Democratic Primary for LoBiondo Seat
For years, Democratic state Sen. Jeff Van Drew has held onto his seat in a Republican-leaning South Jersey legislative district partly by voting like a member of the GOP.
Politico Read more
This Pro-Trump Republican Gets Big Boost in Fight to Replace Frelinghuysen
State Assemblyman Jay Webber, seeking the Republican nomination to replace retiring U.S. Rep. Rodney Frelinghuysen, picked up the endorsement Tuesday of a potential rival, who decided not to run himself.
NJ.com Read more
Student Walkout: Shore Teens Demand Action on School Shootings
Hundreds of Shore students stood up from their desks in the middle of class and strolled out Wednesday, walking past their lockers, through the front door, and into the warm sunlight in an act of civil disobedience intended to draw attention to America's unending horror: deadly school shootings.
Asbury Park Press Read more
Stile: Amid the Post-Parkland Shooting Uproar, Murphy Proceeds With Caution
Phil Murphy is vowing to be a man of action, but so far he's been the careful governor of audits.
The Record Read more
UTCANJ Exec: Don't Hold Your Breath on Gateway Tunnel Funding
Anthony Attanasio, executive director of New Jersey's Utility & Transportation Contractors Assn., doesn't expect the proposed Gateway project to be funded this year.
NJBiz Read more
Breaking With Trump, N.J. Buys into Paris Climate Accord
President Donald Trump may not think much of the Paris Climate Accord, but that's not stopping New Jersey.
NJ.com Read more
Moran: Hired, Then Fired, Hours Later; Under Murphy, Teachers' Union Gets Veto Power
Paula White won unanimous confirmation last week from the state school board to serve as an assistant commissioner at the Department of Education – and then lost the job a few hours later.
NJ.com Read more
Report Details Inappropriate Touching by Passaic County Sewerage Vice Chairman
The vice chairman of the Passaic Valley Sewerage Commission admitted to slapping a female employee on the rear after a meeting last summer, according to a report commissioned by the agency and obtained by POLITICO.
Politico Read more
Rider University Has $40M Deal to Sell Westminster Choir College
Rider University announced Wednesday it has a non-binding deal in place to sell its Westminster Choir College in Princeton to a Chinese education company for $40 million.
NJ.com Read more
Lawmakers Drill Down on Policies to Improve Maternal, Child Health
So far, 2018 could be considered the "Year of Maternal and Child Health in New Jersey," with the topic the focus of legislative hearings and a public awareness campaign, and the new governor set to commit millions of dollars more to family planning services.
NJSpotlight Read more
For 8 Bergen Workers, 'Political' Layoff Leads to $1 Million Payoff
Eight Bergen County employees who claimed they were targeted for layoff because they supported Kathleen Donovan in her losing bid for reelection will share in a $1 million settlement.
The Record Read more
Camden County Lawsuit Targets Firm That Makes OxyContin
Camden County on Wednesday joined the ranks of public bodies asking a judge to hold drugmakers liable for the financial impact of the opioid epidemic.
Courier-Post Read more
Blatstein Takes Step to Bring Gaming Back to Atlantic City's Showboat
Two years after closing on his purchase of the Showboat Atlantic City, and as two other A.C. casinos prepare to open this summer, Bart Blatstein has reportedly began the process to obtain a casino license for the property.
Philadelphia Business Journal Read more
N.J. Watchdog Issues Scathing Review of Jersey City Water Agency
The state comptroller's office has issued a highly critical audit report that describes multiple instances of fiscal mismanagement at the Jersey City Municipal Utilities Authority.
NJ.com Read more
Mother of Suicide Victim Settles Bullying Suit Against School for $625,000
The mother of a 15-year-old Morris Township student who died by suicide in 2012 after being bullied, settled a $625,000 lawsuit against the district.
Daily Record Read more
Englewood Appoints Trustees to Downtown Management Corporation
The City Council named six business owners as trustees of the city's Special Improvement District on Tuesday, entrusting them with the promotion and growth of the downtown.
The Record Read more
Editorial: With Bailout Bill, PSEG Would Win, Ratepayers Lose
New Jersey irony: Even a clean-energy bill isn't clean. Public Service Enterprise Group has been seeking a state bailout for its nuclear plants. For the bill to pass, it needed some additives, sort of like gasoline. Attach a rider that funds renewable energy sources, and while you're at it, also extend tax credits for companies willing to invest in offshore wind. The air blowing east from Pennsylvania's coal-fired plants is cleaner than this bill.
The Record Read more
Editorial: Hats Off to Student Gun Activists
Rep. Tom MacArthur, whose voting patterns more closely resemble those of his Republican congressional colleagues in Texas or Louisiana than the rest of the New Jersey delegation, delineated his positions on gun control in an interview with the Asbury Park Press Tuesday. He elaborated in an oped, "We aren't going to do away with private gun ownership," on app.com.
Asbury Park Press Read more
MacArthur: We Aren't Going to Do Away With Private Gun Ownership
On February 14th, many of us observed Ash Wednesday, the beginning of Lent and a time to reflect on the meaning and temporary nature of our lives. That day, a troubled individual who should not have been able to get a gun, took seventeen lives in a Florida school.
Asbury Park Press Read more