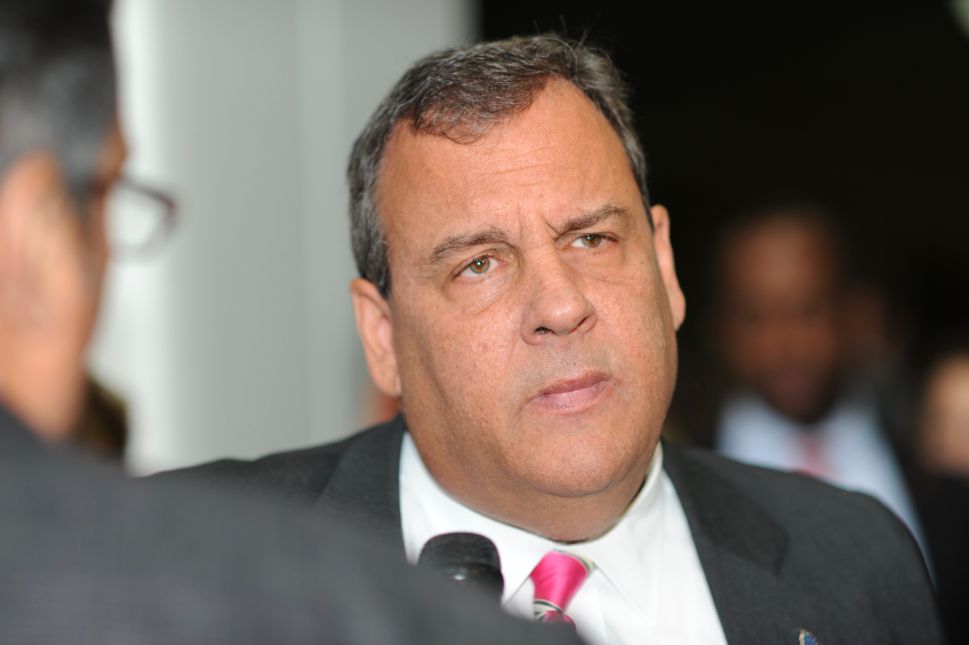 Even as he was entering the final weeks of his final term, former Gov. Chris Christie and his administration were still taking steps to punish perceived enemies, according to a report this weekend on NorthJersey.com.
Late in the afternoon of the last working day of 2017, the state Attorney General's office filed legal paperwork seeking to ensure those convicted in the Bridgegate scandal—Bill Baroni, Bridget Kelly and David Waldstein—never again hold a government job in New Jersey. The state filed similar paperwork against former Port Authority Chairman David Samson, too.
A spokesman for the state Attorney General's Office maintained the effort was in keeping with how the office treats other public officials and employees convicted of crimes that involve their office or position.
But critics say the odd hour of the filings, plus the unlikelihood of Baroni, Kelly or Wildstein ever again being hired for a public post, make the effort appear odd. As the report notes, the filings seem to conform to Christie's well-known penchant "to confront, undermine and often punish critics or perceived enemies, sometimes in meanspirited ways."
Quote of the Day: "You should assume the things we talked about on the campaign trail continue to be the things we're going to try to get done as a governing matter," — Gov. Phil Murphy, on his plan to enact measures like a new tax on millionaires, even as Democrats in the legislature voice reservations about the plan.
New Jersey Finally Gets Behind Proposed Fracking Ban
On Thursday, Gov. Phil Murphy announced that New Jersey would be joining the governors of Pennsylvania, New York and Delaware in support of a ban on hydraulic fracturing—AKA fracking—in the Delaware River Basin.
Emily Cegielski, Observer Read more
Brindle: Independent Spending Up 11,458 Percent in New Jersey Campaigns Since 2005
Spending in New Jersey elections by outside, independent groups has risen astronomically over the last 12 years.
Observer Read more
Chris Christie Took a Parting Shot at Bridgegate Defendants. Was It Necessary?
In the waning hours of the last work day of 2017, as most people were looking forward to a long weekend leading to the New Year's holiday, the Christie administration was quietly burning a few final bridges in the Bridgegate scandal.
The Record Read more
Murphy Sticks to Tax Pledge, Despite Hurdles
Gov. Phil Murphy says he won't back away from promises to raise taxes on millionaires despite pressure he anticipates on state finances from the Republican tax overhaul and legislative concern over raising income tax rates.
Associated Press Read more
Mulshine: Read Steve Sweeney's Lips: No New Taxes
Though the legislative and executive are co-equal branches of government under our state constitution, there's a big difference between them when it comes to access for us journalists.
NJ.com Read more
Christie-Era Policies Hang Over Murphy's Health Agenda
Gov. Phil Murphy has outlined an ambitious agenda for Shereef Elnahal, his nominee for health commissioner: reignite the state's stalled medical marijuana program, increase Obamacare enrollment, fund women's health programs and address economic barriers to accessing care.
Politico Read more
Atlantic City Mayor, N.J. Lawmakers Are Nevada-Bound for Legal Weed Tour
A handful of lawmakers and Atlantic City's mayor are headed to Nevada for a brief "fact-finding" trip next week to learn from another casino-operating state's experience of launching a marijuana economy seven months ago.
NJ.com Read more
N.J. Lawmakers Try Again to Spin Off Management of Pension Fund for Police, Firefighters
Lawmakers have relaunched an effort to spin off management of the pension fund for police and firefighters from New Jersey's larger $78 billion pension system, a move that former Gov. Chris Christie blocked last year over concerns that it gave labor unions a "blank check" to enhance their benefits at taxpayers' expense.
The Record Read more
N.J. to Trump: Stay Away From Our 'Treasured Coastal Communities'
The Murphy administration has sent another signal to Washington that it does not want drilling off the Jersey Shore.
NJ.com Read more
Judge Halts Deportation of Immigrants Taking Sanctuary in Church
A federal judge has temporarily halted deportation proceedings against Indonesian Christians who are in the U.S. illegally but are seeking to gain legal status, including a man honored for his work helping to rebuild more than 200 homes after Superstorm Sandy.
Associated Press Read more
Hundreds of N.J.'s Heavily Traveled Bridges Badly Need Repair. Will Trump Help?
State officials say you shouldn't worry about a new report showing two Garden State Parkway bridges ranked among America's 50 most heavily used spans in great need of repair.
NJ.com Read more
This Prominent Republican Wants to Succeed Frelinghuysen as He Praises Trump
A big-name Republican announced on Saturday that he would run for the congressional seat being vacated by retiring Rep. Rodney Frelinghuysen.
NJ.com Read more
Barbra Streisand Opposes Trump-Friendly N.J. Republican & Other Campaign Fun Vacts
This year's fight for control of Congress in President Donald Trump's mid-term test will play big in New Jersey, which has five races that will help determine which political party controls controls the chamber a year from now.
NJ.com Read more
Underage New Jersey College Students Could Sip Beer and Wine Under New Legislation. But There's A Catch.
Some underage New Jersey college students can toast to this: A state lawmaker wants to allow them to have beer and wine.
Politico Read more
Newark Interim Superintendent Could Be in for the Long Haul
Robert Gregory rises through the school ranks as Newark regains local control.
NJSpotlight Read more
Bill Would Offers Grants, Loan Forgiveness to Keep Teachers on the Job
Teachers would get grants, loan forgiveness and bigger tax exemptions under a bill unveiled by Democratic New Jersey lawmakers Friday that aims to attract more people to the field and keep them there.
The Record Read more
7th Official Arrested in N.J. Prison Rape Scandal
Authorities have charged another corrections officer with sexually assaulting inmates at the state women's prison.
Associated Press Read more
After Years of Investigation, a Sudden Unraveling of the Case Against Menendez
Five days after the Department of Justice announced that it would retry Senator Robert Menendez of New Jersey, the judge in the case all but ripped out its core. Prosecutors, he said in an 53-page opinion, had failed to prove that the senator, a Democrat, had accepted hundreds of thousands of dollars in campaign contributions in exchange for lobbying on behalf of his co-defendant.
New York Times Read more
Bob Menendez: New Jersey's Political Escape Artist
Bob Menendez, who avoided a second corruption trial last week when federal prosecutors announced they were dropping all charges against him, could easily be mistaken for a political version of the legendary escape artist Harry Houdini.
The Record Read more
Port Authority Worker Sues, Alleging Doctor Visit Recorded
A Port Authority employee has sued the agency, saying it video-recorded her medical examination without her consent, and she suspects it's a practice rather than an aberration.
The Record Read more
N.J. Addiction: State's Record on Battling Opioid Epidemic
In 2017, New Jersey took some big steps to battle the opioid crisis.
Asbury Park Press Read more
Former Monmouth County Municipal Judge Admits Ticket-Fixing for Revenue
A former Monmouth County municipal judge pleaded guilty Friday to charges he falsified records as part of a five-year ticket-fixing scheme that funneled more than $500,000 to the municipalities that employed him.
Asbury Park Press Read more
Pallone: FDA Should Probe for Asbestos in Makeup Sold at Claire's, Justice
The Food and Drug Administration should investigate reports that asbestos was found in cosmetics products sold by retailers Claire's Stores Inc. and Justice Retail, makeup marketed to girls and young women, Rep. Frank Pallone Jr., D-N.J., said Friday.
Asbury Park Press Read more
Ethics Board Finds Prosecutor's Former Law Partner Violated 2 Rules
An attorney ethics panel has recommended William Laufer be admonished for claiming he had Morris County Prosecutor Fredric M. Knapp, his former law partner, in his 'pocket.'
Daily Record Read more
Mr. O'Donnell and His Neighborly Running Mates Want Bayonne
Thursday evening, the other candidate for mayor of the Peninsula City held his fundraising event a week after his rival, incumbent Jimmy Davis, staged his donation-fest. The guy who is portrayed by supporters as Mr. Bayonne, former Assemblyman Jason O'Donnell, passed his collection basket at The Chandelier, a traditional political playground.
The Jersey Journal Read more
A 'Pathological Liar' and an Expletive: Feuds Tarnish Town's Reputation
Political infighting in a small north Jersey town has become so bitter, public insults spewed between opponents sound like a "Real Housewives" episode. Council members have said the mayor is a liar and a "piece of shit," and he's hurled back jabs, calling the council president "reckless" and "oblivious."
NJ.com Read more
Trump Set Him Free; Now, Iowa Slaughterhouse Exec Coming to Lakewood
Sholom Rubashkin, whose 27-year prison sentence was commuted by President Donald Trump in December, prompting celebration in many Orthodox Jewish communities, is coming to Lakewood.
The Record Read more
Paterson Mayoral Candidate Voted in Little Falls 14 Times
A mayoral candidate who has said he lived in Paterson his "whole life" voted in Little Falls 14 times since 2007, according to Passaic County election records.
Paterson Press Read more
Lacey Mayor: Life Will Go on After Oyster Creek
Long before Exelon Generation surprised everyone on Friday with the announcement it will close the Oyster Creek nuclear power plant this October, the municipal government had been determined to find a replacement.
Asbury Park Press Read more
Roebuck Becomes Long Branch's First Police Chief in 50 Years
By putting his hand on the Bible and taking an oath, Jason Roebuck became the city's first police chief in nearly five decades.
Asbury Park Press Read more
Editorial: No Separate Pension Fund for Police, Firefighters
n these first weeks of a new administration in Trenton, it's easy to criticize many of the policy decisions of the Christie administration, in particular Governor Christie's use of the veto and the Legislature's inability to override a single veto over eight years. But not every veto was wrong. And in particular, one that prevented police and firefighters from moving the management of their pension fund out of the state pension system was right on target.
The Record Read more
Editorial: N.J. Muslims Win Another One Against the Bigots
A recent sweep of victories over New Jersey towns that discriminated against Muslims is a sharp retort to President Trump's inciting of intolerance.
NJ.com Read more
SaveSave