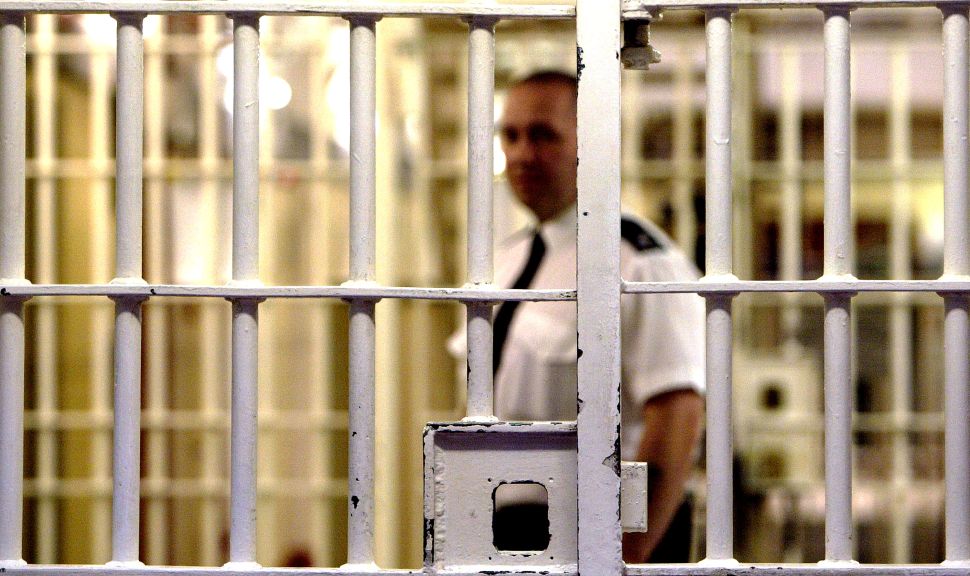 A bill introduced by Democratic lawmakers on Monday would restore voting rights to about 94,000 residents either in prison, on parole or probation.
If approved, the state would be the third in the nation to return the franchise to those in prison, according to a report on NorthJersey.com. Vermont and Maine have already restored full voting rights to people with convictions.
While it is not law in Virginia, last year, Virginia's then-Gov.Terry McAuliffe used his authority to restore voting rights to more than 168,000 former felons.
In New Jersey, the campaign to restore voting rights is being led by the New Jersey Legislative Black Caucus. Proponents of the measure say laws that prohibit inmates from voting disproportionally disenfranchises African-Americans. Current law allows former inmates to vote, after they have completed their sentence and fulfilled the financial obligations of their sentence.
Under the new plan, inmates could vote in the district where they lived prior to incarceration using mail-in ballots.
While Gov. Phil Murphy's transition team had endorsed returning voting rights to those on parole and probabtion, the recommendation did not include those currently incarcerated.
Murphy released a statement saying he looked forward to working with the legislature to expand voting enfranchisement but did not specifically say if he supported allowing inmates to vote, according to NJ.com.
Opponents of the plan say losing the right to vote is one of the punishments for breaking the law.
"Do we really believe that murderers and rapists who are serving prison sentences should be allowed to influence elections and public policy?" Sen. Gerald Cardinale, R-Bergen, said in a statement.
Quote of the Day: "It's a big bill. It's a complicated bill. And we're going to continue to press forward." — State Sen. President Steve Sweeney, after the upper house postponed action on a bill he supports forcing ratepayers in the state to bail out two nuclear power plants in his district.
New Jersey Senate Shelves Vote on Nuclear Subsidy Bill
A controversial bill that could force New Jersey ratepayers to bail out the state's nuclear power plants hit a snag on Monday as the Senate shelved a vote on the legislation.
Christian Hetrick, Observer Read more
Kellyanne Conway to Raise Money for Tom MacArthur
White House counselor Kellyanne Conway is coming to South Jersey this weekend to raise money for Rep. Tom MacArthur (R-3).
Christian Hetrick, Observer Read more
Moving to Clean Energy Economy: At What Speed, Price?
With a bill ramping up the state's reliance on renewable energy working its way through the legislature, advocates and officials clashed over the pace and cost of moving New Jersey to a clean-energy economy at a NJ Spotlight event in Hamilton.
NJSpotlight Read more
Voting Rights Could Be Restored to N.J. Prisoners and People on Parole, Probation
Roughly 94,000 New Jersey residents are prohibited from voting because they are serving prison sentences or are on probation or parole, but that could change under a bill introduced Monday by Democratic lawmakers.
The Record Read more
Phil Murphy Talks Guns and Gateway With Trump at the White House
Gov. Phil Murphy joined his fellow governors at the White House Monday where they discussed guns and transportation with President Donald Trump and members of his administration.
NJ.com Read more
Kellyanne Conway Helping This Trump-Friendly Republican's Reelection Bid
Kellyanne Conway, the New Jersey native who managed Donald Trump's successful campaign and now serves as counselor to the president, will headline a fundraiser on Sunday for Rep. Tom MacArthur.
NJ.com Read more
New Jersey Lawmakers Approve Plan to Write Off Property Taxes as Charitable Donations
New Jersey senators approved a bill that would allow homeowners to pay "charitable contributions" to local governments in lieu of property taxes to get around a new $10,000 limit on the amount of state and local taxes people can deduct from their federal returns.
The Record Read more
AG Asks That Prepaid Property Taxes Qualify for Deductions
New Jersey's attorney general is asking the IRS to confirm that prepaid property taxes will be eligible for federal deductions.
Associated Press Read more
N.J. Property Taxes: These Towns Saw the Biggest Hikes in Taxes
New Jersey property taxes went up, on average, 1.64 percent last year.
Asbury Park Press Read more
Offshore Drilling in N.J. Is 'Not Worth the Risk,' Democrats, Republicans Say
With the Atlantic Ocean serving as a backdrop, a mixture of Atlantic and Cape May county officials gathered on the boardwalk in Ocean City to oppose a proposal that would allow oil and gas drilling off the coast of New Jersey.
NJ.com Read more
New Jersey Lawmakers to Consider 7 Gun-Control Bills
New Jersey's Democratic-controlled Assembly is moving forward with plans to toughen the state's gun-safety laws in the wake of the Feb. 14 shooting at a Florida high school that killed 17 people.
Bloomberg Read more
Stay Away From Florida During Spring Break, Shooting Survivor Says at N.J. Rally
A survivor of the mass shooting at a high school in Florida is calling for tourists to cancel their plans to visit the state unless gun legislation is passed.
NJ.com Read more
Secaucus to Arm Security Guards at Town Schools
Secaucus announced on Friday the town will assign police officers to patrol the district's schools while it provides firearms training to the schools' currently unarmed security guards.
NJ.com Read more
Dumont High School Student Taken into Custody, Rifle Found at Home
Authorities found a rifle at the home of a high school sophomore after a threat was made by the student to harm others Monday.
The Record Read more
Doblin: N.J. Students Join the #NeverAgain Movement After Parkland Shooting
"These people are the future — they're rising up and trying to ignite change to the issue of gun control. We are writing them to show that there are people who really care about this issue that want to help and even just console them."
The Record Read more
Morristown 'March For Our Lives' Rally to Honor Florida School Shooting Victims
Inspired by Florida school shooting survivors' passionate comments about mass shootings and gun control, a West Morris Mendham High School student is organizing a local rally to coincide with the national "March for Our Lives" event on March 24.
Daily Record Read more
Teacher Questions Security, Gets Suspended
Concerned about security at their school and the suspension of a history teacher who questioned that security last week, dozens of Cherry Hill East High School students participated in a brief sit-in demonstration Monday.
NJ101.5 Read more
N.J. School Threatening Suspension, No Prom for Protesters, Colleges Say They Don't Care
A New Jersey school reportedly threatened to suspend students and revoke prom privileges over a school sit-in, on the same day several of the state's colleges said they won't hold it against high schoolers if they get in trouble for protesting.
NJ.com Read more
Shore Schools With Reported Weapons Found Lists
Every day, we've been following new developments from the Parkland, Florida school shooting that killed 17 people—and the #neveragain movement that's followed.
NJ101.5 Read more
New Jersey Governor Requests to Rejoin Environmental Pact
New Jersey's governor asked member states of a regional environmental pact on Monday to let his state rejoin the group.
Associated Press Read more
1.2M N.J. Workers Don't Get Paid Sick Time—Should They?
Buoyed by Gov. Phil Murphy's support, a group of mayors and workers' advocates are resurrecting a dormant effort to pass a state law mandating earned sick days for all employees.
NJ.com Read more
Mandated Recess Bill Revived by New Jersey Senate
State-mandated recess time is back on the table in New Jersey.
Press of Atlantic City Read more
Did N.J. Judge Wilfredo Benitez Improperly Ask for 'Courtesy' in Police Stop?
What does it take to impugn the integrity of New Jersey's judiciary?
The Record Read more
Lakewood: Ex-Special Ed Employee Claims Discrimination in Lawsuit
A former Lakewood schools administrator is suing the district alleging she was the victim of retaliation because she tried to expose corruption and is not an Orthodox Jew.
Asbury Park Press Read more
Hoboken Mayor Releases Details on New Side Job
Hoboken Mayor Ravi Bhalla on Friday shed more light on his new job with a Morristown law firm, saying he will make at least $60,000 annually, can earn more if he attracts clients to the firm and will use the city's corporation counsel to ensure any conflicts of interests are addressed.
NJ.com Read more
Researchers Dispute Historical Significance of Camden House Tied to Martin Luther King
A newly released study by Stockton University researchers is raising questions about a claim that the Rev. Dr. Martin Luther King Jr. spent time in a Camden rowhouse that local activists believe should be declared a state historical landmark because of ties to the civil rights movement.
Inquirer Read more
N.J. Needs to Fill Hundreds of Peak Season Jobs
The deadline is rapidly approaching for submissions to become a temporary employee of the state during the busy season at parks, forests, recreation areas and historic sites.
NJ101.5 Read more