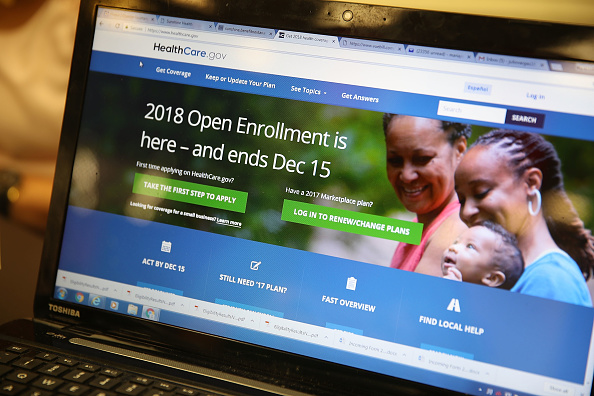 Republicans in Congress have managed to do away with the Affordable Health Care Act's Individual Mandate, requiring all adults to have insurance coverage.
But Democrats in New Jersey are now moving to implement their own version of the mandate for the state.
NJSpotlight reports the measure, which like its federal predecessor would require residents to obtain health insurance or pay a tax penalty, has been approved by the state Senate's Commerce Committee over the objections of some Republican members.
Democrats says the measure is needed to stabilize insurance costs in the state, which rose as much as 28 percent this year—a hike that experts say is about three times what it should have been and was caused by uncertainty over federal policy, according to the report. The hike translates into an average additional $1,600 for a family of four.
Experts warn that, without the mandate, costs will continue to increase, as will the cost of charity care—which hospitals must provide to those who don't have insurance. Hospitals are reimbursed for the care from the budget.
Republicans worry about making people purchase insurance they can't afford.
Quote of the Day: "New Jersey will think. New Jersey will pray. But I can assure you, New Jersey will act."— Gov. Phil Murphy, vowing the state will move on a plan to address gun violence following the school shooting in Florida.
Legislature Gives Final Approval to Measures Restoring Christie Family-Planning Cuts
It took eight years of effort, but Democrats in the state legislature seem on the verge of restoring funding for family planning centers that had been cut by former Gov. Chris Christie.
Steve Cronin, Observer Read more
Newest Member of New Jersey's State Assembly Is Sworn In
New Jersey has a new state legislator, as Democrat Verlina Reynolds-Jackson was sworn into her seat in the Assembly on Thursday.
Steve Cronin, Observer Read more
Sen. Bob Menendez Is Good News for New Jersey
Lifting the legal cloud hanging over Sen. Bob Menendez is good news for New Jersey.
Donald Scarinci, Observer Read more
State Democrats Pursue Individual Mandate to Help Insurance Market
Most New Jersey residents would be required to obtain health insurance—or pay a tax penalty—under a proposal designed to help shore up the state's insurance market through a mandate similar to one that was once part of the federal Affordable Care Act.
NJSpotlight Read more
Moran: Did Menendez Challenger Endanger Cancer Patients to Juice Profits?
Bob Hugin, the wealthy businessman who is challenging Sen. Robert Menendez this year, is an enthusiastic supporter of Donald Trump. He gave Trump big money, served as a Trump delegate at the GOP convention and praised him on Fox News as an "engaged, constructive and solution-oriented" president.
NJ.com Read more
Trump Wants Lower Drug Prices, Menendez's Republican Challenger Fought to Keep Them High
The Republican business executive challenging U.S. Sen. Robert Menendez waged a multi-year battle against efforts to lower drug prices for consumers and the federal government as it fought legislation that could cost the company billions of dollars.
NJ.com Read more
Democrats Are Now Lining up Behind This Candidate to Take on Republican Leonard Lance
Another Democratic candidate has abandoned his congressional campaign and instead endorsed former Assistant U.S. Secretary of State Tom Malinowski to challenge Rep. Leonard Lance this fall.
NJ.com Read more
Trump's Unpopularity Helps Boost Democratic Chances in 3 N.J. House Races
Democratic chances of keeping one House seat in New Jersey and winning two more have improved, according to one of the Washington-based publications tracking congressional races.
NJ.com Read more
Murphy: 'Thoughts and Prayers' Not Enough to Stop Mass Shootings
New Jersey Gov. Phil Murphy said "thoughts and prayers" aren't enough to end mass shootings like the one that killed 17 students and faculty at Stoneman Douglas High School in Florida this week.
Asbury Park Press Read more
Should N.J. Teachers Be Allowed to Carry Guns in School?
Gun advocates in New Jersey are pushing back against calls for more gun control in the wake of this week's school shooting in Florida.
NJ101.5 Read more
How a Pro-Trump Facebook Post Brought Down a Deputy Mayor in Christie's Hometown
A Republican elected official in ex-Gov. Chris Christie's hometown posted to Facebook an eight-paragraph screed, of unknown authorship, that compares undocumented immigrants to raccoons and lauds President Trump as the exterminator.
NJ.com Read more
Help for N.J.'s Property Taxes Amid Trump Plan Could Come by Way of Charity
New Jersey has taken the first step toward enacting a hotly disputed proposal that would allow residents to make charitable contributions in lieu of paying property taxes, thus avoiding a new limit on federal tax deductions that was part of the Republican-crafted tax law that President Trump signed in December.
The Record Read more
IRS to Review Ruling Limiting Your Early Property Tax Deductions Ahead of Trump Tax Law
Acting Internal Revenue Service Commissioner David Kautter will review the agency's ruling limiting how much New Jersey homeowners could deduct from their prepaid 2018 property taxes, two lawmakers said.
NJ.com Read more
N.J. Medical Marijuana Growers Are Ready to Expand: Will Phil Murphy Let Them?
As New Jersey's first medicinal marijuana provider six years ago, the founder of Greenleaf Compassion Center in Montclair said he and his partners drained their bank accounts when lenders would not touch them. They tangled with a distrustful administration of then-Gov. Chris Christie before and after they opened.
NJ.com Read more
Towns Are Cracking Down on Pet Abuse, Using New and Strict N.J. Law
On a frigid Wednesday in January, Holly, an animal cruelty investigator, sat outside of a home in Cape May County. Just one hour before, she observed two pitbull dogs in sub-freezing temperatures in the backyard of a home in Woodbine, one in a cage and one tethered in the yard. The investigator was back to see if the two pets were taken out of the cold and into a warmer enclosure.
NJ.com Read more
New Incentives for N.J. Homeowners to Install Solar Panels
The state is giving solar energy a boost by expanding a policy that encourages homeowners and businesses to install panels.
NJSpotlight Read more
Hoboken Mayor: My Family Is Target of Death Threats
A man walking through City Hall threw a bag into Mayor Ravi S. Bhalla's office, the latest incident in a two month term as the nation's first Sikh mayor said he and his family have received death threats since taking office.
NJ101.5 Read more
Doblin: Our Children No Longer Have Time to Be Young
s boy in the early 60s, civil defense drills in school were the norm. This was the height of the Cold War, when the Russians were expected to drop the bomb at any time. There were two variations to the "CD" drill. One involved crouching under your desk. Presumably, the pool-liner blue paint on the body of the desk would repel all radiation. The second variation sent us out into the hallway where we crouched against the wall, hands over our heads.
The Record Read more
A Shortage of N.J. Judges and No Nominees by Trump. Why?
Faith S. Hochberg, a former federal judge in New Jersey, retired from the bench in 2015.
NJ.com Read more
A Freshman New Jersey Mayor, at Age 93, Tackles Same Old Problems
The new mayor here looked gleefully down at the 6-month old girl, the daughter of a councilman, but opted against the traditional political peck on the baby's cheek—it was the germs, he said.
New York Times Read more
Red Bank 'Dreamer' Joins DACA Walk to Washington, D.C.
Osvaldo Rodriguez, coming off a 17-mile walk across Central New Jersey, took off his red hat and claimed an air mattress Saturday night in the Nassau Presbyterian Church in Princeton.
Asbury Park Press Read more
Bail Reform Drops Jail Population by 20 Percent, Has Come With Growing Pains
Since it was implemented last year, criminal justice reform in New Jersey has been touted as a huge success that has bolstered a national discussion about basic fairness, public safety, and law and order as a whole.
Press of Atlantic City Read more
Child Porn: These Are the Cops Who Hunt N.J.'s Pedophiles
"I can be generous for your trouble." Craig Kirschner, police allege, thought he was chatting online with a 15-year-old boy.
The Record Read more
Port Authority Taps Companies to Design, Build Newark Liberty Terminal
The Port Authority of New York and New Jersey has selected construction companies Tutor Perini Corp. and Parsons Transportation Group, both based in California, to design and construct a new $2.3 billion terminal A at Newark Liberty International Airport.
NJBiz Read more
As Redlining Persists, Camden Area Among Hot Spots for Mortgate Denials
Blacks and Latinos seeking a home loan in New Jersey are denied conventional mortgages at rates higher than whites, despite a 50-year-old ban on racial discrimination in lending, mortgage data show.
NJSpotlight Read more
Former Hackensack Deputy Chief Frank Zisa Sues City, Mayor for $3M in Federal Court
Former Hackensack Deputy Police Chief Frank Zisa is suing the city and Mayor John Labrosse for $3.18 million in federal court, alleging a salary increase he was owed was not processed because he is a member of the Zisa political family.
The Record Read more
He Hid From a Mass Murderer in 1949 in Camden; His Granddaughter Did the Same This Week in Florida
When the first mass shooter in modern American history stormed into a Camden pharmacy firing a handgun on Sept. 6, 1949, Charles Cohen's mother rushed him upstairs and shoved him into a closet.
Inquirer Read more
Crash into Planned Parenthood Was Deliberate
A Massachusetts man has been accused of deliberately crashing a stolen bakery delivery truck into a Planned Parenthood clinic in Essex County, injuring a pregnant woman and two other people.
NJ101.5 Read more
Morris County Freeholder Race Off to Slow Start
The race for Morris County freeholder is off to a sluggish start with two candidates filing to run for three available seats.
Daily Record Read more
Editorial: Amtrak to NJ Transit: No Safety System, No Penn Station
Amtrak has just increased the urgency to install positive train control throughout the NJ Transit system. If NJ Transit does not make the Dec. 31 deadline, Amtrak will not let the state's commuter trains ride on its tracks. In short, it won't matter whether the dual Hudson River rail tubes are "one-tracking" into Penn Station. No NJ Transit trains would be able to get into midtown Manhattan.
The Record Read more
Editorial: Trump Tempts Transportation Cataclysm, Fund Gateway
Someone needs to inform President Trump that the Hudson River rail tunnels predate his mother by two years. When they opened, transportation alternatives included the Stanley Steamer and the Titanic, and they were dug by Pennsylvania Railroad for inter-city rail—not as a commuter line, and certainly not for a megalopolis.
NJ.com Read more