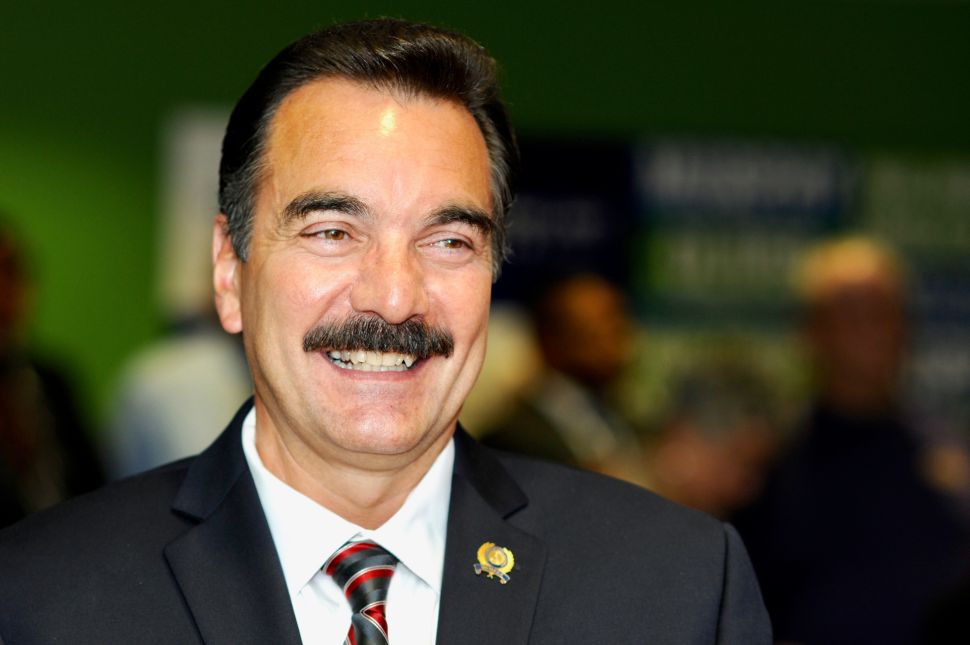 The former top Democrat in the state Assembly is stepping down after landing a $280,000 per year post as president and CEO of the New Jersey Sports & Exposition Authority (NJSEA).
Assemblyman Vincent Prieto had been Speaker of the Assembly but was forced out of the post by his own party at the start of the current session in January. He currently works as a construction code official for the city of Secaucus and was recommended for the authority's top post by Gov. Phil Murphy. Prieto will leave the assembly and his city post before starting his new job on Feb. 26.
A report on NJ.com notes how the 14-year veteran of the legislature told the The NJSEA Board of Commissioners that he "gets" the Meadowlands and its role as an economic engine for the region.
In a statement, Chairman Mike Ferguson said Prieto's appointment "is especially appropriate as Assemblyman Prieto crafted the legislation that successfully combined" the NJSEA with the former New Jersey Meadowlands Commission in 2015.
Quote of the Day: "This is a money bill—legalization. I don't want to be a part of that. I do want social justice and that's what this bill is about," — State Sen. Ron Rice, on his bill to decriminalize, rather than legalize, recreational use of marijuana.
Phil Murphy Accelerates Plan Offering Relief to NJ Transit Commuters
Gov. Phil Murphy is jumpstarting a commuter relief plan to revamp NJ Transit by providing commuters with short- and long-term relief from rail car shortages and overcrowded conditions.
Madina Toure, Observer Read more
Menendez, Booker Among Senators Urging Feds to Respect Local Pot Laws
As New Jersey officials move toward legalizing recreational use of marijuana, a bipartisan group of U.S. senators is asking the Trump administration to respect local laws regarding access to weed.
Steve Cronin, Observer Read more
Vincent Prieto Stepping Down, Will Lead New Jersey Sports & Exposition Authority
Assemblyman Vincent Prieto, D–Secaucus, is stepping down from his Assembly seat to take a new job as president and CEO of the New Jersey Sports & Exposition Authority.
The Record Read more
Cory Booker Just Took Another Step Toward a Run for President
U.S. Sen. Cory Booker, criticized for campaign contributions from Wall Street and the drug industry, has sworn off corporate political action committee donations as he ponders whether to seek a run for the White House.
NJ.com Read more
Here's How N.J. Lawmakers Propose to Save Your Property Tax Break
The state Senate began its work Thursday devising a way to prevent New Jersey taxpayers from losing a popular property tax break as a result of federal income tax reform.
NJ.com Read more
Florida School Shooting: Murphy Vows Crackdown on Gun Violence, Flags Lowered
Gov. Phil Murphy has taken the unusual step of including a pledge to crack down on "the epidemic of gun violence" in an executive order to have flags flown at half-staff next week in mourning the victims of the deadly shooting at a Florida high school.
Asbury Park Press Read more
'How Much Bloodshed' N.J. Dems Ask, Demanding New Gun Control Measures
Within hours after Nikolas Cruz opened fire inside a Florida high school, killing 17, many New Jersey Democrats were calling for more gun laws.
NJ101.5 Read more
Florida School Shooting: What Jersey Shore Schools Have Done to Boost Security
A Florida school shooting that left 17 people dead has reignited safety talks among school leaders and law enforcement here in New Jersey.
Asbury Park Press Read more
Mother of Ex-N.J. Girl Killed in Florida School Shooting Makes Televised Plea to Trump
A 15-year-old girl who lived in Woodcliff Lake was among the 17 people killed in a mass shooting Wednesday at a Florida high school.
NJ.com Read more
You May Not Be able to Take NJ Transit to NY Penn Station If Safety System Not Installed
Amtrak's CEO said Thursday that it would not allow railroads such as NJ Transit to operate over its tracks after Dec. 31 if they did not have a required safety system in place by then.
The Record Read more
N.J. Marijuana Legalization: Democratic, Republican Lawmakers Join Forces Against Weed
Complicating Gov. Phil Murphy's quest to legalize marijuana in New Jersey, the leader of the Legislative Black Caucus introduced legislation that would remove criminal penalties for possessing small amounts of the drug—but would not create a legal market.
The Record Read more
Christie's A.C. Lawyers Billed $4 Million; Gov. Murphy Just Appointed One for $1 a Year
Gov. Murphy on Thursday appointed a former federal prosecutor who worked in the Clinton administration to lead the state effort to return Atlantic City to local control. Jim Johnson will serve as special counsel to the governor's office and will be paid $1 a year, a fee that stands in contrast to the millions billed by the lawyers Gov. Chris Christie appointed to the task.
Inquirer Read more
Outrage, Name-Calling Fuel Drama at a Hearing About Offshore Drilling
In one room, members of the public calmly questioned federal scientists about the ins and outs of offshore drilling before submitting written comments.
NJ.com Read more
Democrats Finally Win 8-year Fight to Restore Christie's Women's Health Cuts
In his inaugural address nearly one month ago, Gov. Phil Murphy implored the state Legislature to act swiftly and send him a bill restoring $7.5 million in funding to family planning and health clinics in New Jersey.
NJ.com Read more
Menendez Slams Trump's IRS as Hypocrites for Limiting Your Property Tax Deductions
U.S. Sen. Robert Menendez challenged President Donald Trump's treasury secretary over an Internal Revenue Service ruling limiting New Jerseyans' ability to deduct prepaid property taxes.
NJ.com Read more
Fixing Garden State's Broken Medical Examiner System
New Jersey's medical examiner system would get a top to bottom overhaul under a proposal designed to create a more coordinated, independent, and professional program to investigate mysterious and suspicious deaths.
NJSpotlight Read more
Meet N.J.'s Newest Assembly Member
A two-term Trenton councilwoman is now the newest lawmaker serving in the Statehouse across town.
NJ.com Read more
N.J. Manufacturers Make Case to Lawmakers
The New Jersey manufacturing industry cannot find enough skilled labor to fill jobs—which is ironic since the state's unemployment rate continues to lag the national jobless average. That problem has drawn the attention of state lawmakers, and they've formed a bipartisan working group to come up with policies that could help bridge the gap.
NJSpotlight Read more
A Proposed New Medical School in N.J. Just Cleared a Huge Hurdle
New Jersey's newest medical school has earned preliminary accreditation to open in Nutley and Clifton, a critical win in the lengthy process of starting a new school.
NJ.com Read more
Would Tech Upgrade Make Government More Friendly?
An app that would let New Jerseyans access state government services easily, a student loan forgiveness program for tech-related careers, and high-speed internet access throughout the state are just part of the future that a gubernatorial transition committee envisions for New Jersey.
NJSpotlight Read more
Mulshine: The Donald Wants to Put Tolls on Roads We Already Paid for
Who wrote this plan, Jon Corzine? I'm talking about the infrastructure plan that President Trump just released. The highway section of the plan employs the same sort of gimmicks that our former governor employed in the "asset monetization" plan that led directly to his demise.
NJ.com Read more
Toxic Secrets: DuPont's N.J. Neighbors Suffer From Cancer and Rare Illnesses
By the time Rick Orefice reached the surgeon's table in August 2014, his spleen had grown to 15 times its normal size.
The Record Read more
Paterson: Landlord Offers Cops Free Apartments
A prominent Paterson real estate investor is offering law enforcement officers rent-free apartments in six buildings he owns in some of the city's most crime-ridden neighborhoods.
Paterson Press Read more
Overtime Scam Blows Up for Union Cop
A township police officer who had just reached 25 years of service will lose his job after admitting to accepting overtime payments he hadn't earned.
NJ101.5 Read more
N.J. Teacher Who Led Cops on Chase Will Keep Her Job
A tenured teacher won't lose her job, but will be suspended for two months without pay, after a bizarre incident last year landed her in jail on charges of pot possession and eluding a police officer.
NJ.com Read more
Lead in NJ's children: Fixing it is a billion-dollar problem
New Jersey should spend $1.1 billion over the next 10 years to fix lead hazards that have poisoned thousands of children in the state, stunting their growth and limiting their potential, according to a coalition of health and housing advocates.
Asbury Park Press Read more
Mother Facing Deportation to Bangladesh Is Given Two-Month Reprieve
An undocumented mother of three who is facing deportation to her native Bangladesh was told during a check-in with immigration authorities on Thursday morning to return in two months.
The Record Read more
Mother of Rutgers University Freshman Struck by Train Wants Answers
Claudia Patterson is desperate for answers. Why was her 18-year-old son, a freshman at Rutgers University, alone at the edge of town on a cold December night?
The Record Read more
These 19 Jersey Shore Towns Will Vote on $61 Million in Fire Taxes Saturday
Winter means snow, ice, cold—but in New Jersey, it also means higher taxes to fight fires.
Asbury Park Press Read more
Lakewood to Vote on 33 Percent Jump in Fire Tax
Your vote in Saturday's Lakewood Fire District election is valuable—in December, only 90 people turned out to approve more than $1.3 million in expenditures, meaning each voter controlled how about $14,400 of taxpayer money would be spent.
Asbury Park Press Read more
Toms River Won't Turn 'Public Nuisance' Red Carpet Inn Into Homeless Shelter
The troubled downtown hotel the township plans to buy is not the right spot for a homeless shelter, township council members say.
Asbury Park Press Read more
Clifton Sees an Increase in Its Tax Base
For the first time in four years, the city's tax base has grown.
The Record Read more