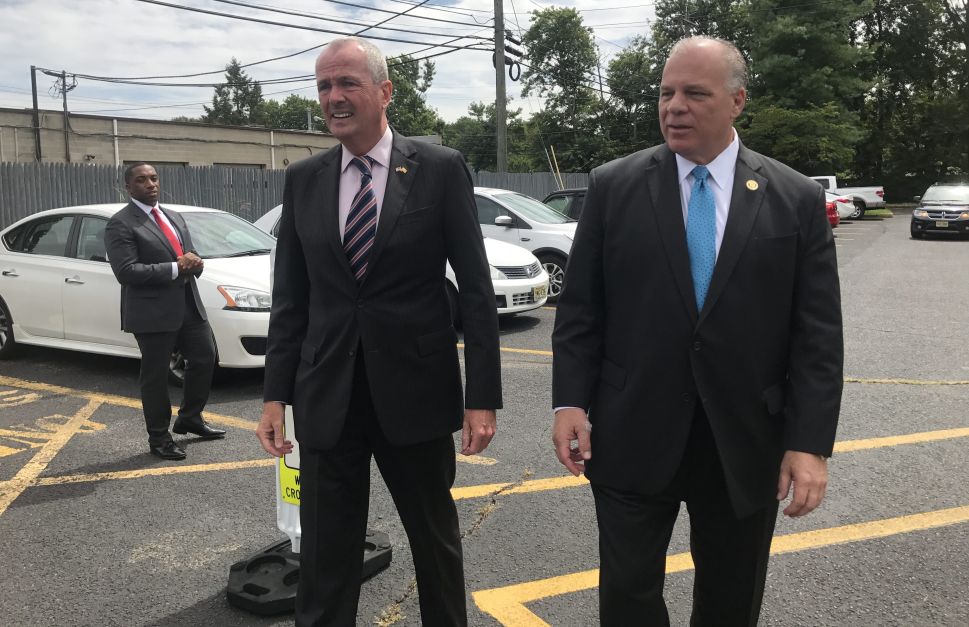 It's no secret that Gov. Phil Murphy and Senate President Steve Sweeney don't seem to be getting along.
That was reinforced Thursday, when the governor called on the legislature to help him give residents a way to circumvent Republican changes to the federal tax code that he termed a "gut punch" to New Jersey taxpapers.
Sweeney's reaction was personal, rather than political, with the longtime legislator saying he and his colleagues are already working on the plan and chiding the new governor for grandstanding.
Sweeney has also made it clear that he opposes Murphy's plan for a millionaires tax and the governor's ambitious progressive plans are going to have to contend with his concerns about the state's already infamous tax burden.
In an NJ.com report examining the relationship, Democratic leaders say the friction is just a matter of the adjustments that come with a new administration. But political watchers warn that Murphy and Sweeney need to come to some sort of understanding if the governor is going to accomplish the goals he outlined during his campaign.
In The Record, columnist Charles Stile noted Sweeney's support for shrinking the size of state government and his opposition to new taxes and asked, "Who needs Republican Chris Christie when you have Steve Sweeney roaming the halls as president of the Senate?"
Sweeney has said the loss of local tax deductions under the Trump tax plan requires a re-examination of state spending. Assembly Minority Leader Jon Bramnick had an additional explanation for Sweeney's fiscal concerns. With Democrats now firmly in control of state government, they don't have the luxury of overpromising things that are fiscally difficult to deliver.
"Now the Democrats have to govern," Bramnick told NJ.com. "Some of those policies they voted for in the past, it's harder to vote for now. It's pretty well known in politics that campaigning is a lot easier than governing."
Quote of the Day: "At the end of the day, I think you have to look at the cost of government first before you start raising revenue," — Senate President Steve Sweeney, on fiscal responsibility.
New Jersey Swears in Its Youngest New Lawmaker
Newly sworn in Assemblyman Clinton Calabrese is setting some major records—he's the newest and youngest member of the New Jersey Legislature and the latest member of the Calabrese political family to enter politics.
Madina Toure, Observer Read more
Murphy Calls for Action on Plan to Get Around Federal Limits on SALT Deductions
Gov. Phil Murphy wants lawmakers to step up with legislation that would help residents hit hard by the limit on deductions for state and local taxes (SALT) in the new federal tax plan.
Steve Cronin, Observer Read more
Phil Murphy and Top Dem Sweeney Are Off to a Shaky Start. Does It Mean Trouble Ahead?
It wasn't an angry outburst, but state Senate President Stephen Sweeney's message was sent. At a mayor's conference in Trenton on Thursday, Sweeney publicly bristled at Gov. Phil Murphy for calling on state lawmakers to pass legislation designed to combat President Donald Trump's gutting of New Jersey's property tax deductions.
NJ.com Read more
Stile: The New Jersey Senate President, a Democrat, Channels His Inner Chris Christie
Who needs Republican Chris Christie when you have Steve Sweeney roaming the halls as president of the Senate?
The Record Read more
This Pro-Trump N.J. Republican Is rewarded Again—This Time by Mike Pence
After Rep. Tom MacArthur helped save the House Republican health care bill, President Donald Trump hosted a fundraiser for him in Bedminster.
NJ.com Read more
Booker, Menendez Slam Trump on Rail Safety as Democrats Block Nominee
New Jersey's U.S. senators ripped into the Trump administration Friday for rolling back rail safety regulations that could have helped prevent a fatal crash here in September 2016.
The Record Read more
Top Official Departs 'Rudderless' Railroad Safety Agency
A top official charged with overseeing the safety of the nation's railroads has resigned "effective immediately," the Department of Transportation said Saturday after POLITICO raised questions about whether he was simultaneously working as a public relations consultant in Mississippi.
Politico Read more
Christie: Kelly Needs to Say What He Knew About Porter
Former New Jersey Gov. Chris Christie said Sunday that White House chief of staff John Kelly needs to give a public accounting of when he became aware of allegations of abuse about now-former White House staff secretary Rob Porter.
Politico Read more
Some Voters Lack Confidence for Rep. Leonard Lance at Town Hall
Republican Rep. Leonard Lance doesn't think the U.S. needs a southern border wall and he wants the Deferred Action for Childhood Arrivals policy to become law. He opposes a military parade and supports Special Counsel Robert Mueller's investigation into Russian interference in the 2016 presidential election.
The Record Read more
Arbitration Cap 'Mathematical Reality,' Senator Says
New Jersey's 2 percent arbitration cap has been implemented by the sitting governor every year since 2010, but legislators now say Gov. Phil Murphy's lack of commitment to it has caused them to act.
NJBiz Read more
Choose NJ, a Controversial Christie Economic-Development Tool, Continues Under Murphy
New Jersey Gov. Phil Murphy has reversed several of predecessor Chris Christie's actions, but the Democrat is keeping Christie's signature economic-development accomplishment: a business-funded nonprofit that once was criticized as a vehicle for Christie's national political ambitions.
The Record Read more
Activists Want to De-ICE Hudson County Jail
While leaving the Hudson County Board of Freeholders chamber Thursday evening, one elderly woman who was among a crowd hoping to end the county correctional facility's relationship with federal immigration, told me what is the hurdle for activists in ending the partnership.
Jersey Journal Read more
N.J. Lawmakers Want to Crack Down on Those Quick Draw Games You May Be Playing in Bars
A pair of New Jersey state lawmakers want to dramatically scale back a keno-style monitor game popular at bars and restaurants they warn will cut into Atlantic City casino profits.
NJ.com Read more
DNA Got N.J. Men New Trials, but Prosecutors Want Them Locked up Again
They stepped out of jail free men in November and spent Thanksgiving, Christmas and New Year's Eve with their families for the first time in decades.
NJ.com Read more
N.J. Marijuana Legalization: Monmouth Freeholder Compares It to Car Thefts, Murders
Monmouth County officials continued their opposition to legalizing weed with one freeholder saying he's "not sold" on medicinal marijuana and another saying it could lead down a slippery slope to lawlessness.
Asbury Park Press Read more
Ocean County Freeholder: I Was Wrong About Weed and Cocaine
In a mea culpa Friday, Ocean County Freeholder Director Gerry P. Little said he was wrong to claim that marijuana is more addictive than cocaine.
Asbury Park Press Read more
Murphy's Top Aide Ran a Small Town, Advocated Legal Marijuana
By day, Pete Cammarano got wealthy helping big-name companies like AT&T and Uber negotiate the complexities of policymaking in New Jersey. By night, he went home to Metuchen, where he dealt with more prosaic issues like traffic and downtown development as mayor of the Middlesex County borough.
The Record Read more
Tahesha Way, Former Passaic County Freeholder, Close to Confirmation as Secretary of State
Former Passaic County Freeholder Tahesha Way is one step away from being confirmed as New Jersey's secretary of state after the Senate Judiciary Committee voted unanimously on Thursday to send her name to the full Senate.
The Record Read more
Reynolds Jackson of Trenton Knocks Off Verrelli of Hopewell to Land an Assembly Seat
Throwing a wrench into the plans of the Carpenters Union, Trenton came out to this special convention in LD15 this morning and delivered a Capital City victory to Councilwoman Verlina Reynolds Jackson.
InsiderNJ Read more
Should President Trump Own the Stock Market Turmoil? Here's What Gov. Phil Murphy Says
President Donald Trump has frequently tied his administration's actions to stock market records, and a successful former Goldman Sachs executive says the boasting doesn't flatter Trump now.
Asbury Park Press Read more
Trump's Proposed Change on Tips Could Cost N.J. Workers $120M, Explained
You go out for dinner and drinks on a Saturday night, pay your bill, and leave a generous tip. It makes you feel good and you go home not feeling like a cheapskate.
NJ.com Read more
Can You Claim Powerball or Mega Millions Lottery Jackpots Anonymously in N.J.?
A woman in New Hamshore who won a $559.7 million Powerball jackpot in New Hampshire last month has filed a lawsuit seeking to remain anonymous when she claims the big prize.
NJ.com Read more
Racial Harassment Included Comparing Me to Primates, County Worker Claims
A South Jersey county worker claims his supervisors did nothing when he complained of racial harassment after he was "continually" referred to by a racial slur and compared to primates, a lawsuit says.
NJ.com Read more
Baraka, Declaring Reelection Bid, Touts Newark's Gains
Moments after a raucous political rally celebrating his official entry into the race to be re-elected as mayor of Newark, moments after he rattled off a list of successes from his first four years — everything from achievement in the classroom to reduction of crime to unimaginable economic development — Newark Mayor Ras Baraka admitted one thing.
ROI-NJ Read more
Lawmakers Promise Changes to Dump Bad Cops After APP Investigation
Lawmakers in both parties vowed this week to tighten laws to root out bad cops and fix problems with police oversight after reading the Asbury Park Press' investigation, "Protecting the Shield."
Asbury Park Press Read more
Hackensack Fires 5 Police Officers Involved in Warrantless Search
The city has fired five police officers involved in the 2016 warrantless search of a Prospect Avenue apartment, according to a Friday statement from Ted Ehrenburg, the city manager.
The Record Read more
Special Officer Alleges She Was Asked to Turn Over Firearm When Co-Officers Were Not
A special law enforcement officer is pushing back against a rule that requires special officers who are 65 and older to turn in their service weapons — a policy that was put in place when she was 66.
The Record Read more
This Groundbreaking Group Is Combatting Sexual Harassment in N.J.
After the news about Harvey Weinstein broke, Helen Archontou, the CEO of YWCA Bergen County, the sexual violence resource center in the county, said she received calls from women wanting to organize around the #metoo movement.
NJ.com Read more
Schools Have a Message for Parents of Sick Children—Keep Them Home
As reported flu cases increase, schools in North Jersey are being proactive in preventing the spread.
Daily Record Read more
Push to Give Towns More Power to Entice Developers With Special Bonds
A group of lawmakers led by the top Democrat in the Assembly is sponsoring legislation that would add to the financing authority that towns have, specifically by enabling them to help developers raise cash through bonds backed by state tax incentives from the New Jersey Economic Development Authority.
NJSpotlight Read more
Lakewood School, Run by Tax Evader, Facing IRS Liens
The Internal Revenue Service has put two liens for unpaid taxes on a Lakewood private school—an institution founded and run by a convicted tax evader.
Asbury Park Press Read more
Monmouth County Proposed Budget Includes Tax Hike, Room for Freeholder Raises
Monmouth County homeowners could pay anywhere from $3 to $50 more a year under a county budget proposal that includes room to give raises to the five elected freeholders.
Asbury Park Press Read more
'Facebook Government': Infighting Ripping up Tinton Falls
Is social media tearing apart this suburb of nearly 18,000 people?
Asbury Park Press Read more
Hunter Accused of Killing Pedals the Bear Said He Didn't Do It, Is Suing
There is no resolution yet to the ongoing civil lawsuit filed by a Jefferson man who said he was defamed by social media posts wrongly accusing him of killing Pedals the walking bear.
Daily Record Read more
Activists Protest Hunt to Cull What Others Consider a Suburban Nuisance—Deer
A dozen people converged on a Verona sidewalk Saturday and held posters aloft to support what many consider a suburban nuisance, or even menace – white tailed deer.
The Record Read more
Principal Rape Case Kept Secret By Court and School District
A woman claims she was raped by a township school principal when she was a special-needs student in the sixth grade.
NJ101.5 Read more
Estell Manor Finally Has a New Mayor
City residents have had to wait months, but the mayor's race ended Tuesday with Independent Conservative Leadership candidate Joe Venezia defeating incumbent Republican Mayor Stephen J. Teasenfitz.
Press of Atlantic City Read more
Opinion: NJ Transit Needs Fundamental Reform
On Tuesday, the National Transportation Safety Board reported that NJ Transit's failure to properly test its engineers for fatigue-inducing Sleep Apnea was a direct cause of the Hoboken derailment that killed Fabiola Bittar de Kroon, a 34-year-old lawyer with a 1-year-old daughter, and injured more than 100 passengers.
The Record Read more
Editorial: Murphy's Solution to Not Enough SALT
Across New Jersey, public officials are hearing a bipartisan sound. It is the sound of the pain felt by homeowners trying to adjust to a new tax reality. The state and local tax deductions known as SALT have been capped at $10,000 under the recently enacted Republican Tax Cut and Jobs Act. In New Jersey, the average SALT deduction in 2015 was $17,850 and in Bergen County, it was $28,257. There's a lot of pain in the Garden State.
The Record Read more
Editorial: Trump Won't Crack Down on Rogue Cops. But N.J. Should
Remember when President Trump told an audience of cops to be "rough" on suspects when tossing them into "paddy wagons"?
NJ.com Read more
SaveSave
SaveSave