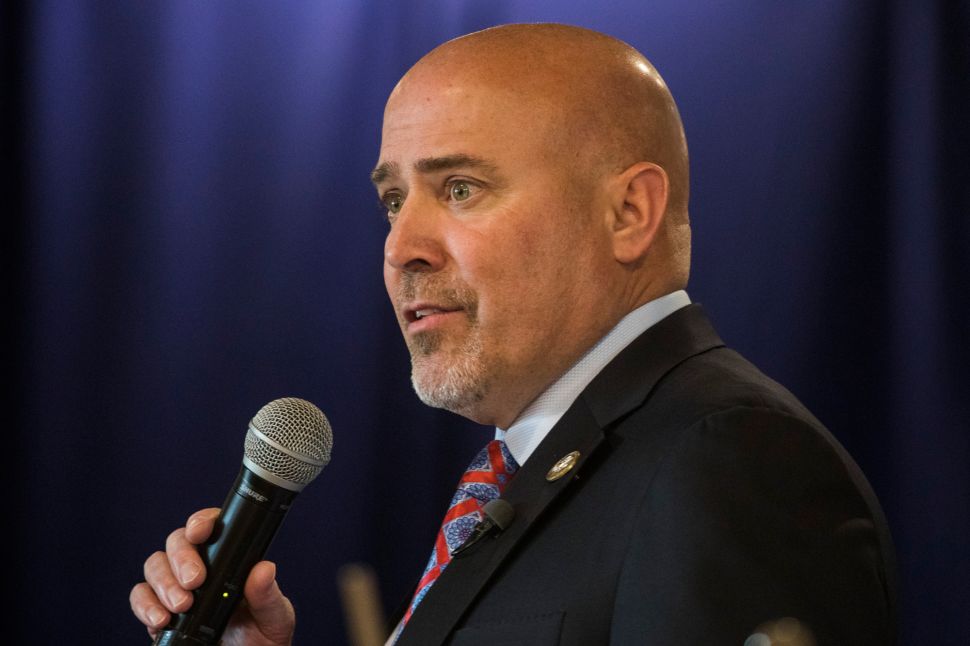 If money is the sinews of politics, then Republican congressional candidates in New Jersey had better start working out.
Politico reports that in the final months of 2017, the state's three incumbent GOP congressmen who are seeking reelection each raised less money than at least one of the Democrats hoping to challenge them in November. While there is still a lot of time—and a lot of fundraising opportunities—before election day, the data from the Federal Election Commission is not good news for the incumbents.
President Donald Trump is unpopular in the state, and Democrats think they have an opportunity to pick up some of the state's GOP congressional seats in the coming election. Their job will likely be a lot easier if the financial field is sloped in the challengers' favor.
As if that wasn't enough to worry about, Rep. Tom MacArthur is also claiming members of a Trump resistance group are trying to infiltrate his office's intern program.
Members of Action Together Burlington County claim they were only joking when they posted on the group's closed Facebook page seeking volunteers to work in MacArthur's office. The group, in turn, has taken the congressman's staff to task for going undercover to get access to their group's private posts.
It's going to be a long election season.
And Gov. Phil Murphy and the Democrat-controlled legislature is still working to turn the state from the policies of Murphy's predecessor, with the Senate voting to restore family planning funding cut by Christie and Murphy announcing the state now supports a fracking ban for the Delaware basin.
Quote of the Day: "People want their elected officials to stand up and face the music," — State Sen. Mike Doherty on U.S. Rep. Rodney Frelinhuysen's refusal to hold town hall meetings with his constituents.
NJ Senate Passes Bill to Restore Family Planning Funding
New Jersey lawmakers are moving swiftly to restore funding for family planning centers, such as Planned Parenthood, eight years after former Gov. Chris Christie cut the money from the state budget.
Christian Hetrick, Observer Read more
Democrats Out-Raise Republicans in Every N.J. Congressional District
New Jersey's Democratic House candidates are on a fundraising tear.
During the last three months of 2017, all three New Jersey Republican congressmen who are seeking reelection were out-raised by at least one Democrat who hopes to take them on in November, according to newly-filed reports with the Federal Election Commission.
Politico Read more
N.J. Congresswoman Tweeting During Trump Address 'He's a Racist'
During the venerable State of the Union Address on Tuesday, a New Jersey congresswoman was tweeting that President Donald Trump is a racist, while one of her colleagues was playing Candy Crush on her phone.
NJ101.5 Read more
Menendez Polling Memo: Senator Starts with a 47-33 Percent Lead Over 'Any Republican'
A poll conducted for Menendez for Senate shows U.S. Senator Bob Menendez (D-N.J.) starting 2018 with a 14-point lead over any Republican 47-33 percent, according to a polling memo obtained by InsiderNJ hours after the feds sought a dismissal of the Menendez corruption case.
InsiderNJ Read more
Rep Pallone: Trump's Obstructing Justice
Rep. Frank Pallone sits down for an edit board meeting with the Asbury Park Press.
Asbury Park Press Watch
Trump Resistance Group Denies Claims of Undercover Plot Against Rep. Tom MacArthur
Did a Trump resistance group try to recruit members to "go undercover" by posing as interns in the district offices of U.S. Rep. Tom MacArthur?
Asbury Park Press Read more
Possible Candidates Test Congressional Waters Post-Frelinghuysen
Days after 12-term Republican incumbent Rodney Frelinghuysen of Harding announced his retirement, potential candidates are testing the waters.
Daily Record Read more
Mulshine: Rodney, We Hardly Knew You: Frelinghuysen's Quiet Approach Didn't Fit the Trump Era
When Rodney Frelinghuysen announced the other day that he would not be running for reelection, I suspect a lot of New Jerseyans wondered whether he was the guy they named that Avenue after. You know, the one in Newark featured prominently in The Sopranos as the future site of the Museum of Science and Trucking?
NJ.com Read more
N.J. to Vote for Fracking Ban in Delaware River Basin
New Jersey will vote to ban fracking in the Delaware River basin, Gov. Phil Murphy announced Thursday, but the fate of a related and contentious practice is still in question.
The Record Read more
Murphy's Green Message Has Firms Dreaming Big
It wasn't in the opening remarks, not even close. But the word "aggressively" was used in the same sentence as "renewable energy" before Gov. Phil Murphy was done with his inaugural address.
ROI-NJ Read more
Libraries in the Lurch: Patrons, Book Clubs Struggle to Get the Books They Need
While the powers that be scramble to fix statewide delivery issues that have left at least 100,000 library books in limbo, there are some book lovers in North Jersey who just want their copy of Orphan Train.
The Record Read more
Former Gov. Whitman to Chair Task Force to Fix U.S. Democracy
Former New Jersey Gov. Christine Todd Whitman, a vocal critic of Donald Trump and his administration, is doing more than just speaking out against him. She is co-chairing a national task force whose mission is to fix American democracy.
NJSpotlight Read more
N.J. Looks to Expand Voting by Mail
A state Senate panel Thursday advanced two voting-related bills previously vetoed by Gov. Chris Christie but are expected to get a warmer reception from Gov. Phil Murphy.
NJ101.5 Read more
Senate Passes 2 Bills to Increase Funding for Family Planning Services
The state Senate passed two bills on Thursday that would increase funding and eligibility for family planning services, marking the near end of an eight-year political battle waged between Democrats and former Republican Gov. Chris Christie.
Politico Read more
Leonia's Local-Only Traffic Plan Illegal, Lawsuit Claims
A lawyer is suing town officials after the implementation of a plan that has barred non-residents from using its roads as a shortcut to the world's busiest bridge, arguing that its action to block drivers drawn to side streets by navigation apps is illegal.
Associated Press Read more
State Pushes Flu Shots to Tamp Down Danger
New Jersey officials have ramped up their campaign to help protect the public against this season's deadly influenza outbreak, a strain that has infected thousands of residents in recent weeks and led to the death of a four-year-old girl in December.
NJSpotlight Read more
Mahwah Pays $10,000, Give up Eruv Fight
A settlement between Mahwah and an Orthodox Jewish group will cost the municipality $10,000 and allow the religious group to erect a eruv, or religious boundary, in the town.
NJ101.5 Read more
Doblin: An Eruv Painted White or Beige Will Still Look Jewish
The agreement comes down to this: The utility poles in Mahwah won't look Jewish at all.
The Record Read more
Lakewood School Funding: District Needs Millions to Cover Deficit
The township's public schools are facing a $14 million to $20 million budget shortfall for the 2018-2019 school year, a gap district leaders say the state must fill.
Asbury Park Press Read more
McGreevey-Run Nonprofit Opens Hackensack Office to Help Former Criminals
A Jersey City nonprofit that shepherds former criminals through their reentry into society is opening on Friday in a new office on Hudson Street.
The Record Read more
Indonesian Christians in N.J. Church Sanctuary Say Their Passports Were Stolen
Indonesian Christians in sanctuary at the Reformed Church of Highland Park say several of their passports were stolen during a pair of break-ins.
Asbury Park Press Read more
Are These 66 Catholic Schools, Parishes Ignoring Rules Meant to Stop Sex Abuse?
More than six dozen parishes and schools in the Archdiocese of Newark may be out of compliance with a policy meant to protect children from sexual abuse, documents obtained by NJ Advance Media show.
NJ.com Read more
Newark Public Schools Returned to Local Control After More Than 20 Years
After more than 20 years of state intervention, Newark Public Schools will be returned to local control.
WPIX Read more
New Jersey Lawmakers Recalling Roman Empire in Beach Access Fight
New Jersey lawmakers are reaching back to the Roman Empire in their latest effort to guarantee public access to the shoreline and end some shore towns' long history of trying to keep outsiders off their beaches.
Associated Press Read more
New Jersey Adult Adoptees' Search for Their Birth Families
When Bob MacNish was 22, his dying father told him that he'd been adopted. MacNish spent the next 50 years searching for his birth parents.
The Record Read more
Camden School Superintendent Paymon Rouhanifard: `I love my job.' Will Gov. Murphy keep him?
Camden stakeholders are awaiting word from the state on the future of the school district, under state takeover since 2013.
Inquirer Read more
Rutherford Residents Question Why Potential Developer Funded Redevelopment Study
The borough is moving ahead with a plan to declare a neighborhood where East Erie Avenue becomes Meadow Road as a redevelopment zone.
The Record Read more
Rutherford Authorizes Redevelopment Plan to Account for Historic Kip Homestead
Mindful of the objections of the Historic Preservation Committee and the public, a future redevelopment plan for the Meadow Road redevelop area will "take the historic nature" of the Kip Homestead into account.
The Record Read more
Morris Plains Residents Don't Want Fragrance Plant as Neighbor
Residents are again raising a stink over plans by a French fragrance company to relocate its manufacturing facility to Morris Plains.
Daily Record Read more
SaveSaveSaveSaveSaveSave
SaveSave