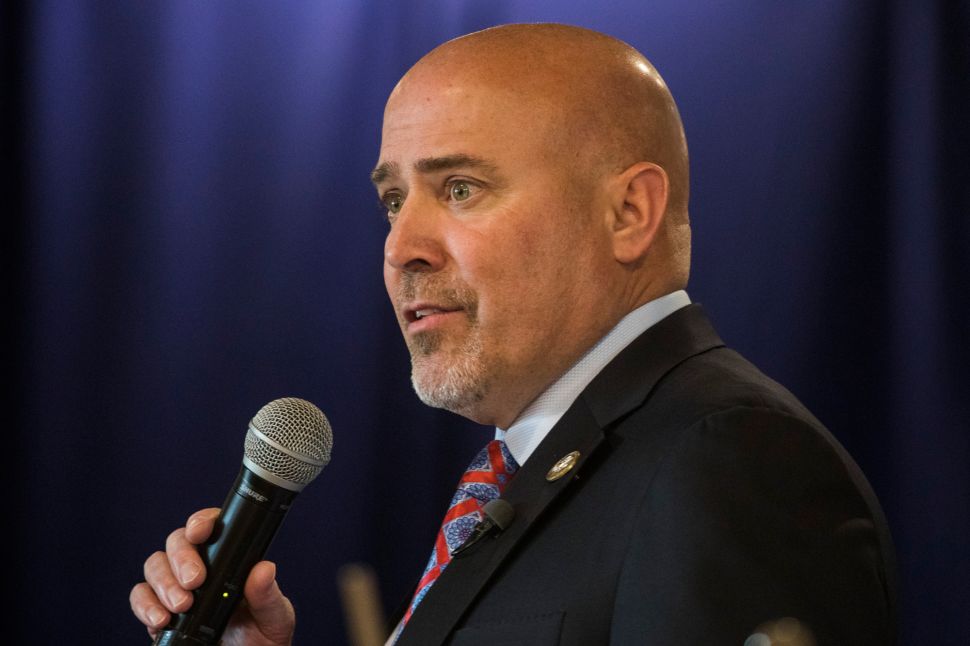 Democrats are hoping to pick up seats in the House of Representatives this election cycle, and they're enlisting GOP Speaker Paul Ryan in the effort.
The Democratic Congressional Campaign Committee is planning a Facebook ad campaign targeting 50 vulnerable House Republicans, including three GOP incumbents in New Jersey.
The campaign focuses on Ryan's now-deleted tweet that touts the GOP tax plan for increasing a public school secretary's take-home pay by $1.50 per week. Critics immediately lambasted Ryan for being out of touch and used the tweet to illustrate how much corporations and the rich would reap under the tax plan compared to regular American workers.
Rep. Tom MacArthur, of the state's 3rd Congressional District, was the only state representative to vote for the tax plan, which hits New Jersey particularly hard since it limits deductions for state and local taxes.
MacArthur has repeatedly maintained that most New Jersey taxpayers will benefit from the tax plan.
Quote of the Day: "You should not be negotiating the clean energy agenda for the Murphy administration in the opening weeks with only a few players," — Doug O'Malley, director of Environment New Jersey, on the state's proposed nuclear bailout bill, which has reportedly grown in cost to $4 billion over 10 years.
Cory Booker Wants DOJ to Probe Discrimination in Setting of Prison Sentences
Sen. Cory Booker is calling on the U.S. Department of Justice and the U.S. Sentencing Commission to evaluate the automated methods used to determine prison sentences on the grounds that they are influenced by individuals' demographic characteristics.
Madina Toure, Observer Read more
Net Neutrality Is the Next Arena in New Jersey's Battle Against Trump
Gov. Phil Murphy is picking another fight with the Trump administration, this time over federal efforts to do away with Obama-era net neutrality regulations.
Steve Cronin, Observer Read more
Paul Ryan's Deleted $1.50 Tax Cut Tweet May Hurt N.J. Rep. Tom MacArthur: Here's Why
The Democratic Congressional Campaign Committee is rolling out a Facebook ad campaign targeting Rep. Tom MacArthur, R-N.J., and other Republicans in swing districts in this year's midterm elections in the wake of the "$1.50" tweet by House Speaker Paul Ryan, R-Wisconsin.
Asbury Park Press Read more
Plan to Bail Out Nuke Plants Getting Even More Expensive
A planned vote was put off Monday on an energy package that includes subsidies to make sure the nuclear plants in South Jersey remain profitable.
NJ101.5 Read more
Gun Groups Take on Murphy Over N.J. Handgun Rules
As Gov. Phil Murphy moves to tighten New Jersey's gun laws, state gun rights advocates—backed by the National Rifle Association—are mounting a legal challenge in federal court.
NJ.com Read more
Murphy Ditches 101.5 for New 'Ask the Governor' Program
Democratic Gov. Phil Murphy will continue former Republican Gov. Chris Christie's practice of taking calls from constituents every month and broadcasting it. But he'll be doing it his way.
Politico Read more
3 Indonesian Immigrants Leave Church Sanctuary After Judge Blocks Deportation
For the first time since Oct. 9, Arthur Jemmy set foot outside the Reformed Church of Highland Park.
NJ.com Read more
NJ Transit's Head of Rail Operations to Retire in March
The head of NJ Transit's train operations will retire next month, leaving a major leadership gap in the troubled agency.
The Record Read more
Activists Call for More Electric Public Transportation
Renewable energy advocates rallied in City Hall today to call for the electrification of New Jersey's public-transportation system.
NJ.com Read more
NTSB: Failure to Screen NJ Transit Engineer for Sleeping Disorder Caused Hoboken Crash
The chairman of the National Transportation Safety Board took the Trump administration to task Tuesday for killing a proposed rule that would have required train engineers and truck drivers to be screened for a sleeping disorder.
The Record Read more
NJ Teachers Union Promotes Black Lives Matter in Schools
The state's largest teachers union is promoting a controversial political movement in schools during Black History Month.
NJ101.5 Read more
Will Phil Murphy Make Good on His Vow to Give N.J. Free Community College?
Gov. Phil Murphy campaigned on tuition-free community college for all New Jerseyans, and he said Tuesday he's committed to deliver on that promise.
NJ.com Read more
Appointment of Veteran Environmentalist Marks Shift at New Jersey DEP
A veteran environmentalist has been tapped to be second in command of the state Department of Environmental Protection, a move that advocates hope will propel Gov. Phil Murphy's progressive environmental goals that he laid out last week.
The Record Read more
As Legislatores Try to Fix Out-of-Network Surprises, Doctors Not Happy
Support from the new governor and Assembly leadership has jumpstarted a decade-old debate on how to reduce the impact of out-of-network medical bills on New Jersey residents, despite the continued objection of some healthcare providers.
NJSpotlight Read more
NJ Made GEDs Harder, More Expensive to Get
The number of adults in New Jersey taking the high school equivalency test has plunged from nearly 17,000 in 2013 to fewer than 9,000 in 2016. Of those who are taking it, the number who pass has fallen from 70 to 55 percent.
NJ101.5 Read more
'Very Serious' Issues Over Inmate Deaths Bring New Policies to Hudson County Jail
At least four people have been dismissed from their positions at the Hudson County jail in the wake of five inmates dying while in custody over the past eight months.
NJ.com Read more
Attorney General Rejects PennEast Offers for Easements on Protected Lands
New Jersey rejected offers of compensation from the PennEast Pipeline Co. for the right to build its line through several parcels of preserved land in Hunterdon County, saying the company has not given officials enough time to evaluate the offers, and has not explained how it arrived at the specific amounts.
NJSpotlight Read more
New Jersey Joins Fight Opposing Trump's Transgender Military Ban
New Jersey Attorney General Gurbir Grewal on Tuesday signed on to an amicus brief in a federal lawsuit challenging President Donald Trump's proposed ban on transgender people serving in the military.
Politico Read more
N.J. Enlists in Fight Against Trump to Protect Clean Water
The Garden State is going to court over the Trump administration's efforts to rollback Obama-era water protections.
NJ.com Read more
N.J. Marijuana Legalization: Ocean County Says No
A resolution against the legalization of marijuana for recreational use is expected to be adopted Wednesday at a meeting of the Ocean County Board of Freeholders.
Asbury Park Press Read more
Mahwah Postpones Tuesday Eruv Settlement Meeting
Town officials postponed a highly-anticipated town hall meeting scheduled Tuesday night that would have provided a forum for residents to ask questions about a recent settlement that allows a controversial eruv in town to remain standing.
The Record Read more
Jackson Shul Approved, First Synagogue for Orthodox Jews in Town
After years of privately gathering in living rooms or walking to a Lakewood synagogue to pray, some of the township's Orthodox Jews will soon have a shul of their own.
Asbury Park Press Read more
N.J. Schools Should Have Mandatory Recess, Politicians Insist in Years-Long Fight
Chris Christie once called the idea of mandatory school recess "stupid" and "crazy government run amok."
NJ.com Read more
Atlantic City Democrats Approve Committee to Investigate $10K Check
The city Democratic Committee voted Monday to establish an ad hoc committee to investigate a $10,000 check they were supposed to get that was deposited in the wrong account.
Press of Atlantic City Read more
Assembly Creates Commitee to Tackle Science and Tech
A new committee has been formed in the state Assembly. The Science, Innovation and Technology Committee held its first formal meeting on Feb. 1. They will work to keep the state at the forefront of scientific innovation and entrepreneurship.
NJ101.5 Read more
Murphy Ponders Modifying 'Gift Ban' for Docs
Gov. Phil Murphy's administration is working on modifying a rule enacted in the final days of Gov. Chris Christie's term that limited the dollar value of gifts from pharmaceutical companies to doctors, in an attempt to address the opioid epidemic, ROI-NJ has learned.
ROI-NJ Read more
Paterson Suspends Risk Manager Samir Goow in Probe of Medical Bills
An investigation into a multimillion-dollar increase in the city's medical payments for workers' compensation cases has resulted in the unpaid suspension of Samir Goow, Paterson's insurance risk manager, officials said.
Paterson Press Read more
Moran: After Menendez, Christie Scandals, Ban Large Gifts From 'Friends'
The Justice Department's decision to drop charges against U.S. Sen. Robert Menendez puts New Jersey voters in a bind this November. To oppose Donald Trump, they will have to accept the senator's fondness for luxury gifts and his close friendship with the felon who supplied them. What a mess.
NJ.com Read more
Editorial: Murphy's 180-Degree Turn on Environment
For eight years, New Jersey sat on the environmental sidelines, unable to show any leadership in promoting clean energy and combating climate change because its governor didn't want to.
Asbury Park Press Read more
SaveSaveSaveSave
SaveSave