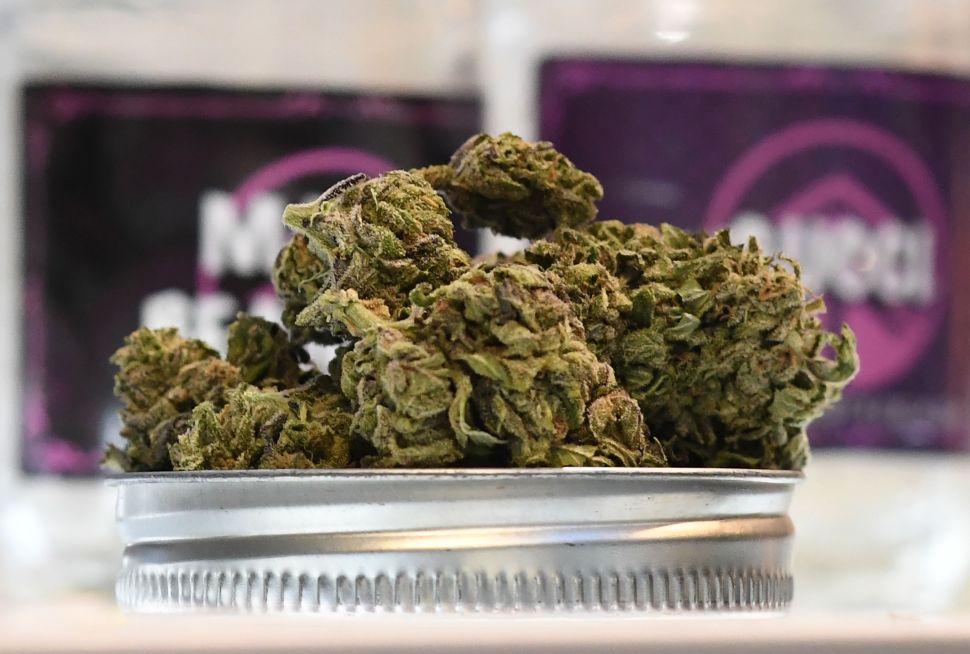 Gov. Phil Murphy has brought the drive to legalize marijuana to the forefront in New Jersey, but the governor and his allies might find they are leading far ahead of the hometown crowd, according to a new Fairleigh Dickinson University poll.
Only 42 percent of state residents favored legalizing marijuana for recreational use, according to the poll. The findings are giving new ammunition to a number of state lawmakers who, while supporting the idea of overhauling marijuana laws, would like to take a go-slow approach, according to a NJ.com report.
The big new in New Jersey politics Wednesday was the government's decision to drop all corruption charges against Sen. Robert Menendez. A jury deadlocked after the first trial of the state's senior U.S. senator last year.
But the Justice Department had indicated in January that it intended to bring Menendez to trial a second time, throwing his reelection effort in doubt and giving hope to a lot of ambitious would-be federal legislators on both sides of the aisle. However, the trial judge last week dismissed a good portion of the case against Menendez, leading prosecutors—after some consideration—to the conclusion it was time to fold up their tents and move on.
And two of New Jersey's GOP representatives were on the train involved in a fatal crash in Virginia Wednesday afternoon, but—thankfully—neither were injured. Representatives Leonard Lance and Tom MacArthur both informed supporters and constituents they were fine in the hours after the accident.
Quote of the Day: "The inability of the government to secure a verdict in the first trial spoke volumes about the fragile nature of its case and about the viability of a second trial," — Attorney Angelo J. Genova, on the Department of Justice's decision to drop the political corruption case against U.S. Sen. Bob Menendez.
Justice Department Drops Corruption Case Against Sen. Bob Menendez
Federal prosecutors said Wednesday that they will drop their corruption case against Sen. Bob Menendez, allowing the New Jersey Democrat to run for reelection without facing bribery charges.
Christian Hetrick, Observer Read more
Gov. Phil Murphy Calls For State 'Partnership' With Atlantic City
Former Gov. Chris Christie may be gone, but the state could stay in Atlantic City. Gov. Phil Murphy said Wednesday that he envisions a "partnership" between the state and cash-strapped city, but he didn't repeat his campaign promise to end the controversial state takeover of the local government when asked about it during an unrelated news conference in the city.
Christian Hetrick, Observer Read more
Bob Menendez Case: Timeline of Events Leading Up to Dismissal of Indictment
The U.S. Justice Department's stunning announcement Wednesday that it would drop the remainder of the charges against Sen. Bob Menendez and his co-defendant was the culmination of an investigation and prosecution that spanned more than five years.
The Record Read more
Experts Aren't Surprised by Decision to Drop Menendez Case
Angelo J. Genova wasn't surprised by the Department of Justice's decision to drop the political corruption case against U.S. Sen. Bob Menendez.
ROI-NJ Read more
What Does N.J. Say to Legal Recreational Weed? New Poll Has Answers
Most N.J. residents still aren't quite sold on legalizing the sale and use of weed for recreational use, even though more than two-thirds want to see changes made to the state's marijuana laws, according to a new statewide survey, obtained exclusively by NJ Advance Media.
NJ.com Read more
Sources: Senate's Delay in Hearings for Cabinet Picks Speaks to Bigger Sweeney-Murphy Political Troubles
They all walk the same halls in Trenton, but sources both in the Murphy administration and in the Senate describe increasingly sharp elbowed and irritable encounters as Governor Phil Murphy attempts to settle in as the state's chief executive in the statehouse proximity to the man he beat for the job: powerful Senate President Steve Sweeney (D-3).
InsiderNJ Read more
NJ Congressmen Aboard Fatal Train Crash in Virginia
Two Republican congressman from New Jersey were aboard a chartered train that struck a garbage truck south of Charlottesville, Virginia, on Wednesday.
NJ101.5 Read more
Rep. Tom MacArthur Escapes Injury After Train Carrying Republicans Collides with Truck
U.S. Rep. Tom MacArthur, R-N.J., was on the train involved in a deadly collision with what appeared to be a garbage truck on Wednesday, but said he was "OK" in a Facebook post.
Asbury Park Press Read more
GOP Says Gottheimer Email Touting Fund-Raising Totals May Have Broken House Ethics Rules
The political arm of the House Republican caucus criticized Rep. Josh Gottheimer's office on Tuesday for using an official congressional email account to tout the Wyckoff Democrat's campaign fundraising totals, an apparent violation of House rules.
The Record Read more
Library Book Deliveries Tangled After State Changes Vendors, Backlog Tops 86,000 Volumes
Michael McCue started his workday on a recent morning in an unusual way: He packed his Honda Civic with a dozen or so boxes of novels, classics and non-fiction hardcover books and ferried them to libraries across eastern Bergen County.
The Record Read more
NJ: Ratepayers Must Get Any Utility Trump Tax Savings
New Jersey residents may get some relief on their electric, natural gas and water bills thanks to Uncle Sam.
Asbury Park Press Read more
Murphy Signs Executive Order to Jump-Start Offshore Wind Industry
The governor's fortnight of executive orders is intended to make the point that he represents a sea of change from the previous governor. Wednesday, Gov. Phil Murphy was pointing off shore, signing an executive order he predicts will put the wind under the wings of another sector of the alternative energy industry.
NJTV News Read more
How States Are Gambling on N.J.'s Sports Betting Suit
Americans bet an estimated $4.7 billion on last year's Super Bowl, an 11 percent jump over 2016. A trade group said 97 percent of the bets were illegal.
Inquirer Read more
Jersey Shore Elected Officials React to Trump's Big (and Very Long) Speech
At 1 hour and 20 minutes long, President Donald Trump on Tuesday night gave the third-longest State of the Union in the past 50 years.
Asbury Park Press Read more
Trump's Immigration Remarks During State of the Union Criticized by N.J. Dreamers, Advocates
Elizabeth Vilchis, 29, of Ridgefield Park left the State of the Union Address on Tuesday night shaken and worried about what the future holds for her and the nation's other 11 million undocumented immigrants.
The Record Read more
Deal Stops Free Pass to Public Beach for Those with Private Access
Private beach access apparently will not get homeowners a free pass onto public beaches anymore.
Asbury Park Press Read more
Here's Why Bergen County Has So Many Towns
New Jersey has more municipalities per capita than any other state in the Union. Among New Jersey's 21 counties, Bergen County leads the pack with 70, including 56 boroughs.
The Record Read more
Bayonne Muslims Get $400k Settlement to Proceed With Mosque
A Muslim group will be allowed to move forward with plans to build a mosque after this Hudson County city agreed to settle a religious discrimination lawsuit for $400,000.
NJ101.5 Read more
Jersey City Mayor Faces Police Ire Over Halting Off-Duty Jobs
Mayor Steve Fulop's pledge to end a program that allows cops to make extra cash working off-duty jobs is leading to howls of protest from the city's police force.
NJ.com Read more
Bolstered by Survey, Hoboken Again Says No to Ferry Yard
Nostalgia for the days when the waterfront of Hoboken, N.J., teemed with stevedores and tugboat crews is apparently a thing of the past.
New York Times Read more
N.J. Hall of Fame Honors Van Zandt, Streep
What do Little Steven Van Zandt, Debbie Harry, Meryl Streep, baseball pro Al Leiter and "Cake Boss" Buddy Valastro have in common? They're all being inducted into New Jersey's Hall of Fame with the class of 2017. A total of 21 inductees will be honored at a ceremony in Asbury Park at the Paramount Theater on May 6. This is a celebration of the hall's 10-year anniversary.
NJ101.5 Read more
Did Chris Christie Ace His Debut as a Contributor for ABC News?
Christie made his debut as a "civilian" yesterday, appearing on ABC's Good Morning America as a political contributor.
NJ.com Read more
Moran: Good-bye ABC News! You and Christie, Perfect Together
Just when you dreamed you were done with Gov. Blowhard, ABC News goes and puts his mug back on the screen.
NJ.com Read more
This N.J. Mall Is 1 of Most Lucrative in Country, Study Says
While brick-and-mortar stores are closing and malls struggling to fill space, there is at least one N.J. shopping destination that's defying the odds—Garden State Plaza in Paramus is one of the most lucrative malls in the country, according to a new study.
NJ.com Read more
Taxation Institute: GOP Lawmakers Shouldn't Skew Our Numbers to Defend Trump's Tax Cuts
It's well known that the GOP tax law approved in a rush at the end of last year provides a small tax cut for most working people and a bonanza for the wealthy.
NJ.com Read more
East Orange Mayor Takes to the Streets to Clean up the City
Code enforcement officers sweep the streets of East Orange, knocking on doors as a warning. The new administration is fed up with littered properties and illegal dumping throughout the city.
NJTV News Read more
Editorial: Mahwah Turns a Corner on the Eruv, and Residents Should, Too
A six-month fight against an eruv in Mahwah could be coming to an end. On Tuesday, the Township Council voted 5-2 to settle a lawsuit with the Bergen Rockland Eruv Association.
The Record Read more
Editorial: N.J. Senator, a White Man, Just Wants to Feel 'Comfortable' in America
When we last checked in with Sen. Mike Doherty, he was lamenting how hard it is to be a white man in America.
Star-Ledger Read more
Editorial: Shameful! 70K N.J. Kids Still Don't Have Health Care
It would seem to be a no-brainer: Extending health care benefits to children keeps them out of the emergency room, eases the impact of killers such as diabetes and asthma, and helps youngsters succeed in school while creating more stable families.
Times of Trenton Read more
SaveSave
SaveSave