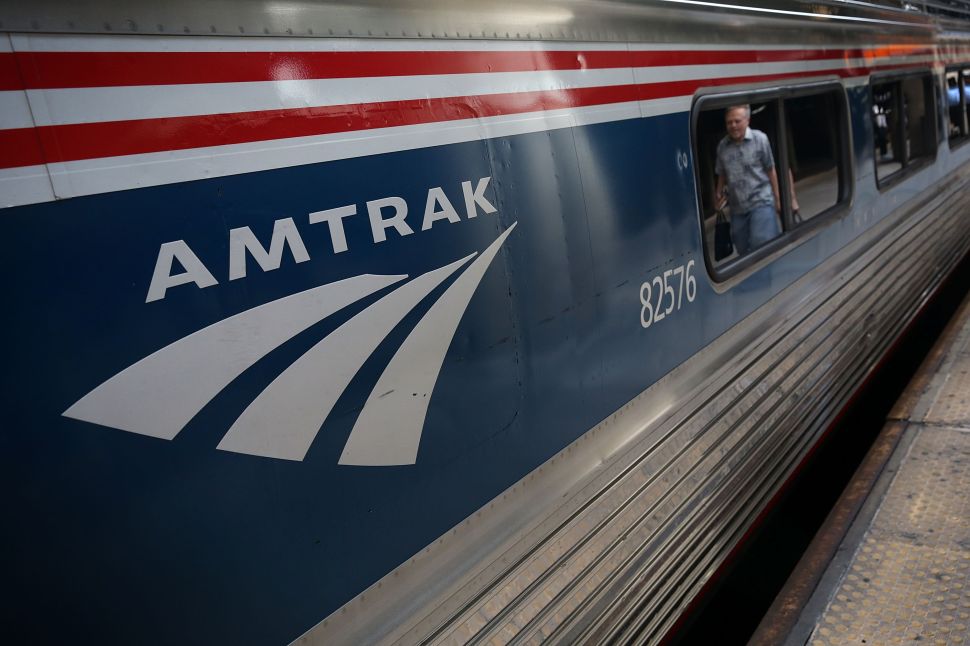 Supporters of the $13 billion Gateway rail tunnel project between New Jersey and New York on Monday said President Donald Trump's long-awaited plan to redo the nation's infrastructure was a big disappointment.
Though Trump envisions $1.5 trillion in infrastructure spending, he wants states to put up the majority of the money for his proposal, saying only $200 billion would be direct federal spending.
Trump's plan would also limit federal funding to 20 percent of a project's total cost—a far cry from the 50/50 split federal officials originally agreed to for funding the Gateway plan by the Obama White House.
In December, a Trump transportation official said the earlier agreement was "nonexistant."
"In order for programs across the country like Gateway to be successful, we must substantially increase direct federal investment in infrastructure," John D. Porcari, interim executive director of the Gateway Program Development Corporation, said in a report by NJ.com.
Gov. Phil Murphy was more blunt, according to the report, saying the Trump plan had "a lot of good words associated with it but not a lot of coin."
Supporters of the project, which would includes rebuilding the Portal Bridge over the Hackensack River and construction of two new tubes under the Hudson River, say the Gateway plan is not just a local transportation project but one of the nation's most important infrastructure initiatives.
The existing tunnel between New York and New Jersey is more than a century old, was damaged during Hurricane Sandy and is in danger of failing within the next two decades, transportation officials have warned. Such a failure could damage the entire U.S. economy, Gateway supporters say.
Quote of the Day: "That's where the long, slippery slide started," —Mendham Township Deputy Mayor Rick Blood, saying he cut-and-pasted a provocative post about immigrants after it was sent to him by a Facebook friend.
Former Celgene CEO Bob Hugin to Challenge Sen. Bob Menendez
Republican pharmaceutical executive Bob Hugin announced that he will be challenging New Jersey Sen. Bob Menendez, who recently dodged federal corruption charges.
Madina Toure, Observer Read more
Christie: Porter Scandal a Question of Competence at White House
Former Gov. Chris Christie touted his own experience and took a shot at White House Chief of Staff John Kelly during a Sunday discussion about the security clearance for former White House staff secretary Rob Porter.
Steve Cronin, Observer Read more
Trump Falling Short in Paying for Gateway Project, Phil Murphy and Others Say
President Donald Trump's proposed budget could limit the U.S. government's contribution to the Gateway Tunnel project and make it harder to fund the federal share.
NJ.com Read more
Rail Tunnel Backers Feel Shorted by Trump Plan
Proponents of a $13 billion project to build a new rail tunnel between New York and New Jersey seen as critical for the future of the nation's busiest rail corridor are panning President Donald Trump's infrastructure proposal.
Associated Press Read more
Judges Uphold Controversial $225M Exxon Pollution Settlement
A three-judge panel on Monday struck down an appeal by advocacy groups to block a controversial $225 million pollution settlement between ExxonMobil with the state that the groups argued was far too low given the environmental damage caused by the oil company.
The Record Read more
Are You a Citizen? N.J. Says Census Should Not Ask the Question
New Jersey and more than a dozen other states are pushing back against a controversial proposal by the Trump administration to put a citizenship question on the 2020 Census, over fears it would harm states with large immigrant populations.
NJ.com Read more
Official's Facebook Post Compares Immigrants to 'Rabid, Messy, Mean Raccoons'
Mendham Township Deputy Mayor Rick Blood is expecting a firestorm at tonight's committee meeting after publishing a Facebook post that compared illegal immigrants in the United States to an infestation of "rabid, messy, mean raccoons" that have "overtaken your basement."
Daily Record Read more
'Gestational Carrier' Bill Advances, Restarting Surrogacy Debate in New Jersey
New Jerseyans who want to be parents but face difficulty conceiving their own children would be allowed to enter legally binding agreements with "gestational carriers" under a bill that advanced out of an Assembly committee Monday.
The Record Read more
Democrat Who Opposes Legal Weed Wants to Increase Tobacco Fee Instead
Selling cigarettes in New Jersey may become more expensive.
NJ.com Read more
1 Percent in 10 Years—N.J. Home Prices Barely Growing
Over the past 10 years, according to data from the state, the average price of homes sold in New Jersey rose by one percent.
NJ101.5 Read more
Lawmaker Calls for Nations First Opioid Warning Labels
New Jersey could be the first state in the nation to require warning stickers on opioid prescriptions, according to legislation proposed by a new state lawmaker eager to reduce the impact of the state's epidemic of drug addiction.
NJSpotlight Read more
NJ AG Joins Multi-State Group Seeking to End Required Workplace Arbitration of Sexual Harassment
New Jersey Attorney General Gurbir Grewal has signed on to a multistate letter to Congress today urging its leaders to pass a ban on mandatory arbitration of on-the-job sexual harassment claims. Grewal joins 55 other attorneys general from across the country in signing the letter.
NJBiz Read more
Making the Public Welcome on N.J. Beaches and Waterfronts
The legislature is once again trying to guarantee the public's access to beaches and waterfronts in New Jersey.
NJSpotlight Read more
Murphy Creates Commission to Aid Puerto Rico
Gov. Phil Murphy signed an executive order Monday creating a temporary commission charged with helping Puerto Rico and its citizens following Hurricane Maria last year.
The Record Read more
Doblin: Mendham Official's Post Didn't Fan Racist Flames, It Lit the Cross
By Tuesday morning, Rick Blood may no longer be the deputy mayor of Mendham Township. But I doubt it. I would like to be proved wrong, but I think of a Wayne councilman who went on a sexually explicit and profane rant against a female Republican volunteer in a campaign office last spring, all of it caught on video, who remains in office. These are strange times.
The Record Read more
Jeff Bell, Two-Time Republican Senate Nominee, Dies
Jeff Bell, a conservative Republican who ran for Senate three times in New Jersey and whose first candidacy presaged the "Reagan Revolution," died Saturday. He was 74.
Politico Read more
Izzo Explains Why PSEG Is Asking for Nuclear Subsidy
Tension and criticisms surrounding a $300 million subsidy for one of the state's largest energy providers have been building for the past two months.
ROI-NJ Read more
Report: Online Gambling in N.J. Generates $245.6M in 2017
New Jersey's online gambling industry generated $245.6 million in revenue in 2017, up 24.9 percent from the previous year's $196.7 million, but the golden child of the industry was Golden Nugget, which reported $68.5 million in revenue, a 62.3 percent increase from 2016, according to a new study.
NJBiz Read more
The Good News: N.J. Bail Overhaul Is Working; The Bad News: It's Already Going Broke
In its first year, New Jersey's historic criminal justice system overhaul slashed the number of people charged with minor crimes locked up until trial because they couldn't post bail by 20 percent, according to a new report from the state judiciary.
NJ.com Read more
Immigrant Imprisoned for Illegal Return to US Dies in N.J. Prison
Authorities are investigating the death of a federal prison inmate found unresponsive in his cell "following an apparent altercation" at a New Jersey facility.
NJ.com Read more
CD11's Assemblyman Jay Webber: The InsiderNJ Interview
One reason the usually very-Republican 11th congressional district is seen as competitive this year is because of Democratic enthusiasm. Party campaign forums are drawing large crowds and weekly protests outside the Morristown office of now-retiring Rep. Rodney P. Frelinghuysen are in their second year.
InsiderNJ Read more
Can ESG Help Make N.J. Pensions More Ethical?
The federal government's inaction on issues like climate change and gun violence has led elected officials in New York City, California and other places to start using public-employee pension funds to exert more influence, including by pulling back investments in oil companies and gun manufacturers.
NJSpotlight Read more
Ringwood Group Wants Gov. Murphy to Tour Superfund Site, Get Involved
Gov. Phil Murphy needs to take a tour of the Ringwood Mines Superfund site before major remediation work begins next year, say members of its community advisory group.
The Record Read more
Cop Pardoned by Former Gov. Christie Wants Police Job Back
A former Mount Olive police officer, who was convicted for obstruction but pardoned by outgoing Gov. Chris Christie in December, is hoping to be back on the force by July.
The Record Read more
Falling Bricks, a Lead Pipe and Debris: Camden's Municipal Court Forced to Close and Relocate
On Dec. 27, an employee of the Camden Municipal Court filed a complaint with the state's Occupational Safety and Health Administration claiming a 3-foot lead pipe fell and was caught in the ceiling's insulation above her head while court was in session.
Philly.com Read more
Black Infants in N.J. Are Dying at an Alarming Rate. Leaders Say It Can Be Prevented
Every year, nearly 500 babies in New Jersey die before they reach their first birthday for preventable reasons.
NJ.com Read more
N.J. Commute: Power Outage at Hoboken PATH Hits During Rush Hour
A power outage caused by a water leak at the Hoboken PATH Station came just in time for the Monday evening rush.
The Record Read more
Editorial: Lottery Deal Was Always Bad for Taxpayers
The North Star, AKA Polaris, is a navigational tool used by explorers, sailors and lost hikers. It points to true north. Northstar New Jersey is also a navigational tool, one used by former Gov. Chris Christie and his political cronies. It points to a truly bad decision.
The Record Read more
Editorial: Despite Trump's Promises, Outlook Grim for N.J. Bridges
The federal government says hundreds of New Jersey's bridges are structurally deficient. It's likely you made your shaky way across one of them today.
NJ.com Read more
SaveSave
SaveSave
SaveSave