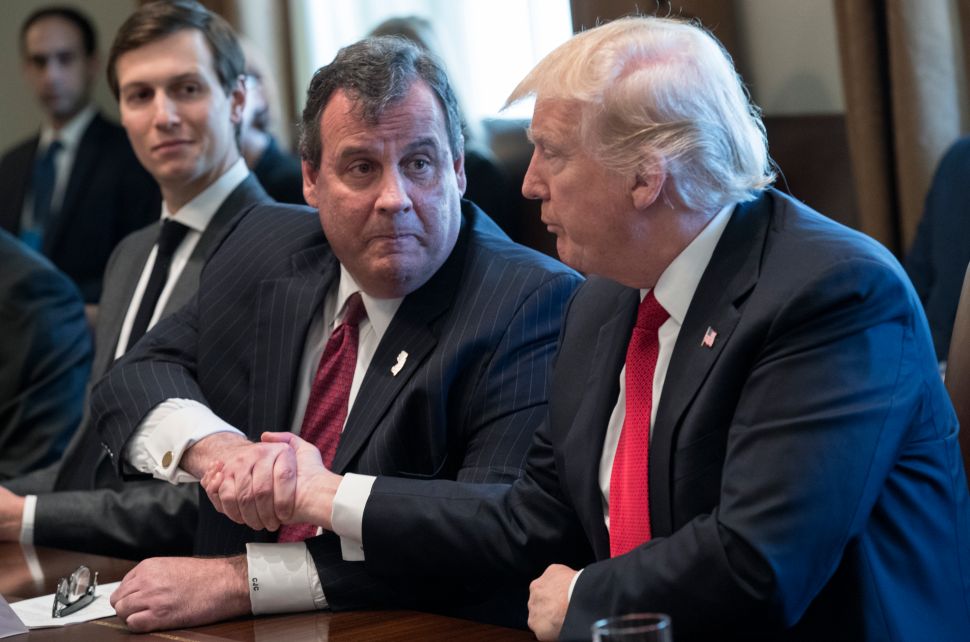 The ongoing drama and confusion on Pennsylvania Avenue could also be raising some hopes in the Garden State, with former Gov. Chris Christie once again being mentioned as a possible addition to the Trump administration.
Vanity Fair is reporting that President Donald Trump is again contemplating a shakeup at the White House and regrets having passed over his loyal ally from Mendham for a top White House post.
The magazine reports that Trump now regrets not naming Christie attorney general, a position the former federal prosecutor would likely have accepted.
Christie, who landed a post-gubernatorial gig as a paid TV commentator on ABC, contendeds he turned down several job offers from the president, although there were rumors that Trump son-in-law Jared Kushner paid back an old family grudge (Christie once sent his father to jail) by blocking the former governor's ambitions for a top federal posting.
It's not clear how serious Trump is when discussing a shakeup, or if Christie would jump at the chance to once again be a major political player.
Quote of the Day: "He's saying he should have put Rudy (Giuliani) at State and Chris Christie at Justice," — an unnamed source on President Donald Trump's staffing regrets.
New Jersey Congressman Seeks to Codify Federal Rail Safety Standards
U.S. Rep. Josh Gottheimer (D-N.J.) is looking to standardize federal rail safety standards to keep New Jersey and the United States' rails safe, following two recent major rail accidents and the Hoboken train crash in 2016.
Madina Toure, Observer Read more
Sen. Bob Menendez Reassumes Foreign Policy Leadership Post
With his legal woes behind him and facing a reelection effort in November, Sen. Robert Menendez is returning to his position as ranking member of the Senate Foreign Relations Committee, Senate Democratic Leader Chuck Schumer announced Tuesday.
Steve Cronin, Observer Read more
President Trump Pines for Chris Christie, Vanity Fair Says
President Donald Trump is thinking about rearranging the furniture at the White House, Vanity Fair reports.
Asbury Park Press Read more
Tensions in Trenton, Do Murphy, Sweeney Have Issues to Resolve?
For Democrats in the state, Gov. Phil Murphy's election last year marked the beginning of a new era in New Jersey politics, one in which the party—now in control of both the legislature and the executive branch—would be free to move forward on a range of policy initiatives, many of which had been previously kept out of reach by two-term Republican Gov. Chris Christie.
NJSpotlight Read more
N.J. Environmentalists Blast Trump Offshore Drilling Plan
New Jersey environmental leaders fear that an oil spill off its famous beaches would devastate its $44 billion tourism economy and are rallying opposition to President Donald Trump's plan to open most of the nation's coastline to drilling.
Associated Press Read more
N.J. Looks to Recover $4M in 'Sanctuary City' Fight With Trump
New Jersey's attorney general on Wednesday waded into another battle between President Donald Trump and left-leaning states, signing onto a federal lawsuit looking to pry loose money being withheld from "sanctuary cities."
NJ.com Read more
Federal Corruption Case Points to Paterson Utilities Authority Commissioner
Eric Lowe, the former chairman of the city Municipal Utilities Authority, is the only person who fits the description of an unnamed co-conspirator, who took kickbacks for making $146,000 in payments to a contractor for bogus work.
Paterson Press Read more
FBI Makes Surprise Visit to Newark Housing Authority
Agents from the FBI Newark Division conducted law enforcement activity at the Newark Housing Authority on Tuesday, an agency spokesperson confirmed.
NJ.com Read more
Anita Hill, Queen Latifah to Deliver Rutgers Graduation Speeches
Anita Hill, a pioneer in the fight against sexual harassment, and the New Jersey-bred hip-hop icon Queen Latifah will speak at graduation ceremonies at Rutgers University this spring.
The Record Read more
Former Dominatrix Loses Sheriffs Job
A Hudson County sheriff's officer has lost her job because she previously appeared in bondage films as a dominatrix.
Associated Press Read more
Trooper Fired for Promoting Trooper-Killer T-Shirt: Lawsuit
The New Jersey State Police sacked an officer for unwittingly promoting a T-shirt that showed the face of convicted trooper killer Joanne Chesimard, according to a lawsuit the former trooper filed in federal court.
Asbury Park Press Read more
Christie Released Killer, and Point Pleasant Beach Victim's Family Left in the Dark
Frank McGowan's son got the troubling news while at his father's 65th birthday party on Jan. 14.
Asbury Park Press Read more
10 Homes Socked With Huge Tax Hikes Thanks to Jersey City Reval
Jersey City is conducting its first complete property revaluation since 1988, and the new assessments have started rolling in.
Jersey Journal Read more
66 N.J. Towns Where Property Taxes Went Down
The average residential property tax bill in New Jersey last year rose by 1.6 percent to $8,690.
NJ101.5 Read more
Murphy Chips at Christie's Legacy on Energy, Marijuana, Health
Chris Christie's business-friendly, law-and-order Republican politics left New Jersey liberals in the cold for eight years. The Democrat who replaced him as governor is dismantling that agenda in a warm-up to tough fiscal fights.
Bloomberg Read more
10,000 Cases: Flu Outbreak in N.J. Continues to Surge
The flu is continuing to spread rapidly in New Jersey, with 3,000 additional cases reported in the state in the past week, pushing the total to more than 10,000 for the season, according to the latest statistics from the New Jersey Department of Health.
NJ.com Read more
State Starts Year Strong, With 6,400-Job Gain
New Jersey added 6,400 private-sector jobs in January, according to the latest report from Roseland-based ADP.
ROI-NJ Read more
InsiderNJ's African-American Political Power List In Honor of Black History Month
We present these rankings, not as a definitive list, but, in the home state of the late great Paul Robeson, as a working approximation of the African American political world at this particular point in time.
InsiderNJ Read more
New Interim Director at Hughes Center Sees Expansion in Future
About a month into the job, the new interim executive director of the William J. Hughes Center for Public Policy says he wants to expand and preserve the center's programming and bridge the gap between education and policy.
Press of Atlantic City Read more
Reopen Psychiatric Hospital Christie Closed, Top Democrats Urge Murphy
Two state lawmakers introduced a resolution this week urging Gov. Phil Murphy to reduce crowded conditions at a psychiatric hospital in north Jersey by reopening another facility Gov. Chris Christie closed six years ago.
NJ.com Read more
Former Mayor Is Tinton Falls New Business Administrator
A familiar face is in charge of the day-to-day operations of the municipality, including overseeing a $25 million budget.
Asbury Park Press Read more
Mandelblatt Drops Out, Endorses Malinowski In CD7
CD7 Democratic primary candidate Lisa Mandelbatt dropped out of the contest tonight, on stage at the Union County Democratic candidate forum, endorsing candidate Tom Malinowski.
InsiderNJ Read more
A Camden Dispute Has Pitted the City Against Volunteers Who Turned Vacant Lot into a Dog Park
A vacant lot transformed into a dog park was meant to be something special for neighbors in Camden's Cooper Grant section, where community volunteers cleared, cleaned, and built a fence around the property.
Inquirer Read more
NJ Transit Suspends AC Rail Line Ticket Sales to Eagles Parade
New Jersey Transit announced Wednesday night that ticket sales for the Atlantic City Rail Line have been suspended ahead of the Philadelphia Eagles Super Bowl Championship Parade on Thursday.
Press of Atlantic City Read more
Editorial: Lance Still Meets Voters Face-to-Face
A member of Congress meeting face-to-face with constituents should not be news, but in these partisan times, it can be. Look no further than to Rep. Rodney Frelinghuysen, who opted to "phone it in" on tele-town halls, rather than face angry voters in the 11th District. Frelinghuysen has announced he's retiring at the end of this term. So it is heartening to see Republican Leonard Lance continually meeting the head winds head-on.
The Record Read more
SaveSave
SaveSave