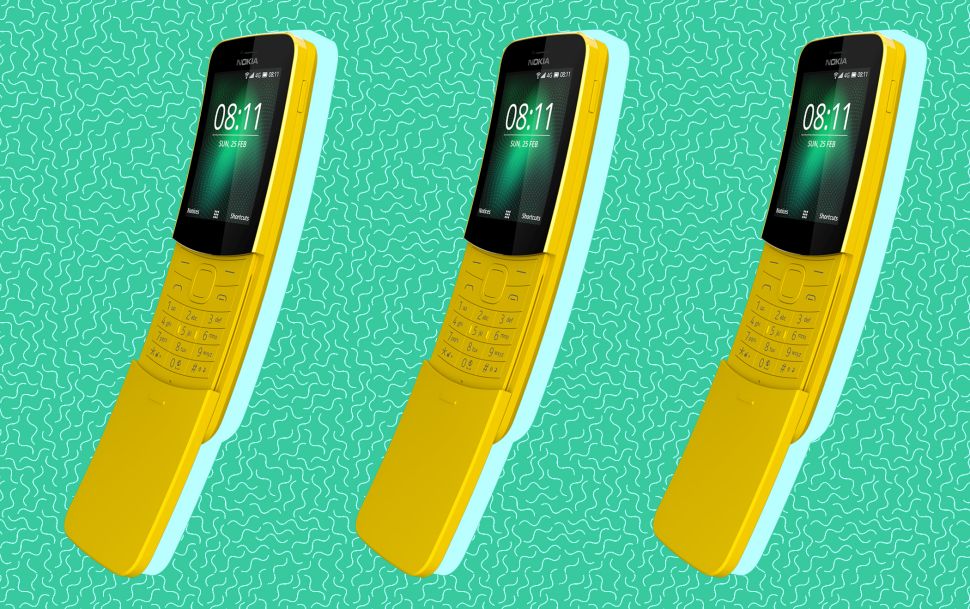 Nokia 8110, the banana-shaped slider phone that was held by Keanu Reeves in the 1999 movie The Matrix, will be back after 22 years.
HMD Global, a Finnish company now operating the Nokia phone brand, announced the product release on Sunday.
The new 8110, first released in 1996, comes back as a (sort of) smart version of its original self.
It has 4G connectivity and is compatible with a few essential apps like Twitter, Facebook, Google Maps and email through an operating system called KaiOS. Bonus for Nokia fans—it comes with a new version of the iconic Snake game.
"The Nokia 8110 comes with the craftsmanship you expect from a Nokia phone, delivering durability and reliability as standard," HMD Global said in the release. "With a familiar and easy to use interface, it features intuitive tactile mechanics, with slide to answer and end calls, as well as an addictive helicopter style spin on its axis."
For the most part, though, the new 8810 is still a feature phone that sells on '90s nostalgia, at least for mature markets that are dominated by iPhones and Android smartphones.
"Nokia isn't really relevant in North America anymore. The main market for the new 8110 will be cost-sensitive markets like India, China and Africa," Wayne Lam, an analyst at the U.K.-based consulting firm IHS Markit, told Observer.
The reissue will be available in black and "banana yellow" in May for a global average of €79 ($97). Lam said lower-end smartphones can be found in similar price ranges, but they are not necessarily Nokia's direct competitors.
HMD expects the new 8810 to be more of a souvenir piece that gives people "a chance to switch off, have fun and relax in the knowledge that all your smartphone essentials are there when you need them."
This is Nokia's second retro release following last year's successful reboot of 3310, the classic model nicknamed "indestructible Nokia 3310," for €69 ($85).
For emerging markets which smartphones have yet to penetrate, these feature phones with an updated design may have a serious impact.
"There is still a strong demand for talking and texting in those markets," Lam said. "In India, for example, people are still heavily reliant on talking. It's not really the smartphone devices that people can't afford, but the data service that carriers usually charge around $20 to $30 a month."