Not a day passes in the Mid-East without headlines of conflict. The fight over Jerusalem, the embassy, the wall, the settlements and almost everything else between the Israelis and the Arabs is ceaseless.
Yet, when you spend time in Israel you experience innumerable acts of co-operation between Jews, Israeli Arabs and Palestinians in the West Bank. Thousands of Israeli and Palestinian businesses interact. The Arab citizens of Israel, whom make up 20 percent of the population, are an integral part of the economy. Israel has a 5-year plan to invest 650 million shekels ($200 million) to improve aspects of Israeli Arab life, including infrastructure, education and employment, and many have joined the call for the further integration of Arab citizens of Israel into the booming economy.
This initiative has a human face. One of those faces is Amos Sion. He is an award-winning Israeli Chef with his own restaurant in Caesarea, an ancient Roman port north of Tel Aviv and one of Israel's top tourist destinations. His restaurant, Helena, is set in a picturesque stone building at the water's edge. Amos is a large, gregarious man, possessing a broad smile and an engaging energy. He can disarm a cynic with just a hand shake. Amos comes to the culinary arts after studying cooking at Tadmor, Israel's leading hotelier school and working under Israel's top chefs. Amos is a close friend of Uri Buri, the famed seafood guru with a restaurant and hotel up the road in Akko. Both men use the kitchen to promote peace.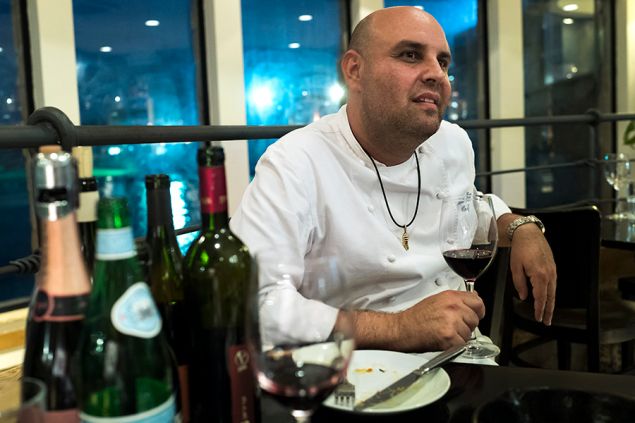 Aside from preparing some of the tastiest of modern-Israeli food and pairing it with Israeli wines from their well-stocked cellar (supervised by his sommelier wife, Debby Sion), Amos has a mission and a vision.
Amos believes the most basic of all human needs—the need for substance—can help unify the diverse and often contentious people of Israel.
I spent a day with him as he shopped for ingredients.
Amos is soft-spoken but, after endless cups of Arab coffee offered by each food vendor, the two of us and our photographer, Jim Hollander, became more and more animated as we watched him negotiate purchases.
When it comes to food, the word fusion has devolved into a cliché. But Amos truly understands the term. His cooking brings the often wild, under-utilized (in Israeli kitchens) and obscure ingredients like freekah, chubeza, wild zaatar, wild spinach, wild endive and meluchya into his kitchen. He integrates and blends these staples of Arab cooking into new modern dishes creating pan-Israeli-Arab cuisine.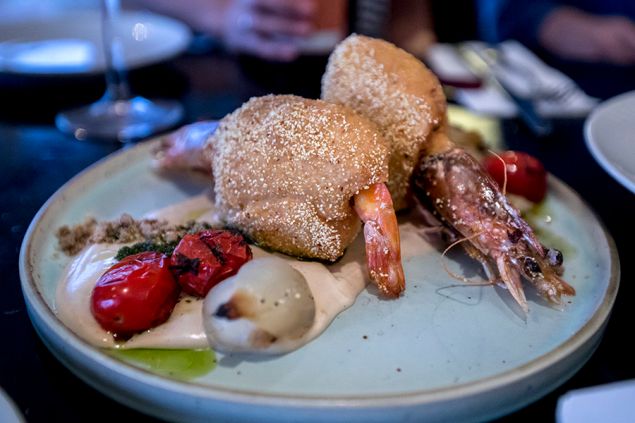 Our first stop was Ale Ale, an innovative farm dedicated to growing traditional vegetables and herbs, many of them Arab in origin, Amos supports the farm by purchasing non-commodity vegetables. Ale Ale also tries to do a remarkable thing by cultivating the wild native vegetables and herbs so that restaurants will have a year-round, dependable source.
At the Arab village of Faridas, Amos goes from store to store discussing the offerings of fish, vegetables, herbs, and baked goods with the vendors. Amos's choice of these suppliers is not primarily motivated by ideology. He thinks they have the most interesting, freshest offerings. Not to buy from them would be an ideological choice that would be self-defeating, to his restaurant's diners and to the economy of the country. "It is one land and we all must share in its bounty. The produce of the land and sea can bring us all together," is what he believes.
Back at the restaurant it was time to taste some dishes. However, before doing so Amos introduced me to his co-workers. They represented a Noah's Ark of Israeli humanity, Arabs and Jews from diverse backgrounds. There was his sous chef Alex Gertenberg, and cooks Muhamas Meree, Eitan Katz and Mor Abulafia—the only current female cook on staff. Amos was especially proud of Fadi Amash, an Israeli Arab from a rough town and broken family who finished medical school, but still comes by to help out.
We started with a Faradis crab bisque, topped with a perfectly-made crab tortellini and lemon zest. The bisque balanced a touch of sweetness with a true taste of the sea, an impressive way to start.
The next bite was a refreshing Drum fish carpaccio, cured beetroot, and arak on a bed of local herb salad, almonds and smoked eggplant cream. This trademark dish of chef Amos Sion, a mixture of textures, with crunch in every bite.
Next were the big shrimp (caught that morning). They were wrapped in dough and fried to create an innovative shrimp donut, which we dipped in Tahini Doca—a mixture of Egyptian spices and roasted chili. The use of dough in savory dishes is a creative touch Amos practices, it allows him to use his collection of wood fired ovens.
The shrimp were later presented in another dish, a savory interpretation of a famous Arabic dessert, knaffe. Amos mixed homemade fresh cheese with the crystal shrimp, sugar syrup, and a saffron infused shrimp stock. It was irresistible.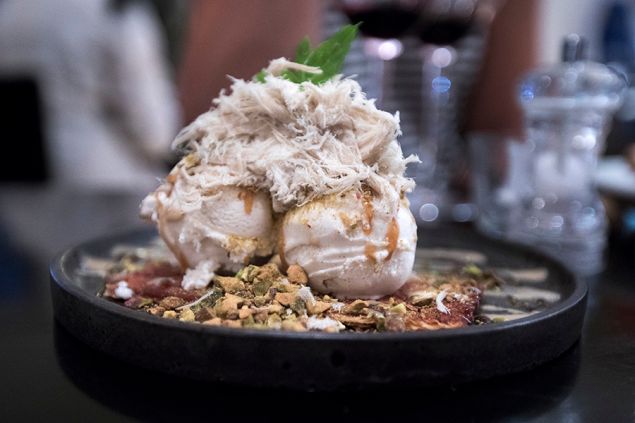 Out from the kitchen came local calamari. They were stuffed with freekah (smoked wheat) and seared with wild local spinach, pine nuts, popped pomegranates seeds and pistachios. The mixture was then set atop a velvety goat yogurt.
The grand finale, before dessert, was a whole sea-bream on wild local yellow carrots and baby fennel, wrapped in dough and baked in the wood-fired oven. The fish was moist and perfumed with fennel leaves.
Putting on his sweet toque, Amos brought an array of creative desserts including his oft-copied homemade tahini and silan (date honey) ice cream on thin puff pastry glazed with sugar and cinnamon, topped with halvah threads and pistachios.
We finished with his seasonal sorbet made with wild tangerines, a local aux de vie (also made from tangerines) from Julius, a craft distillery in the Upper Galilee.
The experience would not be complete without the finest wines chosen from the immediate neighborhood, and beyond, which in Israel means a two-hour drive.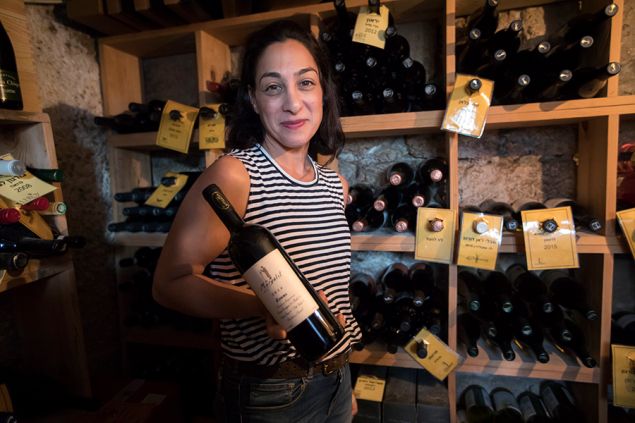 We started with a truly refreshing sparkling rosé from the Golan Heights Winery, followed by a blend from Tzora Vineyard, a small winery in the Judean Hills. Then on to a dry rosé from Shvo Vineyard, a small vigneron in the upper Galilee making, as Debby Sion explained, "wines that are bold with attitude." It's part of a trend in Israel. "The use of Grenache and Mourvedre in rosé is growing in Israel as part of the Mediterranean wave to use traditional Provencal grape varieties."
The next two wines were truly local, made 20 minutes from the restaurant. We drank a delicate and complex Carignan from Vitking Winery, and a world-class Bordeaux-style Enigma by Margalit Winery, one of Israel's finest small producers.
Choosing to dine at Helena, you will be eating some of the best food in the mid-east as well as participating in a larger purpose…dignity and prosperity for all. That is Chef Amos Sion's mission.