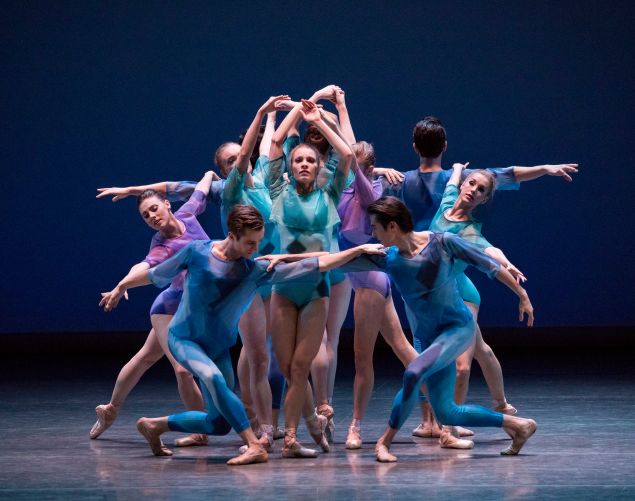 When George Balanchine died, in 1983, it was a tragedy, a catastrophe, the end of civilization, but it wasn't a shock—he had been ill for a year, and more or less out of commission. We had known the end was coming and we knew who the future was: Balanchine and his partner, Lincoln Kirstein, had made it clear that Peter Martins was to run New York City Ballet together with Jerome Robbins. But that was a formality: Robbins, at 64, had no serious interest in performing the kind of administrative labor—and undergoing the stress—that being an artistic director involves.
Through Kirstein, I had become a member of the City Ballet Board, and then had found myself, as a volunteer, deeply involved with programing and marketing. Perhaps a year and half before Balanchine's death, Kirstein said to me, "Bob, you have to look after Peter. I'm too old." I didn't know what he meant, and he probably didn't either, but I always took Lincoln literally—the only person I have ever been happy taking orders from. In due course I got to know Peter well, and the dancer Heather Watts, with whom he lived for a decade or so. The two of them were fired with devotion to Balanchine's art and to the company—the omens were good.
So Martins became Act Two in the history of our great ballet company, and he has kept it thriving, if not always great. But his departure, after 35 years, has been abrupt, ugly and unresolved; there is no appointed heir, and there is no agreement over whether he deserves what's happened to him, or even about what has happened. He was first accused of misbehavior in an anonymous letter sent to the School of American Ballet, and it seems that no one except members of the board of directors of the school and of the company knows what was in that letter.
Martins was then denounced by several ex-dancers, including one woman who accused him of violent behavior and another of sexual abuse, who made their allegations to the press. Unhappily, Martins's history is checkered with instances of violence (toward his wife, the ballerina Darci Kistler), abuse of alcohol, and romantic relationships with dancers. An official investigation is proceeding, even though Martins has resigned his posts at the company and the school, but questions have already been aired about whether the investigation is disinterested or in some way a board-directed ploy to exonerate him. I myself have no special information about what did or didn't happen, and no direct knowledge of his personal behavior these past 20 years, which is as long as it's been since we were in touch.
All this is anguishing for those who grew up in or around Balanchine's City Ballet. (Balanchine himself was, to put it tactfully, a ladies' man: a serial marrier, but also frequently involved with young women to whom he was not married. Certainly, though, there was never a hint of violence toward women—he was famously courteous, elegant, appreciative and loyal.) Nothing excuses the use of violence or the abuse of power, and Peter Martins may have been guilty of both, in which case it's right that he is gone. But his sudden silent departure—after 50 years of service to City Ballet—is dismaying. And the board's reticence about what has happened and is happening is disquieting.
As for City Ballet's Act Three, obviously the choice of the next artistic director is crucial, and the board is taking its time before making a move. Its task is not an easy one: As Bette Davis sang in the 1945 movie Thank Your Lucky Stars, "The pickings are poor and the crop is lean." Although the company is considerably more than a Balanchine museum, Balanchine ballets—and Balanchine style and technique—are the heart of the enterprise. If the board wants that to continue, and it's inconceivable that it doesn't, they must identify the best Balanchine-inspired person for the job. Among the candidates most frequently mentioned there are several excellent dancers whose excellence did not lie in Balanchine. There are those with little or no administrative experience, and those who have modest or no choreographic abilities or who are simply not seasoned. And there may well be others whose sense of self-preservation makes them hesitate about wandering into the gladiatorial arena.
So everything's on hold, with the entire serious ballet community unsettled and anxious. As it should be. New York City Ballet is the most significant American dance company, and if flounders, we're all in big trouble.
Meanwhile, the company is dancing. The first two weeks of the current season have come and gone, programmed and cast by Martins, of course, and "supervised" by three ex-dancers plus the resident choreographer, Justin Peck, who is still dancing. As it happens, the repertory has been Balanchine-dominated, apart from some inconsequential leftover new ballets from last season. (The current two weeks, oddly enough, are devoted to Martins' Romeo + Juliet.) The heartening news is that the dancers, faced with crisis, rose to the occasion. There was nothing dispirited or slack about what they gave us. Almost everything looked rehearsed and energized. Cortège Hongrois, for instance, which a few years ago looked sloppy and limp, was bouncy and convincing—or as convincing as this far from top-level Balanchine ballet can be. The Four Temperaments, a masterpiece that deserves superb casting, more or less got it, although I'm still not convinced by Anthony Huxley's "Melancholic"—he's more sprightly than it is. Savannah Lowery was vastly improved as "Choleric." Both Sara Mearns and Tiler Peck were dominating as "Sanguinic." And two very different corps girls shone in the first "Theme": composed and strong Lydia Wellington and beautiful Olivia Boisson, whose attack and amplitude are thrilling.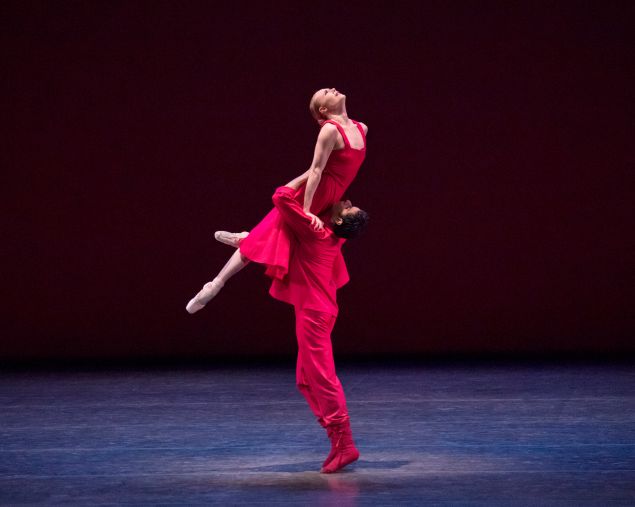 The company's two senior ballerinas were at their finest. Maria Kowroski is dancing with a new refined command—ravishing in Chaconne and Ratmansky's Russian Seasons. Ashley Bouder was wonderful in Divertimento No. 15 as she was last year in Square Dance, a giant relief after Megan Fairchild who can do the steps but doesn't make anything of them. Both these Bouder roles were made on Patricia Wilde, another phenomenal technician whom she actually resembles.
This season confirmed that Unity Phelan is a major player—a star—with her dark ballerina beauty and her graceful strength. Indiana Woodward is another first-rate talent, bursting with pizzazz. And both Ask la Cour and Adrian Danchig-Waring have broken through—we're been waiting a long time.
There was a premiere: corps-member Peter Walker's dance odyssey. (Why do young choreographers think that odd spellings or lack of capitalization make things more interesting?) This is Walker's second piece for the company, and it's more ambitious than his first, ten in seven (also denied capital letters). The new work goes in for effects—flashing lights, silhouetted dancers across the back of the stage, a neon strip that rises and falls against the backdrop—but they don't add up to anything. Not even appealing music (by Oliver Davis) or colorful costumes (by Marc Happel) could hide Walker's lack of a compelling idea.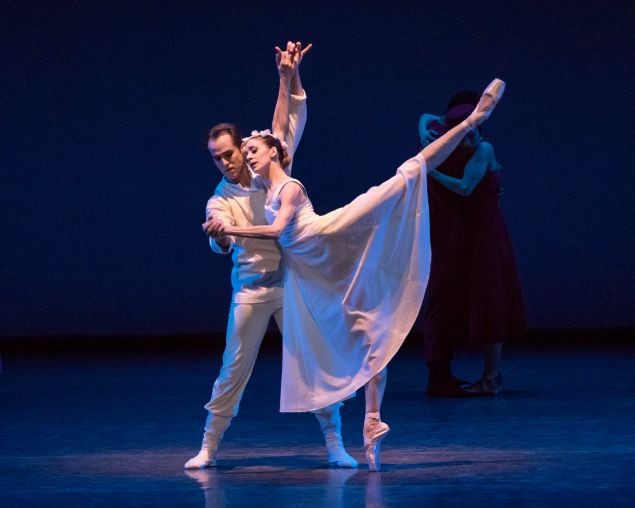 And then, pure pleasure. The curtain goes up on Alexei Ratmansky's Russian Seasons and you're at once in a complete world—the music (Leonid Desyatnikov), the stylized peasanty costumes of Galina Solovyeva, and most important, an individual and alluring dance vocabulary, combine to create a gripping and seamless work of art full of happy surprises. Russian Seasons is a dozen years old and as fresh and impressive as it was when new. Ratmansky unleashes Mearns, enhances Kowroski, respects and nourishes all his dancers. Who can deny that he is the world's leading classical choreographer? If only he were available to run the company! But why would he want to? Running the Bolshoi years ago must have been traumatizing. And as things stand, he can create ballets more or less wherever he wants to—without having to worry about donors and boards.
Update, February 17, 2018: A few days after the above was posted, the City Ballet board announced that the two-month official investigation into Peter Martins's behavior had failed to corroborate the charges made against him.