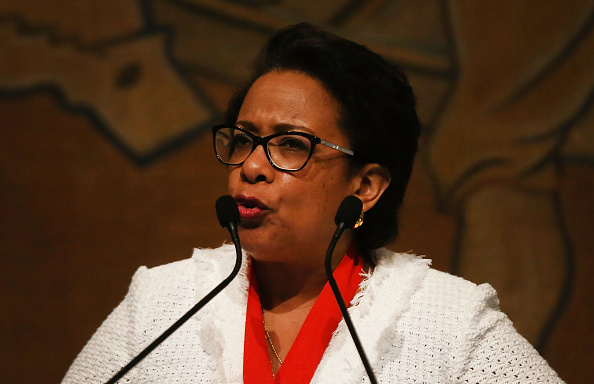 Former U.S. Attorney General Loretta Lynch—the first black woman to head the U.S. Department of Justice—weighed in on the struggles of the black community and other marginalized groups in the past as well as under President Donald Trump at the city's annual Black History Month celebration.
Mayor Bill de Blasio and First Lady Chirlane McCray honored Lynch with a proclamation as part of their Black History Month Celebration at the American Museum of Natural History on the Upper West Side on Thursday night. De Blasio officially declared February 22 "Loretta Lynch Day."
Former President Barack Obama appointed Lynch as attorney general in 2015. She succeeded Eric Holder, the country's first black Attorney General. She also served as U.S. Attorney for the Eastern District of New York under Obama from 2010 to 2015 and under former President Bill Clinton from 1999 to 2001.
"It's actually really humbling to be considered part of black history," she said after receiving her proclamation.
She noted that this year's theme for Black History Month is "African-Americans in Times of War," as announced by the Association for the Study of African American Life and History, which was established in 1915. The theme focuses on the role of African-Americans in every American war.
"It is how have our young black men fought to prove themselves over generations…the theme highlights the sevice and the sacrifice of those who were committed to a cause greater themselves as well as greater than the small-minded people who for generations refused to see them as fully American," Lynch continued.
The former top prosecutor said those individuals "illuminate the answer to a seemingly impossible question" pertaining to marginalized groups: how to grapple with a country that does not recognize their rights.
"How do you love a country when it does not love you back?," she argued. "Many of us, not just minorities, are asking that question today because we're surveying a national landscape that has abdicated, completely abdicated the protection of the most vulnerable among us…it is calling into question once again who is fully an American."
She contended the "American history that is black history provides guidance for us all"—and that it is through that lens "where we find our answer."
"Because the soldiers that we honor this month who pledged their lives and their loyalty did so [with] the ideal of America," Lynch said. "The ideals of liberty and justice for all and more than that, they acted, they took action and many of them made the ultimate sacrifice based on a great faith in America. Not that America was perfect, but that their efforts could make it better."
Lynch reminded the audience that the soldiers have been fighting for oppressed groups long before any progress was made in the area of civil rights.
"They did all of this well before there was a Civil Rights Act of '64 or a Voting Rights Act of '65 or well before we had a friend in the White House," she continued, referring to Obama.
Lynch expressed hope that marginalized groups can come together and fight for their rights.
"The American history that is black history teaches us that ordinary people can come together and do extraordinary things and help bend the moral arc of the universe a little bit further toward justice," she added. "We can do this."
The celebration—which attracted more than 800 guests—included members of the de Blasio administration, elected officials and black community leaders in the city.
De Blasio said there is "something beautiful and powerful" about individuals who take on a family tradition and build on it, which he noted Lynch has done throughout her career.
"For Loretta, it was her grandfather, a pastor in the Jim Crow South who stood up and fought for justice and gave her a great example of what fighting for change looks like," the mayor said. "Loretta Lynch decided the way to fight for change was through the law. She became a lawyer. She sought a path where she could have the maximum impact."
He anticipated Lynch will leave a big mark in American history.
"I think there's gonna be a lot of girls and young women who learn the story of Loretta Lynch and feel inspired and empowered," he continued.
McCray also praised Lynch and her work.
"As U.S. Attorney for the Eastern District, Loretta Lynch tackled some of the toughest cases from public corruption to civil rights cases," she said.