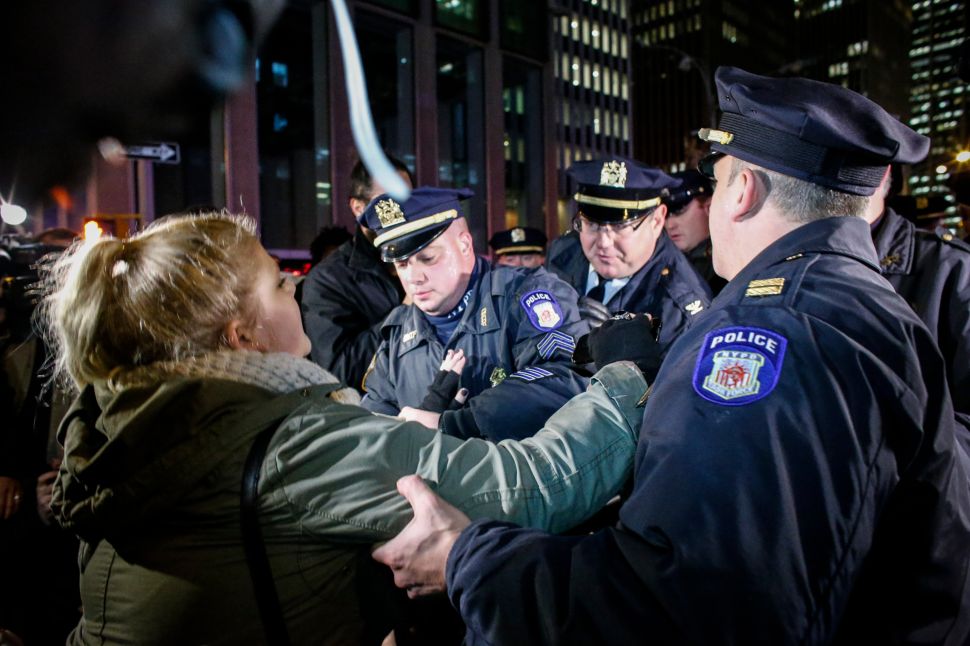 New York City police officers who have sex with individuals in their custody can potentially escape sexual assault charges by claiming it was consensual in court—thanks to a loophole in New York State law.
Under current state law, correction and probation officers are prohibited from having sex with incarcerated individuals; legally, inmates and parolees cannot consent to sexual contact with those officers. Period. Regardless of mutual desire, this is considered rape, and a correction or probation officer cannot claim the liaison was consensual in a court of law.
Any Orange Is The New Black fans should already know this. It's the reason Daya couldn't reveal that C.O. Bennett was the father of her baby on season one: he would be imprisoned for rape under the law, despite their undisputed mutual romance.
While this law extends to police officers after an individual is already in jail, it does not apply to people who are in police custody before they're behind bars.
In those instances (think: whilst being detained, en route to precinct, etc.), police officers can argue in court that any sexual contact was consensual. Legally. And many have used this "consent defense" to successfully escape rape charges.
New York is one of 35 states in which officers can claim that they engaged in consensual sex when they are charged with raping individuals in their custody, according to the American Civil Liberties Union.
Out of 158 law enforcement officers charged with sexual assault, sexual battery or unlawful sexual contact with an individual in custody, 26 have either been acquitted or have had charges dropped against them by insisting that they had consensual sex, according to a Buzzfeed analysis of a Buffalo News database.
Clearly this small, complicated legal loophole has far-reaching and devastating consequences.
In November 2017, two police officers in Brooklyn were charged with raping an 18-year-old girl who was in their custody in a police van in September. She said she was forced to do it, but the cops alleged that it was consensual sex. The officers subsequently quit the NYPD and have since been indicted on nearly 50 charges, including kidnapping and rape. Their next court appearance will be on April 5.
"The law [which prohibits officers from claiming sex with inmates was consensual] is not quite so straightforward," Alex Vitale, a sociology professor at Brooklyn College and author of The End of Policing, told Observer on Tuesday afternoon. "It includes police [only] to the extent that someone is basically locked up or held against their will. So if the police officer put someone in the lockup, in the precinct, then… no consent is possible."
Andrea Ritchie, a New York-based police misconduct attorney, told Observer that research stretching back decades shows sexual misconduct occurs in all forms of police custody. She pointed to examples such as cops hollering at women and forcing women to have sex with them to avoid arrest.
Vitale, however, believes the state law's focus on correction officers—as opposed to all law enforcement officials—has more to do with "an oversight than anything else."
"I think [it's] because the state law was focused on state institutions," Vitale explained. "Prisons are run by the state, but police are under local control. But it's the state government that makes the law. So I think there was just a bias toward their employees."
He argued it is not difficult to understand why the loophole needs to be closed.
"I think it's a common sense understanding to anyone that this is horribly improper conduct and that, at the very least, the police force should be very aggressive in firing and disciplining officers who engage in this behavior and that there's an obvious need for the state legislature to step in and prohibit this type of behavior," he added.
In November 2017, Brooklyn Councilman Mark Treyger, a Democrat, introduced legislation that would prohibit law enforcement from engaging in sexual contact with someone in their custody.
Treyger also introduced a resolution calling on state lawmakers to amend state law to close the loophole. His legislation and the proposed changes to the law would ban officers from alleging that they engaged in consensual sex in the future. Queens Assemblyman Ed Braunstein, a Democrat, introduced similar legislation at the state level, which the state Assembly passed.
Treyger was not available for comment.
At a City Council hearing on Monday, the NYPD said it supports making sexual contact with individuals in custody a crime and that it "has always been long-standing department policy that this is completely unacceptable."
Earlier this month, Gov. Andrew Cuomo announced that he would advance a 30-day budget amendment to outlaw sexual contact between cops and those in custody. He said his budget amendment builds upon the legislation in the state legislature to explicitly state that cops cannot have sex with individuals in their custody.
And the New York Civilian Complaint Review Board (CCRB), the city's independent police oversight entity, voted unanimously to start probing civilian allegations of sexual misconduct by law enforcement. The agency's long-established practice is to refer sexual misconduct allegations to the Police Department's Internal Affairs Bureau (IAB).
Between Jan. 1, 2016 and June 1, 2017, the CCRB received 117 complaints with allegations of possible misconduct and referred all of them to IAB for investigation.
Braunstein told Observer his office has not done research on why correction officers and parole officers were included in the non-consent law, but that they discovered that cops having sex with people in their custody was not a crime and sought to close the loophole.
"We had seen stories about the case from Brooklyn, and we had read that Council member Mark Treyger was recommending that the state legislature take action," he said. "So we reached out to him and offered to help at the state level… we, like most people, were surprised that that was even possible."
Michael David, a civil rights attorney who represents the teen who accused the Brooklyn cops of rape, told Observer any changes to state law will not make a difference in her case because the alleged rape already took place. He also said the law will not prevent incidents from occurring.
"If the cops want to rape somebody, they're gonna rape them," David said.
But he said he is glad action is being taken to tackle the issue.
"It could help people in different types of cases… it's definitely a step in the right direction because something has to be done to stop police sexual misconduct in any fashion," David continued.