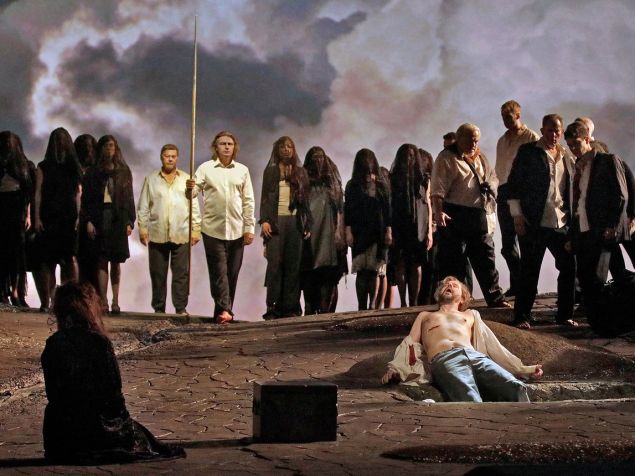 Call in sick at work. Hire a sitter for your kids, dogs or significant other. Take a long nap, then slam back a triple espresso. That may sound like a daunting prep for an evening at the opera, but the Met's stunning revival of Richard Wagner's Parsifal is more than just highbrow entertainment. It's an artistic experience that could change your life.
That's just what the composer intended this 1882 epic to accomplish. From a swath of medieval source material about a naïve young boy's path to the exalted rank of guardian of the Holy Grail, he devised a massive drama that not only relates an archetypal hero myth but proposes a new belief system for Western society, fusing Catholicism, Buddhism, Schopenhauerian philosophy, animal rights and Earth religion.
But you don't have to convert to be overwhelmed by this Parsifal, especially as visualized in the Met's pensive, immaculately edited production by François Girard. He transposes the action from the Middle Ages to an eerie dystopian near future, conjuring a fundamentalist, sex-negative social order not unlike that in The Handmaid's Tale.
Girard's vision was terrifying enough five years ago when the production premiered, but now its depiction of the total breakdown of relationships between the sexes feels almost torn from the headlines. Parsifal's mission becomes something much more real and necessary than the rescue of a magical spear: he has to reunite a society splintered into mindless male cults and soulless female militias.
Several of the singers in this season's cast are veterans of the Met's 2013 incarnation of the work, and, excellent as they were then, they have all gained depth and subtlety in the time since.
Most impressive in his development is the bass René Pape, whose long role of Gurnemanz consists largely of filling in the opera's complex back story. If his luxurious bass now reveals an occasional trace of scratch, that only add a patina to its beauty. More to the point, his declamation never feels oratorial or formal; every word and every inflection is so natural and intimate the whole performance feels like it's overheard.
As the malevolent Klingsor, Evgeny Nikitin filed his elegant bass-baritone down to an animalistic snarl. The character of the sorcerer was all the more terrifying for his lack of self-awareness: he was not merely evil but possessed by a demon.
Surely the centerpiece of this performance, though, is Peter Mattei as the tormented Grail King Amfortas. It is this character's moral failing (and his subsequent tortured and unending remorse) that drives this story, and, strangely enough, the sheer sensual beauty of Mattei's baritone made the tragedy almost unbearably touching. Even his wildest screams of pain never turned ugly, communicating the insight that even the most abased of creatures is still human, still cherishable.
Mattei's performance, one of the strongest I've ever seen in the theater, at first cast a bit of a shadow over the two new additions to the cast, but they hold their own. Soprano Evelyn Herlitzius fascinated as the enigmatic shape-shifter Kundry, her "dialed up to 11" acting delineating the character's curse of experiencing eternal life as a series of devious performances. Her muscular voice admittedly has quite a few miles on it, but her sterling commitment made even a few yelps standing in for high notes sound organic.
It is altogether fitting that in so ambiguous a work as Parsifal, the title role should be performed the paradox that is Klaus Florian Vogt. You would think this hulking blond giant would emit a mighty roar, but instead what emerges is a light, heady tenor only slightly darker than a boy soprano's piping.
Vogt is thus simultaneously a child and a man, a sort of time-lapse photograph of the hero's journey. Though in affect he is the polar opposite of Jonas Kaufmann's glamorously moody hero as heard in 2013. Vogt is, if anything, more effective in the part, more intensely concentrated and, I thought, more cognizant of the awesome responsibility the character assumes.
And yet the most moving epiphany of the night was the conducting of the Met's new music director Yannick Nézet-Séguin, sweetly poetic and, even in the score's direst moments, glowing with hope. As in last season's Fliegende Holländer, Nézet-Séguin lent the music an irresistible forward motion, never rushed, but rather with the verve of a great raconteur relating the most fascinating story in the world. When he took his bow, the great roar of bravos from the Met audience felt like…well, an anointing.
The Met has taken some hard knocks in recent months and years, and yet, after last night's Parsifal, you can't help feeling hopeful. The company looks like it's going to survive, and Yannick Nézet-Séguin is going to be its savior.