Above the streets of Midtown—inside a winding labyrinth of offices, writers' rooms and electrical circuits—comedian Jordan Klepper snaps his fingers to Ty Segall.
"We had him on as a guest several weeks ago," said Klepper as scratchy drum solos and camera flashes pulse across a green room.
Standing lanky at 6'4″—6'7″ when you include his hair, a Viacom assistant tells me—Klepper navigates space like a peppy rockstar. Despite his conspiracy-hyped madman persona on Comedy Central's The Opposition, Klepper in real life exudes gratitude and ease. In dark times where fringe right personalities dominate mainstream conversation, the comedian finds hope in pointing out their hypocrisies, while not taking himself too seriously.
"I think a lot of people feel scared, and it's on both sides of the aisle," said Klepper. "I think a laugh from a crowd on a show like ours is like a laugh of recognition. It's letting out some of that frustration."
After cutting his comedic chops at Upright Citizens Brigade—the legendary Manhattan improv group boasting comedians Amy Poehler, Adam McKay and Donald Glover as alumni—Klepper joined The Daily Show under Jon Stewart in 2014.
Introduced as a new correspondent during each episode, the comedian experimented with a handful of characters reflective of the political climate: a clumsy CIA agent transmitting propaganda on poster boards; a caricature of self-proclaimed black woman Rachel Dolezal; a wry field reporter concerned Chinese magicians were surpassing American ones.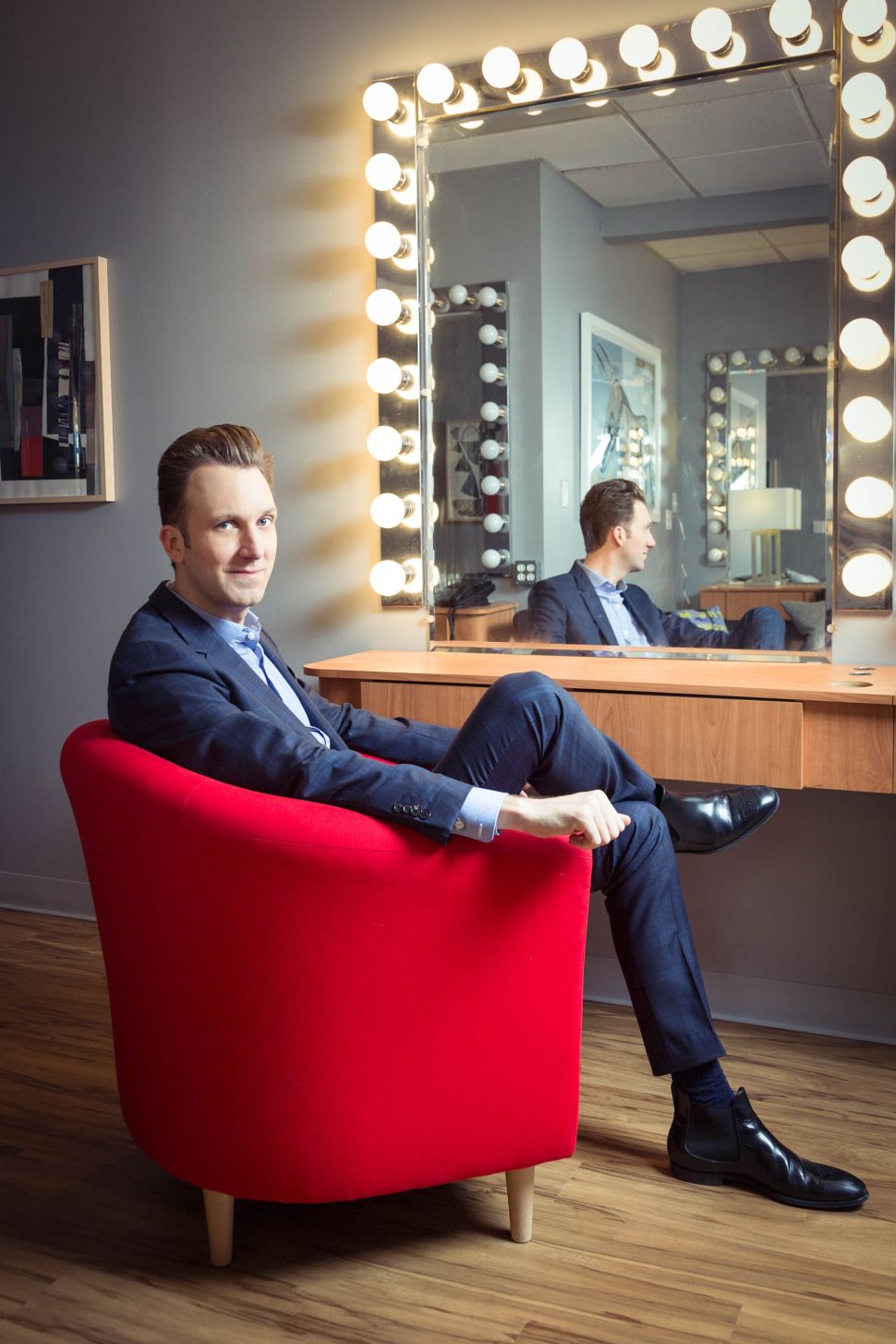 "At The Daily Show, you start to feel the improviser's mentality of 'let's build something now, put it up, make it as good as we can, and then do it again tomorrow,'" the comedian said. "Day one was incredibly nerve racking, but it's such a supportive place that expects you to know what you're doing when you step out there."
Connecting the eclectic mix of crazy characters was Klepper's wit—and willingness to fuck with people.
When Stewart retired from The Daily Show in 2015, Klepper proved MVP to the show's successor Trevor Noah, earning the rare privilege of substituting for the host the following year in October.
As Noah took on the enormous responsibility of following in the talkshow giant's footsteps, Klepper threw himself into the 2016 election. Traversing the country to cover Trump rallies, the comedian saw firsthand the cultural and political upheavals rippling across the United States.
"It felt like it was such a long shot, and as I would go out and do these rallies, I immediately saw that there was genuine enthusiasm and excitement," said Klepper. "We had to adapt to the news cycle, we had to adapt to the new reality and we had to adapt to what Donald Trump brought to it all."
"If anyone has the ability to amplify the nuance and hilarity of a hardcore Trump supporter, it's Jordan Klepper," Trevor Noah told Observer over email.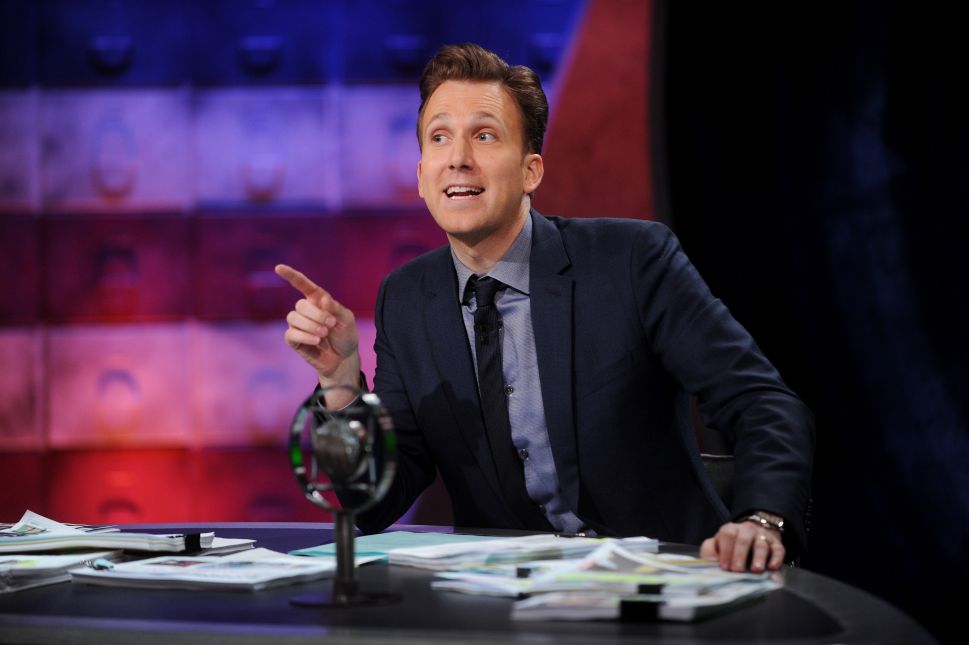 Many media careers emerged from the dysfunction of the 2016 election: New York Magazine's Washington correspondent Olivia Nuzzi, Teen Vogue columnist Lauren Duca and NBC's Katy Tur. But the Trump era's dawn also coincided with—and abetted—a startling rise of conspiracy theorists, nationalists and far-right characters who branded themselves over social media to mobilize large followings.
For every millennial upstart reporter breaking stories for national publications like Nuzzi, Duca and Tur, there was a Milo Yiannopoulos, Mike Cernovich or Gavin McInnes counterpart driving conversation in the opposite lane.
Although Alex Jones pushed government conspiracies since the early 2000s, the Info Wars host became a model for a new market trafficking anti-establishment rhetoric.
After a reality television billionaire who appeared on Info Wars became president of the United States—when a lawyer for Jones admitted the host plays "a performance artist" during a custody battle for his children—the fringes won control over American reality.
Recognizing this movement as a driving force shaping American politics, culture and media, Comedy Central greenlit a show to parody it.
Whereas The Colbert Show envisioned comedian Stephen Colbert as a parody of Fox News' Bill O'Reilly, The Opposition transformed Klepper into a mix of Alex Jones, Tucker Carlson and Steve Bannon. As The New York Times put it, "Jordan Klepper wants to be a Colbert for the Breitbart era."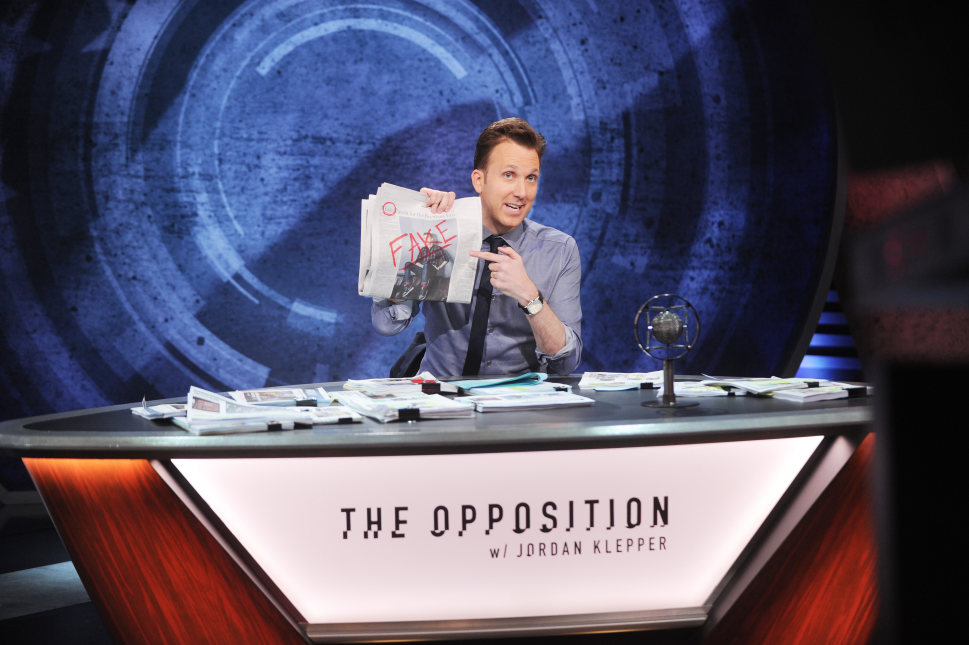 "Under the Obama Administration, you were choosing the stories, and when Trump came in, it feels like Trump chooses the stories," said Klepper. "For us, we're often satirizing the reaction or the comment."
In a media landscape fractured by upstart outlets and rapid shifts in how the public consumes content, where tweets become blockbuster spectacle and palace intrigue dominates national headlines, Klepper's job is to curate stories that make sense to parody.
"There's more input than ever before, and the challenge is sorting through that and seeing what is important and what's not," explained Klepper. "[Trump] is the elephant in the center of this room, but I think we have the ability to play this character and play this paranoia of this moment, as well as these fringe sources who are whipping up all this paranoia."
But even as the comedian satirizes the fall of Rome, he recognizes his own responsibility to use humor as a vehicle for truth.
"It's both a challenge and an asset to the show that we get to filter this through this character, which allows us to go bigger and broader, and comment on the themes that we start to see, and the tactics [employed by the far right]," said Klepper. "If we can expose them in a large way, then it's both playful and binding."