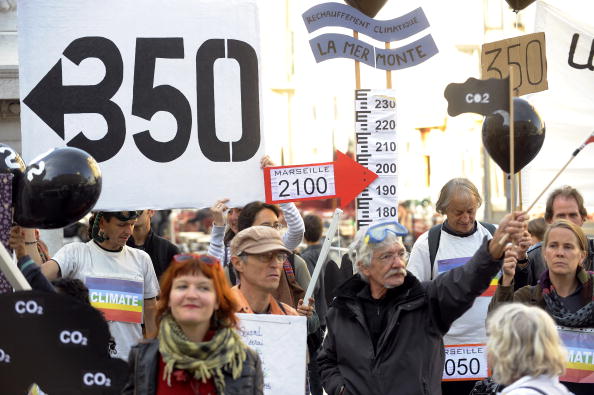 A little more than a month after Mayor Bill de Blasio announced that New York City will take the fossil fuel industry to court, Paris says it is following suit.
In early January, de Blasio announced that the city filed a lawsuit against five of the United States' biggest oil companies—BP, Chevron, ConocoPhillips, Exxon Mobil and Royal Dutch Shell—on the grounds that they have contributed to global warming. The city will also divest from fossil fuel companies over a five-year period.
On Feb. 6, 350.org—which has been working on a divestment campaign for the last four years—announced that Paris was looking into the possibility of suing the fossil fuel industry as well.
The City Council passed a motion to study the possibility of taking legal action against oil companies to cover expenses associated with protecting Paris from the impacts of climate change.
The Council plans to lobby other major cities like London to ban fossil fuels from their investments through the C40 Cities Climate Leadership Group, whose president is Paris Mayor Anne Hidalgo.
In 2015, Paris pledged to divest from fossil fuels in the run-up to the 2015 United Nations Climate Conference (COP 21), where the Paris climate accord was signed.
Emmanuel Grégoire, Hidalgo's deputy mayor for the city's budget and finances, told Observer that New York's lawsuit "made a little noise" on the global stage.
Paris, he explained, wants to reduce the environmental impact of fossil fuels and pollution and come up with "more restrictive measures," arguing that companies have to contribute to recovery costs for the pollution that "they create."
"I think that we have to do a better job of making energy manufacturers, fossil fuel companies and oil companies aware of their responsibilities," Grégoire said.
But he said Paris would have to pursue another legal route than New York City given that French and American laws operate differently.
He noted that while French law permits Paris to go after a fossil fuel company for contributing to pollution, the burden of proof is higher.
"That is the challenge with French law," Grégoire continued.
Grégoire added that de Blasio and Hidalgo speak "very often" but have not discussed the Parisian effort yet but plan to do so in the future. He maintained that mayors of big cities around the world are working hard to tackle the issue of pollution and climate change.
"Mayors are very, very focused on the fight against pollution," he added.
Jérôme Gleizes, a councillor for Europe Ecology—The Greens Party, a green political party in France that deals with student life, research and higher education, told Observer his party has been at the forefront of the issue.
"I am an environmentalist," Gleizes said. "I know the representatives from 350.org. The deputies from the Europe Ecology party organized an event in Paris… so we have been working on this issue for a long time, therefore we are looking to get the government to take on the issue. We have studied the mistakes, and we are revising our approaches based on the lessons we learned. We cannot wait for the states to react."
He pointed to the fact that in the United States, states take matters into their own hands when the federal government is not acting. He noted that California and New York, for example, vowed to continue to honor commitments under the Paris climate accord whether or not President Donald Trump abides by the agreement.
"In Europe, the governments have more power than the cities," Gleizes continued.
Clémence Dubois, the France Fossil Free Campaigner for 350.org told Observer that 350.org France showed up to French President Emmanuel Macron's international climate summit in Paris in December 2017 to highlight that ending subsidies and investments for fossil fuels is key to France being a true climate champion.
She noted that the group has been pressuring Paris to divest from fossil fuels since COP 21 and that so far, one-third of universities in Europe and 20 French cities have committed to divesting in France.
She the Council's motion was due to "grassroots efforts."
"Of course there is a bit of legal consultation and so on," Dubois said. "But yeah, this process, it's not just symbolic—it means that the city is really committed and really looks forward to exploring all the opportunities, so that's great."
This winter, Paris was hit with severe flooding. At the end of January, Hidalgo said the flooding and summer heat waves were "clearly a question of the town adapting to climate change."
350.org has pointed to studies that have shown that since the floods that have inundated Paris in May 2016, climate change has increased the likelihood of floods by nearly twice as much.
In France, 33 other local authorities—including Bordeaux, Lille, La Rochelle and Dijon—have already adopted divestment motions, according to 350.org. Other major cities that have committed to divesting from fossil fuels are Sydney, Australia; Cape Town, South Africa; and European cities such as Berlin, Copenhagen, Oslo and Stockholm.
The mayor's office did not immediately respond to a request for comment on Friday. But earlier this month, de Blasio expressed excitement over the news.
Interviews with Emmanuel Grégoire and Jérôme Gleizes were conducted in French and translated into English.