Paul Sparks has one of those faces that can't stand scrutiny in a police lineup. His very presence among the murder suspects on HBO's 2016 miniseries The Night Of left no doubt where he was on the night of (then he turned out to be just another red herring, earning his keep), but guilt was pretty ingrained in the forehead of his Mickey Doyle, the goofiest and longest-lasting of the Boardwalk Empire gangsters.
He and that whole gang were chronically called out for the Screen Actors Guild's Best Ensemble Award, winning it their first two times around.
That was Sparks's first TV series, and the big bucks it brought was open sesame to a dedicated stage actor trying to support his theater habit. "Also, it was a nice beginning for me on TV because they really gave me as much line as I wanted," Sparks enthused to Observer recently. "They really let me go out there and create a big character. I always loved Mickey. He was taken for an idiot, and everybody was mean to him, but I always saw him as the guy who was smart enough to always be around and to never get killed. I saw him as, perhaps, smarter than any of them—until he wasn't. He was a joy to play. That was fun."
The latest lost soul to stumble into Sparks's wheelhouse of flawed, lonely, striving human beings is the volatile vagrant known for the past 59 years only as Jerry, who has a life-altering altercation one Sunday up in Central Park with a buttoned-down forty-something named Peter. That's the gist of the play that brought Edward Albee to the fore, The Zoo Story, and it continues to be intellectually mined and debated.
Everybody knew where Jerry was coming from—some 20 blocks up Fifth Avenue, from the zoo—but no one knew about Peter, so 48 years later Albee got around to painting him a rather placid backstory with Homelife, affixing it like a first act to The Zoo Story and calling the whole thing Peter and Jerry—two acts of two characters not connecting.
More tinkering and retitling followed. A decade later, the show's first New York revival (now at The Pershing Square Signature Center till March 11) has a more helpful handle of At Home at the Zoo; Robert Sean Leonard and Katie Finneran dispense the Homelife duties, leaving Sparks the Sunday-in-the-park-with-Jerry portion of the program.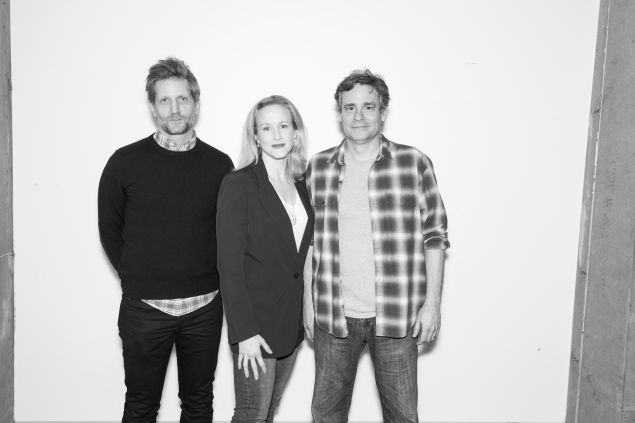 It was very important to Albee to keep these two plays in tandem, according to their director, Lila Neubebauer. "The Zoo Story, as a play, doesn't exist anymore," she says. "You can't produce it on its own. The estate won't let you. You can't do these plays separately. This is the play. It is called At Home at the Zoo. Act One is called Homelife. Act Two is called The Zoo Story. I think At Home at the Zoo is a better title. There are three people essential to this evening's events, not just Peter and Jerry. And, I think, At Home at the Zoo has plenty of reverberations in both directions for both plays."
Despite all his criminal-centric stage and screen credits, Sparks does not hail from Lawless, Okla. It's Lawton, Okla., and he was lucky to get out of town without having to play Christ. Lawton is legendary for its annual Prince of Peace Easter Passion Play. (No. 92 is set for early April.) "I never did any of that stuff," the actor is fast to admit.
But in Lawton, he certainly had a much easier time than his life as an actor has presented. It was rural, four-square family life. His mother was an elementary schoolteacher; his father was his high-school coach. He was a sports guy, drug-free and arrow-straight, and he set out for Oklahoma State to become a serious chemist.
Then, a high-school drama teacher flagged him down and changed his direction, urging him to audition for the college's acting scholarship. "It was really small, and I probably got it because not that many auditioned. Then I got mixed up in the theater department there and very quickly learned I was going to be an average scientist. I just liked the theater people more, and, after my junior year I transferred to N.Y.U."
The career-switch went down well with his parents. "My father was the one who said, 'You know if you wanted to become an actor, you could do that.' I think he thought I was going to do theater in Oklahoma City or regional theater or maybe teach drama at school. I don't think he expected me to come to New York and try to actually become a working actor. But they've always been super-supportive."
After schooling, Sparks found his boyish, bucolic innocence wasn't registering with casting directors in New York City, who saw him more as an off-centered, sinister type a la Harry Dean Stanton or John Hawkes. This is something Sparks can exploit but not explain.
"I don't know exactly what it is," he confesses. "I feel there's a seediness that hangs on a lot of the roles I've played—a kind of unsettling weirdness that tends to follow me—especially on TV and film, but also in the theater as well. That just happens to be something that's a go-to for me. I don't know what that is, to be honest."
Sparks can't say for sure who the unhappiest camper he ever played was, but he feels fairly certain that it came from Adam Rapp, the playwright with whom he, Michael Chernus and Ray Rizzo have formed a lounge band (called Less the band).
"The guy who had the hardest time would have to be Baylis from Adam's Blackbird. He's really had a rough go of it, but he still laughs. Yul from Essential Self-Defense is a little bit on the spectrum, so maybe that precludes him from being too down. And poor Victor from American Sligoo just can't seem to get anything right. All those people were sad, unhappy campers, but the thing that's unique about Adam is that he always gives them a noble pursuit. They're trying to do right. They just can't seem to get out of their own way. That's a beautiful thing, and it's in this play, too. For all of Jerry's foibles and mishaps and bad ideas, he really is somebody trying to do something wonderful. I love doing plays like that where characters have obstacles."
Television miniseries give him much to shoot at. He's the only actor who wasn't sweating about a sixth season of House of Cards, having filmed a what-a-way-to-go exit at the end of season five: poisoned by the First Lady with whom he's having sex. She's played by Robin Wright, who (talk about multi-tasking!) directed the episode.
That's how House of Cards folded for him. "To die in the middle of a sex scene is hard enough, but, on top of that, you won't see any of the cast and crew again. There were lots of things converging at the same time to make that a unique and powerful day."
At present, he's midway through a six-part series called Waco for the Paramount channel (nee Spike TV), and in May he's on Starz in Sweet Bitter, another six-parter about the restaurant business and a girl who in a high-end place, not unlike Union Square Café. On the big screen, you'll find him as a non-killer, kind of—the critic who pals around with The Greatest Showman, Hugh Jackman's P.T. Barnum.
Sparks is married to an actress, Annie Parisse, who's in Friends From College and also busy in Miniseries land: She's daughter to Al Pacino's [Joe] Paterno and Jeff Daniel's co-star in The LoomingTower. "Right now she and Sean Penn are shooting The Thirst, by Beau (House of Cards) Willimon. I think it's about going to Mars."
He and his wife have two children, one of each. "I don't say what their names are. I just kind of keep them out of it. To be square, they don't have anything to do with it."
You can take the boy out of the country, but he's still going to say, "To be square."