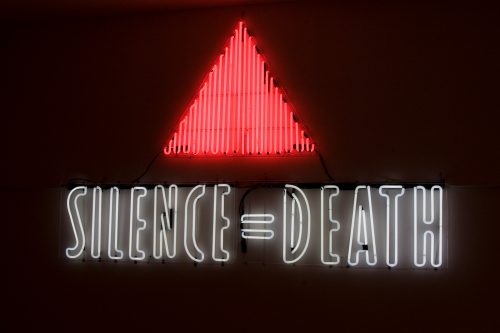 The 1980s—an era of big hair, big phones, and big egos—heralded a moment of unprecedented cultural change in America, bringing us MTV and Madonna, the first commercial mobile phone and first Trump Tower. At Washington D.C.'s Hirshhorn Museum and Sculpture Garden, a new exhibition opening February 14 showcases just how formative the decade was not only for art but for society at large, and how these shifts continue to shape our present.
"Brand New: Art and Commodity in the 1980s" explores how a group of downtown New York City artists like Barbara Kruger, Louise Lawler, Richard Prince, Peter Halley and Jenny Holzer blurred the lines between art, entertainment, and commerce. "This moment informs so much of what we're currently working through in our culture," the Hirshhorn's curator-at-large, Gianni Jetzer, told Observer. "Now it's easy to think our media-saturated culture is tied to the Internet and social media, but those innovations just sped things up. I think it was cable TV and fax machines that really changed everything."
According to Jetzer, what the 70-odd artists in "Brand New" shared, beyond a geographical proximity to one another in Manhattan's East Village, was an obsession with commercial objects, branding strategies, and new means of communications and media. While Pop artists like Andy Warhol with his Brillo Boxes and Campbell's soup cans may have introduced the idea of a basic consumer brands as fodder for fine art, it wasn't until the '80s that artists began using commercial culture as an artistic medium in and of itself.
"Honestly, I think it's boring to say this moment was just the next generation of Pop art," Jetzer said, noting these artists were fueled by radical political, economic and technological shifts, which prompted them to reassess how art itself functioned in the growing culture of consumerism. Jetzer points to the work of the Guerrilla Girls and Barbara Kruger—whose black, red and white block lettered poster works are now iconic—as examples since both riffed on contemporary in-your-face ad culture to bring to light issues of sexism, exploitation and privilege within American society.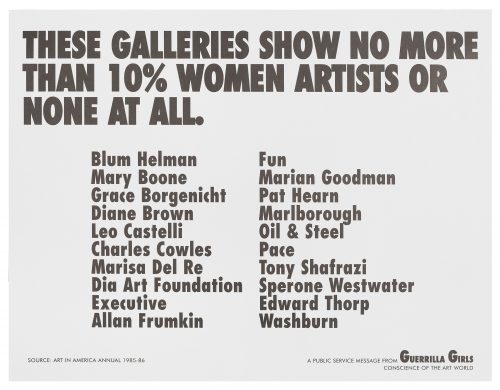 Many of the artists working in this era were less interested in marketing and branding itself, but instead how advancements in media and communications propelled brands into full-blown lifestyles, which is precisely how many companies employ social media marketing to make their billions now—by selling consumers an idea rather than just a product. Video artist Dara Birnbaum was one of the first artists to toe the line between both brand and personal identity, as seen in her 1980 work that actually functioned as an ad for the French cognac label Remy Martin. "She even appropriated TV imagery and her own footage, splicing them together," Jetzer said, explaining how the artist's video sampling technique is now ubiquitous among YouTube users.
"Brand New" also features several works that haven't been displayed since the '80s, such as Dumping Core by Gretchen Bender, another video and performance art pioneer, which was last displayed publicly in 1987. And Barbara Bloom's immersive installation Planned Abandon—which looks like the waiting room in an embassy's visa office, complete with tourism posters and not-so-subtle terrorism warnings—will be revived in its entirety for the first time since 1984.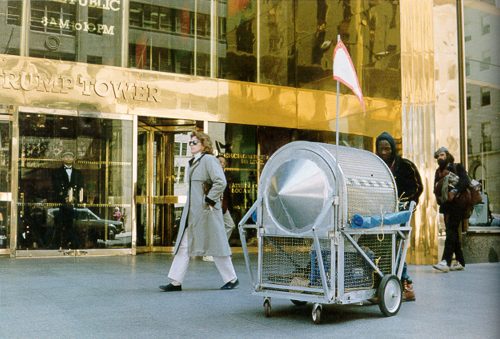 Additionally, Kristoff Wodiczko's three-story-tall outdoor projection made specially for the Hirshhorn's circular exterior 30 years ago will light up the museum's facade for three nights beginning February 13. The video's poignant and oversized imagery—including various body parts, hand guns and money—offers a tongue-in-cheek critique of American politics now as much as it did when it debuted in 1988. It also links to the artist's work on view in the galleries: documentation of his Homeless Vehicle No. 5, a multipurpose cart offering storage and shelter that was rolled down Fifth Avenue in front of Trump Tower in 1988.
While the 1980s may have been idiosyncratic and highly specific in many ways, the revivification of works like Bender's, Bloom's and Wodiczko's proves that there's plenty in "Brand New" that's still timely, even over 30 years later.