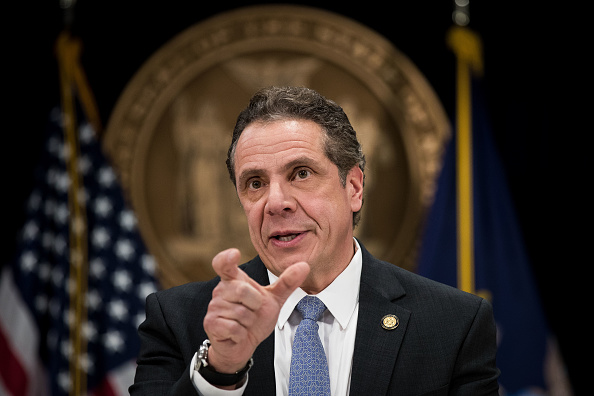 New York State Republicans are looking to derail Gov. Andrew Cuomo's reelection bid this year by capitalizing on the ongoing federal corruption trial of Joseph Percoco, a former aide to Cuomo and his right hand man.
In a letter to be sent to Manhattan District Attorney Cyrus Vance on Monday, state GOP chairman Ed Cox argued that testimony during the trial necessitates answers about the role that other executive chamber employees, including Cuomo, played in Percoco's "unlawful acts and whether they knowingly aided and abetted or acquiesced to such unlawful acts," according to The New York Daily News.
"Mr. Percoco's political and personal conduct within the governor's office could not have occurred in a vacuum," Cox wrote in the letter. "He was most certainly in the offices for the specific purpose of interacting with other executive chamber employees regarding these political and personal business matters."
A spokeswoman for the state Republican Party did not immediately respond to a request for comment on Monday. And a spokesman for Vance told Observer the office could not confirm it received the letter because Vance's office and the courts are closed today.
Last week, state Senate Majority Leader John DeFrancisco, one of Cuomo's GOP opponents, called on the governor to "man up" and answer questions about the trial outside the Manhattan federal courthouse where the trial is taking place.
DeFrancisco told Observer on Monday afternoon that he is not looking to hinder Cuomo's reelection bid, describing his request as a "fair question" because it is "obvious" there was a "huge pay-to-play scheme" involving Percoco and co-defendant Todd Howe, an ex-lobbyist and former aide to both Cuomo and the late former Gov. Mario Cuomo, the governor's father.
"When I called out to him to answer these questions, he hasn't done that and he keeps saying that there's a trial going on and we can't interfere with the trial," he said. 'The governor's not on trial. There's no court order telling him to be quiet."
When asked if he agrees with Cox's call for an investigation, he said it will depend on what Cuomo shares with the public.
"If he makes a full explanation that makes sense, I won't be calling for anything but if he continues to just stonewall it… then the next step, I'll decide at that point," DeFrancisco continued.
DeFrancisco is perceived to be the GOP frontrunner in the gubernatorial race given that state Assembly Minority Leader Brian Kolb suddenly dropped out on Friday. Some party officials expressed concern about a possible sexual harassment charge, but Kolb has denied any wrongdoing and even took to Twitter to dismiss the claims as "BS."
DeFrancisco has received 10 endorsements from regional county Republican Committee chairs. But a recent statewide poll conducted by the Siena College Research Institute found most New Yorkers do not know him well enough to have an opinion on him.
Another GOP challenger to Cuomo, former Erie County Executive Joel Giambra, was also unknown to voters in the same poll and has caught flak over his previous donations to Democrats, including Cuomo.
Giambra took to Twitter to call on the New York State Joint Commission on Public Ethics (JCOPE), the state's lobbying and ethics watchdog, to conduct an investigation into Cuomo and his administration.
Giambra did not immediately respond to a request for comment on Monday.
The Siena College poll released on Monday found that Cuomo's favorability rating dropped to 53 percent—a nearly 10 percent decrease since last month, when his favorability rating was 62 percent.
"Cuomo's drop this month comes as there was little change in how voters viewed the legislature, just a modest drop in voters' optimism about the direction of the state, and, largely, continued strong support for many of the governor's high-profile proposals," Siena College pollster Steven Greenberg said in a statement. "Of course, much of what Cuomo has been talking about over the last several weeks has been overshadowed by the ongoing coverage of the federal corruption trial in Manhattan, in which the governor has been featured prominently."
Geoff Berman, executive director of the New York State Democratic Committee, accused the state Republican Party of trying to shift attention away from its own shortcomings.
"The state GOP's sad attempts to change the subject demonstrate just how desperate they are to distract from the state of their own flailing and chaotic party, which has rammed through Trump's 25 percent income and property tax increase, has shutdown the federal government, and has had no credible candidate for any statewide office in more than a decade," Berman said in a statement.
Rich Azzopardi, senior deputy communications director for Cuomo, told Observer that under President Donald Trump, "all politics is national." Over the past year, he argued, numbers have moved in connection with the national debate, "bouncing up and down within the same 10 point range."
He said that, by Siena's numbers, Cuomo has seen between 52 and 62 percent favorability over the past nine months. And he pointed to a similar driver in local elections, which saw Democrats win "despite local dynamics."
"This is right in line with that pattern—over the last month and the shutdown crisis, Democrats went down nationwide and Republicans rebounded slightly," Azzopardi said in a statement.
The trial hit a bump when Howe, the prosecution's star witness, was arrested last week after he admitted that he tried to swindle his credit card company. As part of his deal with prosecutors, he said he would not lie or commit any crimes again.
A judge ruled he can continue to wear a suit when he resumes his testimony. The trial has been adjourned until Tuesday afternoon given that the attorney for one of the co-defendants got sick over the weekend.
This story has been updated to include a comment from State Senator John DeFrancisco.