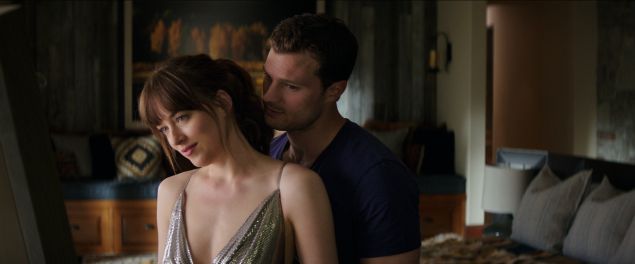 The grotesquely mindless and inescapably boring Fifty Shades Freed is the third slog around the training track for the ossified S-M soft-core sex franchise that began with Fifty Shades of Grey. Hopefully it will also be the last. This lumbering trilogy of trash based on the books by E. L. James has so run out of blood and oxygen that it has varicose veins.
The first film ended after Anastasia Steele, the once-chaste Vancouver native, walked out on tortured Seattle billionaire Christian Grey after he introduced her to the forbidden ecstasy of handcuffs. In the sequel, Fifty Shades Darker, which was fifty times dumber, she went to work for a book publisher and experimented briefly with respectability, but you know Cosmo girls turned sex slaves, they'll do anything for a new pair of nipple clamps. And so Dakota Johnson is back as Anastasia (a.k.a. "Ana") and Irish hunk Jamie Dornan returns as oversexed Christian.
This time he locks up the sex toys and takes her to the altar in Paris, then on a trip in his private jet to a glamorous honeymoon in the South of France. For at least ten minutes, it looks like they'll settle down, but hell, you can't detain a pair of overpaid, self-indulgent sex addicts very long with a case of coitus interruptus, so it's back to business as usual. He's still a chauvinist wacko. She's still happy to straddle him in sports cars and be cuffed to bedposts. They're also still loopy over the ecstasy of whips, chains and exotic lubricants—to the delight of the franchise's bafflingly large fan base. For proof, there's the scene when Christian is out-of-town (shopping for another yacht, no doubt) and Ana is threatened by an intruder during a break-in. Summoned to tie up the assailant with an object of restraint, a female bodyguard shrugs, "I haven't got anything." Ana replies, "We do." The market audience at the screening I attended went viral with laughter. When things get too dangerous, he whisks her away to his rustic ski lodge in Aspen where they lick a pint of Ben & Jerry's off each other, discreetly photographed out of frame below the bikini line.
---

FIFTY SHADES FREED ★
(1/4 stars)
Directed by: James Foley
Written by: Niall Leonard (screenplay) and E. L. James (novel)
Starring: Dakota Johnson, Jamie Dornan, Eric Johnson and Eloise Mumford
Running time: 105 mins.

---
Joining the tedium are several actors locked into iron-clad three-picture studio contracts to play recurring characters like Ana's best friend, who is having an affair with Christian's brother, as well as the villainous Jack Hyde, the editor at Ana's publishing company. Hyde was last seen attacking and kidnapping Ana in a previous storyline, but now he's back, out of prison and consumed with revenge. Jack kidnaps Christian's little sister, Mia, and threatens to kill her unless Ana can come up with five million dollars in cash in two hours! Nothing adds up to anything resembling a trajectory, but to drag out the agony, Ana turns out to be pregnant, much to Christian's horror. Can't fool me. This ain't my first time at the rodeo. The third time around is supposed to be a merciful finale to all the R-rated nincompoopery, but I know another installment when I smell one.
The one who is wisely not around for the long haul is Sam Taylor-Johnson, the original female director, who made her money, got hip to artistic ridicule fast, and moved on. Foolishly returning for more critical abuse are James Foley, who directed the idiotic second installment, and scriptwriter Niall Leonard, who writes dialogue that can only be spoken while chewing gum. Jamie Dornan has stopped shaving his body, but you can still see the scars from the old cigarette burns on his manly chest. Dakota Johnson has all the appeal of a thumb-sucking Pitiful Pearl doll. Lacking the most elementary chemistry in all three make out movies, they're like two blushing freshmen posing nude for the first time in an anatomy class only five minutes after being formally introduced. They creep along through the entire movie like they're praying for a recess bell.
Like its two dimwitted predecessors, Fifty Shades Freed continues to ignore motivation, character development, logic, and narrative cohesion, in favor of a good spanking in see-through panties. I give it one star for the furniture.