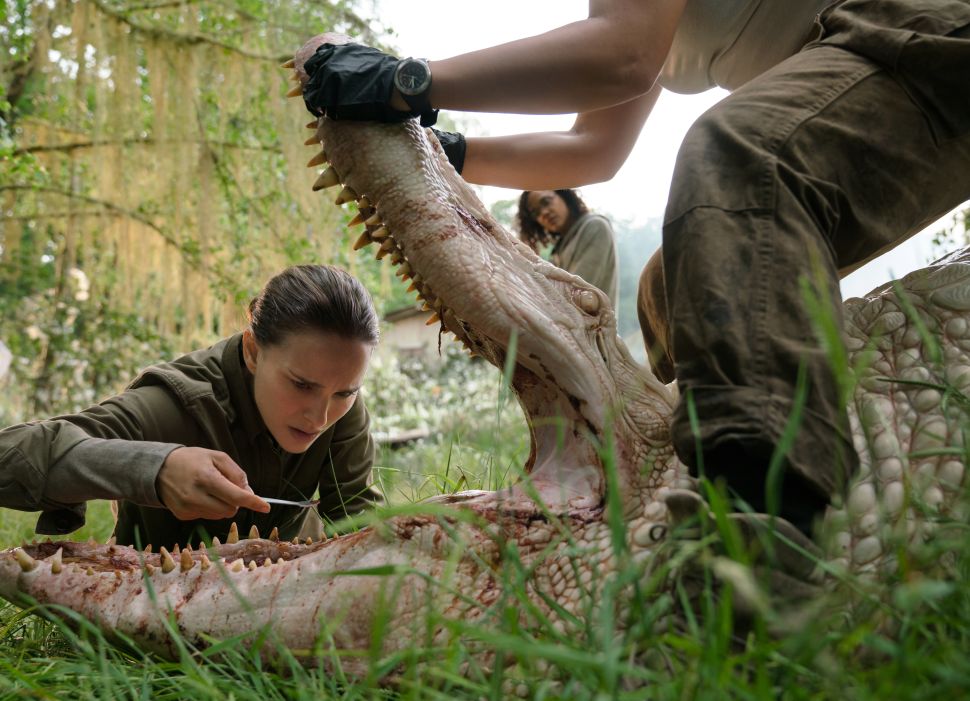 Annihilation is a demented science-fiction comic book of a movie that makes less sense than a butterfly mating with a buffalo. At its center is Natalie Portman as Lena, a professor of cellular biology who teaches a college course in the genetic life cycle of cells. Her husband Kane (Oscar Isaac) has been missing for 12 months. When he shows up again, the poor man is plagued with convulsions. But on the way to a hospital, the ambulance is halted at gunpoint by uniformed villains who want to silence Kane for reasons that, like everything else in the movie, remain unexplained. It has nothing to do with logic and everything to do with a mysterious magnetic field from outer space parked in the middle of a Florida swampland called "the shimmer," from which nobody has ever returned alive. Kane, it turns out, is the first to survive this bizarre optical wonder.
---

ANNIHILATION ★
(1/4 stars)
Directed by: Alex Garland
Written by: Alex Garland (screenplay) and Jeff VanderMeer (novel)
Starring: Natalie Portman, Oscar Isaac, Jennifer Jason Leigh, Gina Rodriguez, Tuva Novotny and Tessa Thompson
Running time: 115 mins.

---
If you understand anything about Annihilation write it down and send it to your mother, who is unlikely to ever see it on her own, along with anyone over 50. All I can tell you is that Lena, suspecting that her husband might have been abducted by aliens and returned as a subcutaneous virus, foolishly joins a team of scientists to enter the shimmer, find out what's going on there, and return with information that will save the world. Outside, the shimmer looks like a pink and purple illusion on display at Disney World, but inside, violence, danger and death await anyone who encroaches. Equipped with mobile phones and the kind of assault weapons, the women are attacked by alligators the size of transport trucks, flesh-eating bears and other extraterrestrial mutations. At the risk of spoiling things, not all of them survive these insane horrors.
Director Alex Garland made the creepy, abominable Ex-Machina in 2015 and clearly hasn't learned much since. Annihilation is a psychedelic head trip that shows little evidence of the director's ability to create a coherent narrative. The storyline is chucked almost immediately following the opening scene, and the dialogue sounds like a recycled technology handbook written in a foreign language. My advice is forget about any attempt to figure it all out and concentrate on the special effects director Garland has dreamed up, perhaps under the influence of something delusional. He doesn't seem to have a clue about plot, but what a vision! Bodies evaporate in flames, plants grow into the form of humans, and blood is splashed over intergalactic terrors that haven't even been invented yet.
I'll have what he's having.