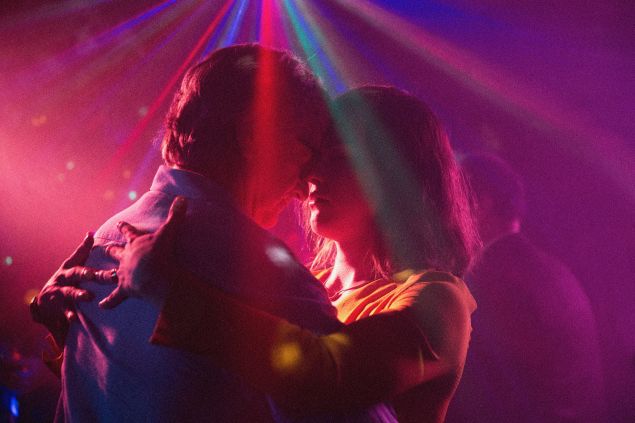 In A Fantastic Woman, this year's Oscar-nominated Foreign Film contender from Chile, a respected middle-aged Santiago businessman, Orlando (Francisco Reyes), takes a young lover half his age to a restaurant for her birthday. After a night of dinner and dancing, he suffers an aneurysm and drops dead. Marina Vidal (Daniela Vega), the woman he leaves behind, is studying to be a singer and an actress, encouraged and adored by the man who has saved her from a more difficult life. When he dies, she suffers the same grief and confusion as a loving wife or even a caring relative, but Marina has extra concerns about how to survive without him. She is transgender, and Orlando was her rock of solace and support in a cruel and critical world. A Fantastic Woman is about how she copes—not only with the heartbreak, but with the humiliations, social rejections and violent prejudices that go with it—to live up to the film's title.
---

A FANTASTIC WOMAN ★★★
(3/4 stars)
Directed by: Sebastián Lelio
Written by: Sebastián Lelio and Gonzalo Maza
Starring: Daniela Vega, Francisco Reyes, Aline Küppenheim and Luis Gnecco
Running time: 104 mins.

---
In addition to the minutiae—returning his car and apartment keys, dealing with his family, enduring false accusations and invasive interviews by the Investigative Police Sexual Offenses Unit—there is Orlando's hostile, indignant son Bruno, and his ex-wife Sonia, brusque and cold, who makes it clear that Marina is unwelcome at both the man's wake and funeral. She goes anyway, only to be denied access. The film makes it clear that in Chile, sexual discrimination is very much alive, which makes it impossible for Marina to grieve properly.
The people she turns to for advice are brutal, challenging, angry, and insecure around what they regard as "sexual deviants." Marina is a woman of complex mood shifts and muted passions that must remain sadly constricted because she has nobody to turn to for help and understanding. Even her compassionate sister has a limited ability to offer protection or support because of her belligerent and prejudiced husband. The indignities Marina goes through make the film a grim dossier on hate and injustice, but the directorial style of Sebastián Lelio is admirably understated, allowing the viewer to share the protagonist's experiences as if she were a personal friend. Lelio, who also co-wrote the screenplay, has taken a hot-button topic and constructed a story of personal dynamics around it. The problem, for me, is that nothing ever happens, giving the story line an awkward and often wooden quality. The pat resolution is that to forge a new life and start all over again, Marina is pretty much on her own.
There are interesting touches—the somber details of a body being prepared for cremation, a song Marina pauses to listen to in a sidewalk cafe ("Your love is like yesterday's newspaper…no one wants to read it anymore")—that keep the film moving. The cast is uniformly excellent, with Francisco Reyes a particularly likable beam of strength and light as the unfortunate Orlando, but the film's great triumph is Daniela Vega, a transgender actress and singer, who makes an indelible impression in the leading role. I have no idea what she'll do next, but she is very good indeed in this role.