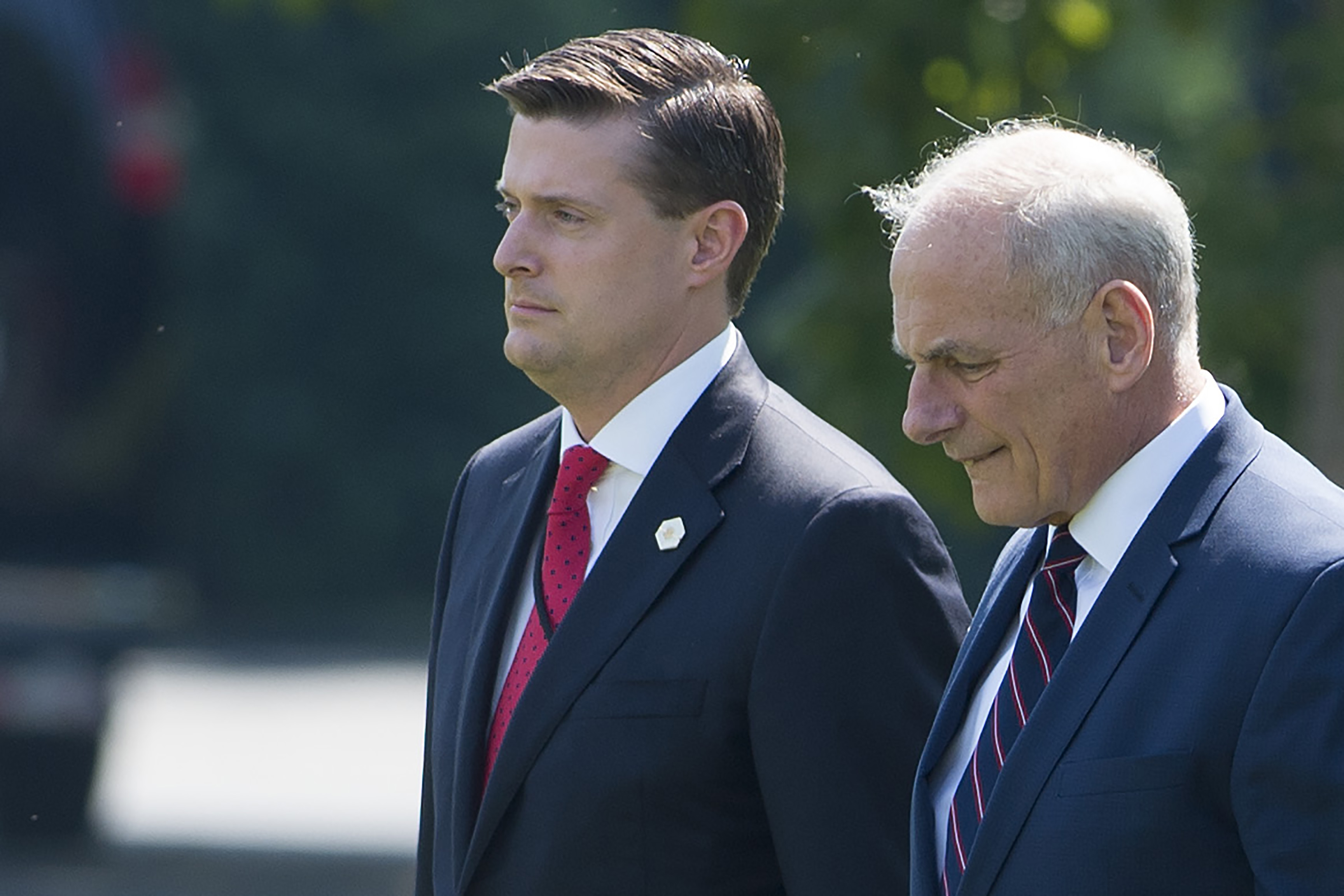 Sexual sleaze and wife-beating both stain the presidency of Donald Trump, but these deeds provide plot twists for the ever-changing cast of the TrumpWorld reality TV show.
Will Trump's gal Hope Hicks break up with hunky boyfriend Rob Porter now that Rob's been exposed and dumped by Trump for roughing up two ex-wives? Tune in next week to TrumpWorld!
In previous episodes, the conservative Wall Street Journal reported last month that Trump paid $130,000 in 2016 for the silence of a woman who acts in sex films.
And last week on TrumpWorld, Porter was just one of two Trump staffers dismissed amid public allegations of spousal abuse. Trump offered sympathy for him, but not for Porter's surviving victims.
"We certainly wish him well," Trump said Friday in a clip played early on This Week with George Stephanopoulos on ABC Sunday. "It's an obviously tough time for him. He did a very good job when he was in the White House, and we hope he has a wonderful career."
It's a wonder Trump didn't throw the Medal of Freedom into the cardboard packing box on Porter's desk. All the Sunday political shows carried the Porter story, but ABC did it best with a thorough and blistering look at not only this incident but also what it says about the misogynistic culture surrounding Trump.
Stephanopoulos gave a fair and balanced presentation that featured Trump's side first with video clips of Trump and then with a live interview of Trump mouthpiece Kellyanne Conway.
"He says he's innocent," Trump said of Porter. "…He said very strongly yesterday that he's innocent."
ABC producers showed a collection of clips of Trump defending other people like Bill O'Reilly and Roy Moore against charges of sexual misbehavior. And defending himself.
"Every woman lied when they came forward to hurt my campaign," Trump said. "…I am a victim of one of the greatest political smear campaigns in the history of our country."
That particular denial came shortly after Trump's voice from a 2005 recording revealed him bragging about grabbing strange women by the crotch and kissing them.
ABC also displayed a Trump tweet that seemed to call into question the very validity of the #MeToo movement against sexual harassment.
"People's lives are being shattered and destroyed by a mere allegation," Trump wrote. "…Is there no such thing as Due Process?"
And here's another question: Might American women rebel in the November midterm elections and take control of Congress away from Trump's fellow Republicans?
"Women are going to come out in droves," said Republican Alex Castellanos of the ABC panel. "…It's cultural. It's personal. It's visceral."
Fellow panelist David Axelrod, a Democrat, referred to the women's march the day after Trump's inauguration and to how that energy against Trump has translated into Democratic success in recent special elections.
"There has been a movement largely driven by women coming out in record numbers," he said.
Castellanos, alluding to women who, during the 2016 campaign, accused Trump of sexual predation, joked, "I think this president would say 'I've never grabbed a woman I didn't respect.' That's a real problem."
And that quip came from the Designated Conservative in This Week's liberal-leaning pundit lineup. Earlier in the show, Stephanopoulos awarded more than 18 minutes to Conway, most of it to explain her boss's thoughts about the wife-beating scandal.
STEPHANOPOULOS: "Does the president believe Rob Porter is falsely accused?"
CONWAY: "Rob Porter no longer works at the White House…"
(Later).
STEPHANOPOULOS: "Let me ask you again: Does the president believe that Rob Porter is falsely accused?"
CONWAY: "The president believes, as he said the other day, that you have to consider all sides… He has said this in the past about incidents that relate to him as well… He's doing a great job for American women… This is a man who shows great compassion and understanding for women…"
A different perspective came from Democratic Congressman Sean Patrick Maloney of New York who said Chief of Staff John Kelly and White House Counsel Don McGahn should have seen the FBI's warning about Porter before entrusting him with classified intelligence.
"These guys knew in the first month of the administration," said Maloney, who used to do Porter's job for President Bill Clinton. "You cannot have someone seeing our nation's secrets who has a secret of their own. They are so easy to blackmail."
Maloney scoffed about Kelly's evolving explanations about recently discovering Porter's deeds.
"That's not acceptable," he said. "No way he didn't know about this. He's up to his neck in it."
Megan Murphy, a business journalist, said, "Women die because of silence in this situation. Women die because they're not believed." She asked of people willing to work for Trump: "Are you willing to degrade your humanity, your integrity, your very being?"
Cecilia Vega of ABC pondered Trump's defense of Porter despite police reports, court orders and a photo of the face of a battered ex-wife.
"What is the message they are sending to women who have been beaten?" she said. "To women who have been assaulted? To women who have been molested by men?… 'Even if you have the evidence, we don't believe you.'"
In a semi-humorous moment near the end of the show, ABC displayed a quote from Steve Bannon, the former Trump campaign and White House aide who soon might say many interesting things when interviewed by the Robert Mueller probe of the Trump gang.
Bannon, a philosopher and expert on all things, went cosmic on the subject of misogyny in the era of TrumpWorld and what it portends. Stephanopoulos showed the quote from Bloomberg News.
"It's not #MeToo," Bannon said. "It's not just sexual harassment. It's an anti-patriarchy movement. Time's up on 10,000 years of recorded history. This is coming. This is real."