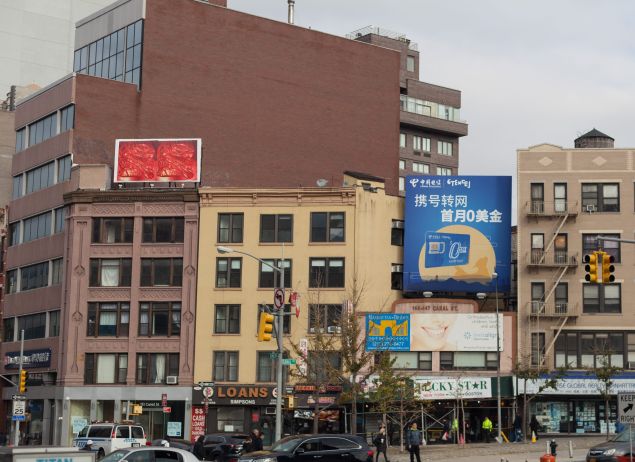 Robert Blumenthal was once one of the youngest gallerists on the Upper East Side, but the art collector-turned-dealer is now moving downtown to be part of a seemingly booming and more youthful scene. He shuttered his original space at 1045 Madison Avenue, between East 79th and 80th Streets, this past fall after the building was sold, but Blumenthal's new Chinatown space where Bowery meets the Manhattan Bridge boasts more square footage and a built-in billboard. It opens to the public on February 6.
Formerly sandwiched between blue chip galleries like Skarstedt and Acquavella, 37-year-old Blumenthal found the established gallery network of the Upper East Side a boon when he launched in 2013. "I felt a little bit like an outsider as more of a collector coming into this," he told Observer. "I didn't feel confident enough to be downtown with other, younger art dealers."
He sees his move to the Lower East Side is indicative of his own growing self-possession as a dealer. "Now that I've been doing this for a few years, I know more about what I want to do with a gallery space, and I want to be in an area where there's a little more experimentation happening."
While Lower Manhattan is still a bastion of edgy small galleries and artist-run spaces, it's also seeing a boom in interest from more established proprietors. Within the last six months alone, former White Cube gallery director Sarah Kay launched her own eponymous venture in the East Village neighborhood and the first New York outpost of the Netherlands-based Grimm Gallery opened up shop, also on Bowery.
Blumenthal, however, sees his gallery more as more of a project space since he doesn't represent artists directly or keep a codified roster. "Basically, I want to be a platform for emerging artists to allow them to experiment with new ideas or even have their first show," he said.
The dealer himself began experimenting with his new space even before its doors opened. In November, he mounted an ongoing temporary series of works on the 10-by-20-foot billboard that sits atop the building. "I thought it would be fun to do something with it, especially given its visibility on Bowery," Blumenthal explained. The billboard currently features a photographic work by Maggie Lee, which features the artist FaceTiming from her bed. Inaugurating the main space is a group show including new works by New York up-and-comers Laura Hunt, Miles Huston and Sven Sachsalber.
"I'm in the art game for the long haul, and I feel like the downtown scene is where there's the most opportunity right now, for artists and dealers alike," said Blumenthal. "It's exciting to be a part of that."