The art world has been watching the San Francisco scene with thirsty eyes for years thanks to the waterfall of wealth that the tech industry has inundated the Bay Area with. While museums like the SFMOMA spiff themselves up with $630-million revamps to attract more donors and behemoth blue chip galleries like Pace and Gagosian continue to set up shop in and around Silicon Valley, smaller galleries and artist-run spaces keep getting pushed out due to absurd rent costs and an overwhelming surge of gentrification.
But it's not all doom and gloom for the little guys. If there's one thing the Bay Area is known for at this point, it's innovation and investment. Though the stakes might be high in this rapidly changing art market, it's also spurring artists, dealers and even some collectors to adapt. Their approaches may vary, but the common theme is using space—as limited and expensive as it may be—to it's best advantage. And that means making compromises and working collaboratively.
"For the past six years we've paired a main gallery exhibition, a residency show in our basement, and an experimental installation in our bathroom," Kevin Krueger, co-founder of the artist-run Alter Space, told Observer. He started the gallery with fellow artist Anna Koak in 2011, in the city's South of Market neighborhood, just a few blocks from Uber's headquarters. "We got really lucky, prices in this area were more reasonable, then."
While South of Market is bustling with activity and SFMOMA is nearby, there are few other galleries, which means Kreuger and Koak had to maximize their programming space in order to pull in a broader audience. "We generally open three shows at once," he said, noting that they feature both emerging and more well-known artists simultaneously. They also weren't shy about hosting non-art events, renting the space out for weddings and meetings. "We even hosted a cooking competition once." Ultimately, though, Krueger says the biggest benefit they offer is space to experiment for younger artists. "That's rare for San Francisco."
Lauren Licata of R/SF Projects agreed that the Bay Area is "hungry for spaces for newer artists." She co-founded the gallery with Kaitlin Trataris and Anička Vrána-Godwin in October 2016, just after the trio finished their graduate degrees at the San Francisco Art Institute. Originally conceived of as a temporary curatorial project space, their first location was a four-month sublet in the Mission that they wanted to make the most of while they had it. "We didn't really expect it to become a long-term thing," she told Observer. They put on three to five events per week and collaborated with over 70 artists, performers, and curators within that time. "It was a lot, but people took note—we had a packed house nearly every time."
Since then, R/SF has relocated to a more permanent spot in the Tenderloin neighborhood, and they have started to do more young collector outreach since, according to Licata, there are a lot of people interested in art who don't know how to go about collecting. To help remedy that, R/SF has started partnering on events with networking organizations geared toward millennials like Ivy or The Battery, which are social clubs akin to the Soho House chain. They also participated in the second San Francisco edition of the Untitled art fair this January. "Some people weren't sure San Francisco needed a fair, but I think it's a positive thing. It brings a different crowd and we need all the support we can get."
Artist Maria Guzmán Capron, who shows with R/SF, said it may not be the easiest art scene, "but it's one of the most supportive I've worked in." She attributed this sense of community to the artists who are trying to find ways of working together to ensure they don't get pushed out as the city rapidly changes. Capron herself was part of a group of 12 women who started the studio collaborative CTRL+SHFT in 2015. "We couldn't afford existing spaces but we were able to get a decent deal on an entire warehouse in the East Bay," where she said there's a small but thriving art scene now. "There's a sense of commitment. People show up to openings and have sincere conversations about the work."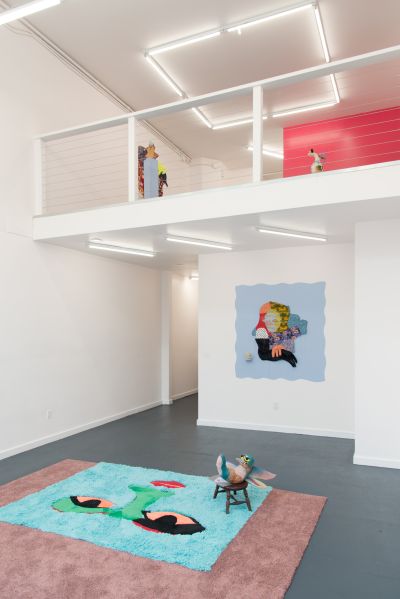 Perhaps one of the most successful examples of artists, galleries, and collectors coming together in the Bay Area is the collaborative working space known Minnesota Street Project, located in San Francisco's historic Dogpatch neighborhood. Started in 2016 by entrepreneurs and collectors Deborah and Andy Rappaport and comprised of multiple rehabbed warehouses, the compound rents out commercial gallery spaces, as well as studio and fabrication space for artists. The studio program supports approximately 80 artists annually, providing tools and resources within a campus-like setting.
According to studio program director Brion Nuda Rosch, this infrastructure offers more than a rental. "The greatest resources are the residents within the program." The communal design invites the curated group of artists from varied backgrounds the opportunity to engage with multiple practices ranging in discipline." With each resident comes the added value of their respective knowledge, resources and contacts.
Rosch hopes the Minnesota model will be adapted in any geographical location where cost of living is a problem, which is most metropolises these days. "The arts are essential in our cities, and while other industries thrive it is their responsibility to provide the capital to build necessary infrastructure for arts and culture," Rosch said. "And to clarify, artist aren't seeking a handout—they are willing to pay a reasonable rate for space to work and to create."