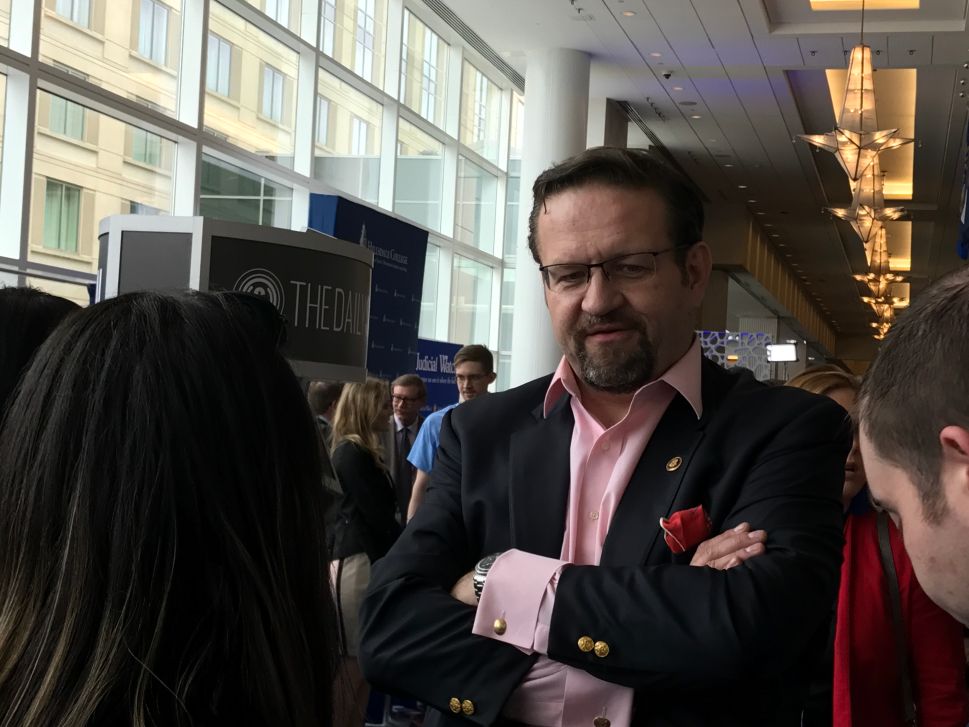 Many rightwing celebrities make their rounds at the Conservative Political Action Conference's (CPAC) "media row," but few have staked more residency than former White House advisor Sebastian Gorka.
From striking poses in front of The Daily Caller's banner to buzzing behind NRA TV's outpost, Gorka is courting fans and Republican hosts alike. But while the ousted White House personality is willing to entertain conservative media, he has gotten physically aggressive toward other reporters.
In a video uploaded to Twitter on Thursday, Gorka threatened to assault Mediaite reporter Caleb Ecarma. After a brief exchanged, Gorka told Ecarma to "fuck off" and shoved him away.
"He immediately knew who I was and started cussing me out," said Ecarma of the exchange. "After he shoved me and said all that stuff, he said I was too irrelevant to talk to."
Both figures have a bizarre relationship: Gorka challenged Ecarma to a televised debate over tweets the reporter made but backed down when pressed for details.
Hours after the scuffle, Huffington Post reporter Igor Bobic tweeted that he nearly "got into a fight with Sebastian Gorka at a bar" during CPAC when he asked the former White House aide "why he blocks people on Twitter."
"Observer? You're a joke. I have no interest in talking to you," Gorka said, grabbing me firmly by the shoulder, when I asked him why he is threatening reporters with violence at CPAC.