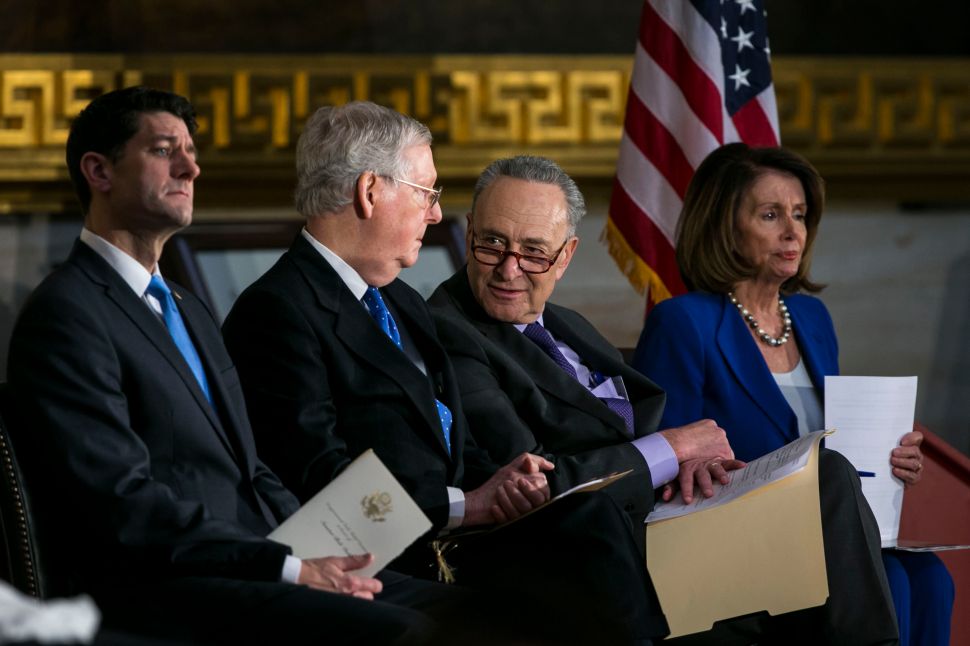 Senate Majority Leader Mitch McConnell (R-Ky.) and Senate Minority Leader Chuck Schumer (D-N.Y.) reached a deal on Wednesday to fund the government over the next two years.
Following months of shutdown fights and amnesty disagreements, leaders agreed to increase defense and domestic spending, while lifting the debt ceiling to March 2019. The budget reportedly raises spending caps by $300 billion over two years, allocating $80 million to defense spending and $63 billion to non-defense spending for the upcoming fiscal year.
"The budget deal doesn't have everything Democrats want. It doesn't have everything the Republicans want. But it has a great deal of what the American people want," Schumer told reporters after the agreement was reached. "After months of legislative logjams, this budget deal is a genuine breakthrough."
Schumer added that the deal allocates $20 billion for infrastructure, $6 billion for the opioid epidemic, $5.8 billion for child care and $4 billion for veterans facilities. Among the other provisions included in non-defense spending were disaster relief and Medicaid for Puerto Rico and the U.S. Virgin Islands.
Despite President Donald Trump's threats of a government shutdown over immigration, White House Press Secretary Sarah Huckabee Sanders praised the deal as moving Congress away from "crisis-to-crisis budgeting," while accomplishing the Trump administration's "top priority" of a defense increase.
Although Schumer and the White House are optimistic toward bipartisanship, many Republican and Democratic lawmakers warn about the precedent the budget sets.
As fiscal conservatives castigated the spending increase as reckless, Democrats pushed for a provision to protect the roughly 800,000 young immigrants protected by the Obama administration's Deferred Action for Childhood Arrivals (DACA) initiative.
"This is a dead-end path that will cause great hardship to Americans," said Congressman Mo Brooks (R-Ala). "And if you really look at it out long term and see the cascading effects, it is going to cost a lot of Americans their lives."
When the agreement between McConnell and Schumer was announced, House Minority Leader Nancy Pelosi neared a four-hour mark for a filibuster opposing the deal over its lack of protection for DACA recipients.
"We have to be strong as a country… to respect the aspirations of people who are our future," Pelosi said on the House floor. "The young people are our future, and these dreamers are part of that. They've been enriched… by the greatness of our country."
The budget deal is expected to pass the Senate but may encounter difficulties in the House.