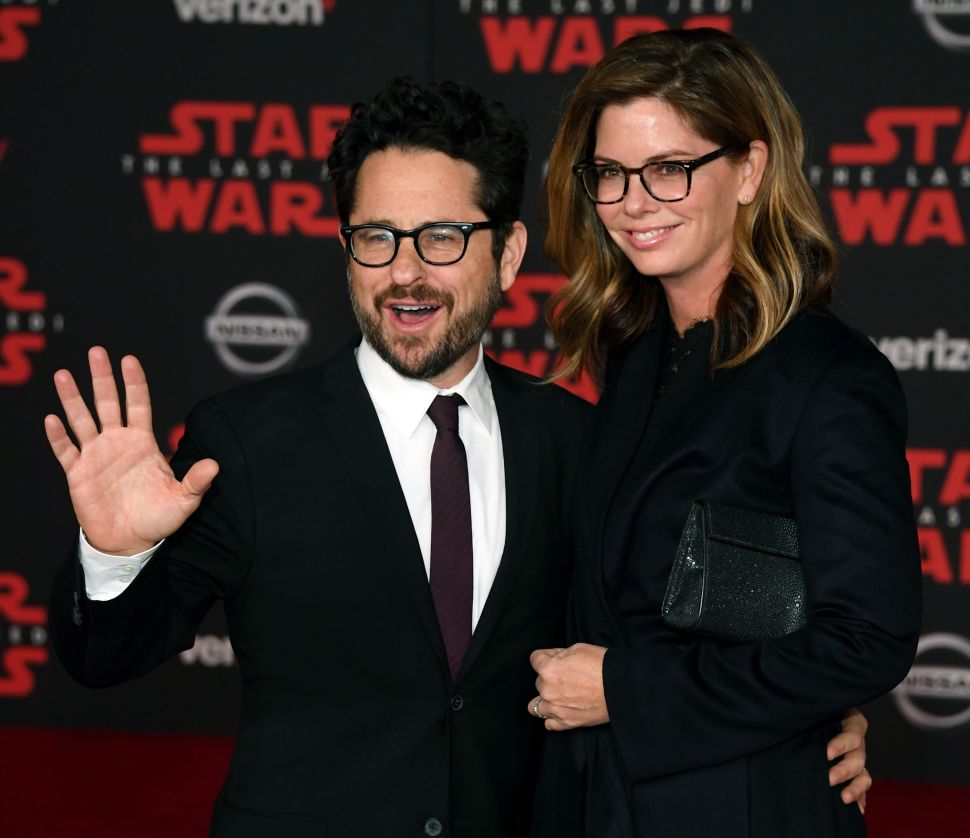 On Wednesday night, writer-director-producer J.J. Abrams revealed on The Late Show with Stephen Colbert that he already has a draft for the untitled Star Wars: Episode IX script. This marks a significant change from his time helming Star Wars: The Force Awakens in which he assumed control of the writing process late in the game, though already on board to direct.
"We, uh, we have a script," the director said. "Which is a big deal for me. Having a script in advance isn't something I've always been lucky enough to have."
Abrams also revealed that he's working on the story with Chris Terrio, who won an Oscar for Argo and whose recent writing credits also include Justice League and Batman v Superman: Dawn of Justice. But given the intense divide between critics and audiences on Rian Johnson's Star Wars: The Last Jedi, here are some politely offered Dos and Don'ts for the trilogy-capper, based on the few things the internet seems to agree on plus a healthy dose of our own bias.
Do continue to go in bold and ambitious new character directions. While there was a vocal segment of fans that railed against the characterization of Luke Skywalker in The Last Jedi, many applauded the risky choices Johnson made and felt Luke's arc was a highlight of the film. The Force Awakens was beloved (and sometimes criticized) for faithfully recreating the story and feeling of the 1977 original Star Wars, but Episode IX shouldn't be afraid of incorporating some new elements while still feeling like a Star Wars film.
Don't split the gang up again. While the storylines involving Luke, Rey and Kylo Ren crackled with electricity in The Last Jedi, the plots revolving around Finn, Rose and Poe fell a little flat. Specifically, Finn and Rose's excursion to Canto Bight was met with widespread disappointment. Though the sequence has its virtues, it stranded one of the franchise's most charismatic characters away from the action with a partner he had little chemsitry with. Let's not repeat that mistake.
Do continue to work outside of the mystery box. So much attention was paid to Rey's parentage and Snoke's origin in between The Force Awakens and The Last Jedi. Neither question ultimately mattered in the end. While such curiosities are great for fan engagement and make for fun theorization, they can sometimes distract from the main story.
Don't skimp on the lightsabers. The Last Jedi was the first Star Wars saga film not to include a laser sword-on-laser sword battle and The Force Awakens included just one duel. We don't need Star Wars to approximate Die Hard in its frequency of action, but Episode IX does need to close things out with a bang. The Original Trilogy did a great job of draping each major duel in character motivation and development. We'd love to see more of that this time around.
Do continue to push the boundaries of visual expression. The Last Jedi's lightspeed cut to silence sequence was the single most visually stunning moment in the 40-plus year history of Star Wars. Rey's vision in the cave on Ahch-To was similarly mesmerizing. Upping the ante aesthetically is another way to show fans things they've never seen before. George Lucas had to have been proud of those moments.
And above all, please, please don't try to set up future saga films or spinoffs in Episode IX. As has been well covered, Disney and Lucasfilm have some enormously ambitious plans for the Star Wars universe moving forward. The worst thing they could do is to use Episode IX as a springboard for those ideas in an attempt to keep fans on the hook for five more years. We saw how backdoor pilots to upcoming projects torpedoed Batman v Superman. Hopefully the studio will allow Abrams' concluding entry to stand on its own.
Star Wars: Episode IX will hit theaters on December 20, 2019.