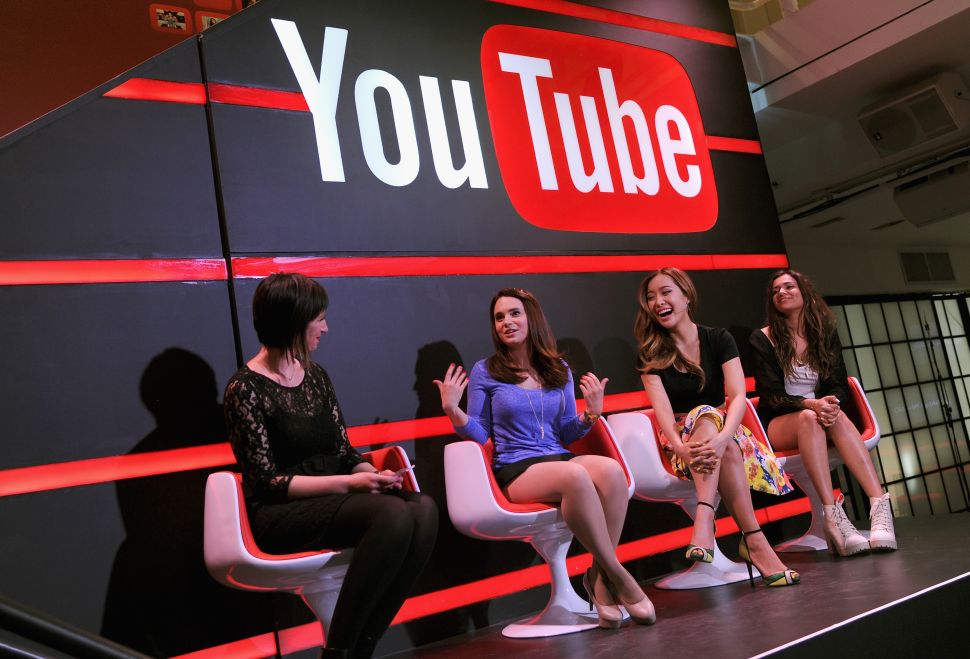 Making YouTube videos full-time checks many boxes of a perfect job—doing your hobby for work, flexible hours, having a large crowd of fans and—the most lucrative of all—those rumored giant paychecks.
However, for a vast majority of people, getting rich on YouTube is barely more realistic than becoming a movie star in Hollywood. And it's only getting more difficult, according to a new social media study.
Mathias Bärtl, a professor at Offenburg University of Applied Sciences in Germany, researched the distribution of page views on YouTube since the company's founding in 2005. His main finding: popular channels have gotten more popular over the years, leaving smaller ones increasingly invisible.
In 2006, when YouTube was just a one-year old startup and self-managed channels first emerged on the platform, the top three percent of channels with the most subscribers attracted two-thirds (66.67 percent) of total YouTube views, Bärtl's study shows.
Ten years later, the top three percent had 90 percent of the total views.
"There is certainly a power law on YouTube. Channels that got popular early on were able to grow faster than later entrants," Alice Marwick, an assistant professor in the Department of Communication at the University of North Carolina at Chapel Hill, told Observer.
"Three hundred hours of video content is uploaded to Youtube every minute, so it's really hard for new channels to get subscribers," she added.
Full-time YouTubers primarily rely on advertising income. On average, the top three percent of the most popular channels attract 1.4 million views every month, which translate into $16,800 a year in ad income, Bärtl told Bloomberg.
But that's less than one-third of the U.S. median household income. And for the bottom 97 percent of YouTubers getting to that level is nearly impossible.
Bärtl's calculation assumes that creators earn $1 per 1,000 views. This rate is called CPM (cost per thousand) in industry terms. CPM on YouTube has fluctuated over the years and is tied to a number of factors. According to a recent analysis by social media analytics firm SocialBlade, CPM on YouTube ranges from $0.6 to $7, depending on the type of video, where the views come from, actual click rates and other factors.
It's worth noting that, even within the top-tier YouTuber group, page views varies vastly. The top one percent of channels attract anywhere from 2.2 to 42 million monthly views, Bärtl's study shows, which directly impact ad income.
DanTMD, a game channel with 18 million subscribers, as of February, made $16.4 million in ad revenue in 2017, the highest of all Youtubers, Forbes estimated. Run by a 26-year-old video gamer named Daniel Middleton, the channel publishes daily videos featuring game reviews and live playing. VanossGaming, a video game and comedy channel with 22.5 million subscribers, scored the second place on Forbes list with $15.5 million in ad income.
Sponsorships are another income source for YouTubers, depending on the type of content they're producing. For example, channels that feature beauty and fashion tips tend to attract more sponsors than those focusing on comedy or animals.
Marwick estimates that a YouTuber with 50,000 followers can earn up to $10,000 per sponsored video. Although this sounds like a lucrative income model, sponsorship isn't as sustainable as ad revenue and can even damage subscription if done wrong.
"For example, large beauty channels often attract followers for their original beautify tips. While these channels can easily get product sponsorships, the more they do sponsored videos, the harder it is to maintain authenticity," Marwick said.
And yet, more young people are starting YouTube channels, dreaming to be the next Jenna Marbles and Michelle Phan. Marwick observed that a good chunk of new channels are created under the video gaming category.