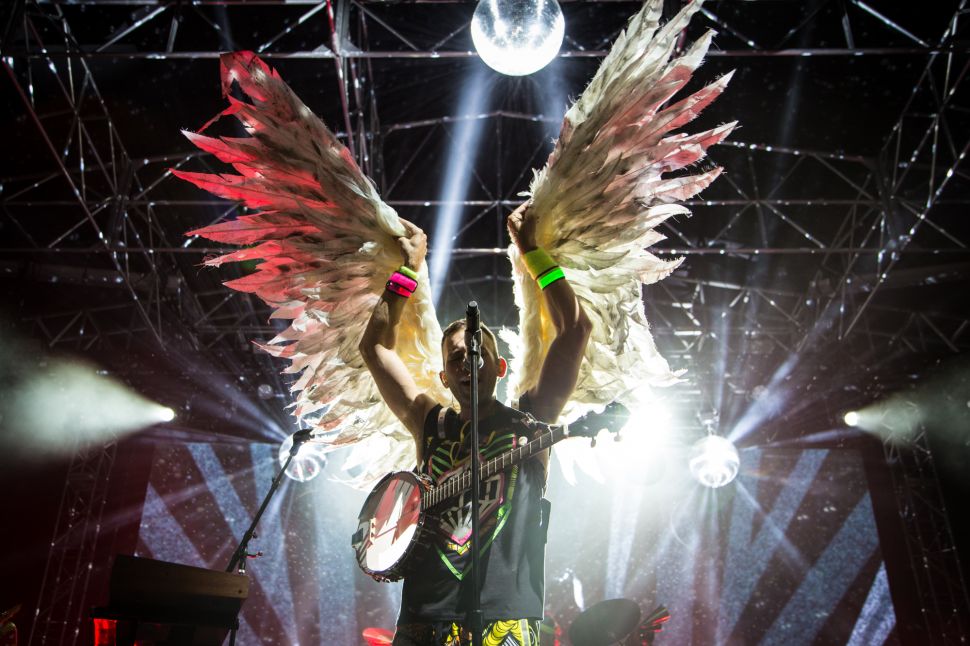 While Frozen's 'Let it Go' is still playing in the homes of children and, let's face it, some adults, it has already been four years since the writers of the track, Kristen Anderson-Lopez and Robert Lopez, took home the Oscar for Best Original Song in 2013.
But the race for the big honor has remained a heated one each year. This time around, the category is honoring songs from Coco, The Greatest Showman, Marshall, Mudbound and Call Me by Your Name.
Sufjan Stevens, a musician whose songs range from indie folk to electronica, is the nominee from the Call Me by Your Name soundtrack with his song, "Mystery of Love."
Two more Stevens songs pop up in the film as well: "Futile Devices (Doveman Remix)" and "Visions of Gideon." We give you full permission to weep openly while listening.
Though it is Stevens' first Oscar nomination, his work has been featured in several critically acclaimed pictures beginning 12 years ago with Little Miss Sunshine in 2006. The film itself took home Academy Awards for Best Original Screenplay and Best Supporting Actor.
In the following years, notable projects such as Weeds, Friday Night Lights, One Tree Hill, Veronica Mars and Whiskey Tango Foxtrot would also pick up songs from Stevens. The O.C., which became known for using music as "a character on the show," played four of the artist's songs over the show's four seasons.
The 42 year-old musician has put together a career that is rather rare in 2018. He wasn't an overnight success built by YouTube views or one hit single. Instead, he has developed his repertoire over years in the industry, creating a long list of tracks to look back on in light of his first Oscar nomination.
More than 10 million people, whether they knew it or not, listened to Stevens' music when they tuned in to the 2016 premiere of This Is Us.
The song, titled "Death With Dignity," played in the opening and closing of the pilot that shocked the world. While the show's writing is enticing enough, it certainly didn't hurt to have an emotional Sufjan Stevens track to tug on our heartstrings.
Stevens tells Vulture that he doesn't usually like directors, but was persuaded by Luca Guadagnino, the filmmaker behind Call Me by Your Name, to write some original music for the story. He said that Guadagnino is "a real sensualist, and I very quickly keyed into that because I am, as well."
Fans of the film are still weeping over the emotional scene that features the song "Mystery of Love."
Stevens also told Vulture, "I could write these songs in my sleep," and that he's "been writing about love and loss since I was a small child!"
If the right directors can sway Stevens to write for the screen, there should be no stopping his success.
Stevens certainly has worthy competition for Best Original Song, including two previous winners in the category. Last year's winners for "City of Stars," Benj Pasek and Justin Paul, are nominated this year for their song "This is Me," and Kristen Anderson-Lopez and Robert Lopez are nominated for "Remember Me."
The 90th Academy Awards take place on March 4.