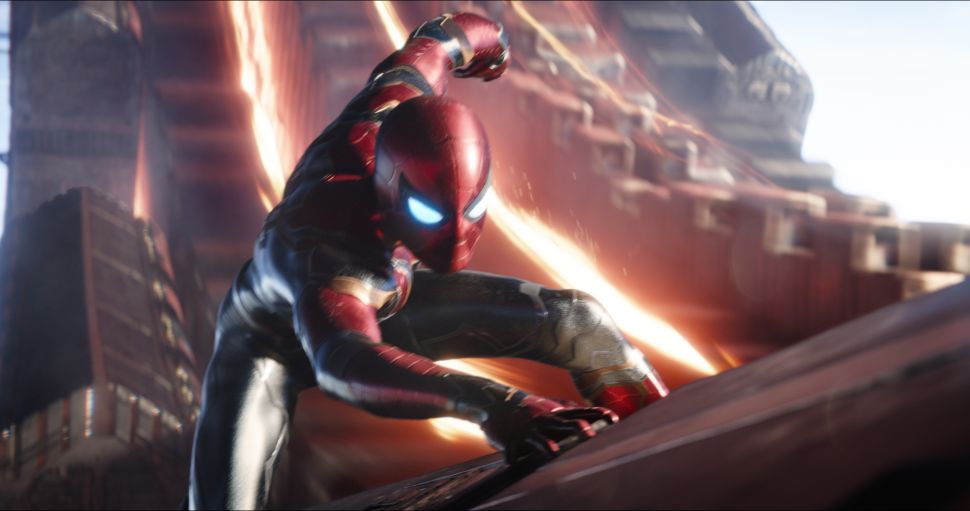 Super Bowl LII (that's 52 for all of you not currently under the control of the Roman Empire) has come and gone and with it, a slew of trailers for the biggest and most hotly-anticipated films and television shows of 2018.
Studios and networks hoping to capitalize on the Super Bowl's chunk viewership may be disappointed that the Big Game drew its lowest ratings since 2010, but we're still talking about 100 million-plus viewers. That's more than enough to start generating buzz.
Instead of methodically perusing the internet for TV spots and trailers, we thought we'd collect all of the footage that debuted last night in one convenient place. You're more than welcome.
Solo: A Star Wars Story
Lucasfilm debuted a full-length trailer Monday morning on Good Morning America to go along with this teaser that aired during the Super Bowl. Visually, the movie has the same aesthetic as Rogue One, which is a bit disappointing. But it looks to be a fun, outlaw-esque adventure overall. No telling whether or not all of the movie's behind-the-scenes drama affected the final product.
Jurassic World: Fallen Kingdom
Listen, there's only so many tales that can be told about people running from man-eating dinosaurs, so we can forgive 2015's Jurassic World for its blah story. But after 20 years of death and destruction, why are Chris Pratt and Bryce Dallas Howard trying to save these carnivorous buggers? (Checks Box Office of Jurassic World). Oh, that's right.
Red Sparrow
No one likes to talk about it, but Jennifer Lawrence is on a bit of a cold streak over the last two years. Can 2018 be a bounceback year for the star with the sexy spy thriller Red Sparrow and blockbuster X-Men: Dark Phoenix? The adult-skewing Soviet secret agent story is the type of star-driven drama Hollywood rarely makes anymore. Here's to hoping J-Law can help bring it back and return to the win column.
Castle Rock
https://www.youtube.com/watch?v=fwmhiqUPa28
Based on the works of Stephen King (who enjoyed a pop culture resurgence in 2017 thanks to the record-breaking gross of It and other popular adaptations), Castle Rock is a new Hulu original starring the perennially underused André Holland (Moonlight) and produced by J.J. Abrams. It has all the classic King ingredients: creepy small town, mystery, murder and more. With its use of King's canon-spanning mythological scale, you could say we're excited for this one.
The Cloverfield Paradox
Netflix continues to disrupt the natural order of entertainment by dropping the third Cloverfield movie right after the Super Bowl (traditionally one of the biggest ratings nights of the year for broadcast networks) with no marketing outside of one brief teaser. That's a bold move and while we're skeptical about the streamer's acquisition of the film from Paramount for a number of reasons, the social media conversation generated last night accomplished the goal of stealing attention away from NBC. Well played, Netflix. Well played.
A Quiet Place
Real life married couple John Krasinski and Emily Blunt fight off supernatural threats. If you haven't noticed, the horror genre has quietly become Hollywood's most bankable lane.
Skyscraper
Dwayne "The Rock" Johnson is doing his best Die Hard impression with this one. But given the guy's rare box office muscle, we can expect Skyscraper to crush when it hits theaters this summer. Hell, he dragged Jumanji: Welcome to the Jungle to $820 million worldwide. If that's not movie star power, what is?
Jack Ryan
Hey, it's John Krasinski again! Not to be outdone in the ongoing streaming wars, Amazon also dropped a trailer last night. While Jack Ryan comes from reliable showrunner Carlton Cuse (LOST, Bates Motel), we have 25 years of evidence that suggests audiences are less interested in the character as they are in seeing Harrison Ford punch people in the face.
Westworld
https://www.youtube.com/watch?v=qUmfriZoMw0
With Game of Thrones heading into its final stretch, HBO has anointed the $100 million Westworld as its heir apparent. While the first season had a few kinks to iron out, Westworld is in prime position to become the big, buzzy genre fare that dominates the television conversation. HBO has never before bought Super Bowl ad real estate for a single show and with NBC charging $5 million for a 30-second spot, it's clear that the network is pushing season two hard.
Avengers: Infinity War
If Black Panther opens to at least $100 million next weekend (it will) and Avengers: Infinity War follows suit (ditto), Marvel Studios will have released five consecutive films that kicked off with $100 million-plus opening weekends. There is zero doubt that the Marvel Cinematic Universe is the single most consistently successful creation in Hollywood history.