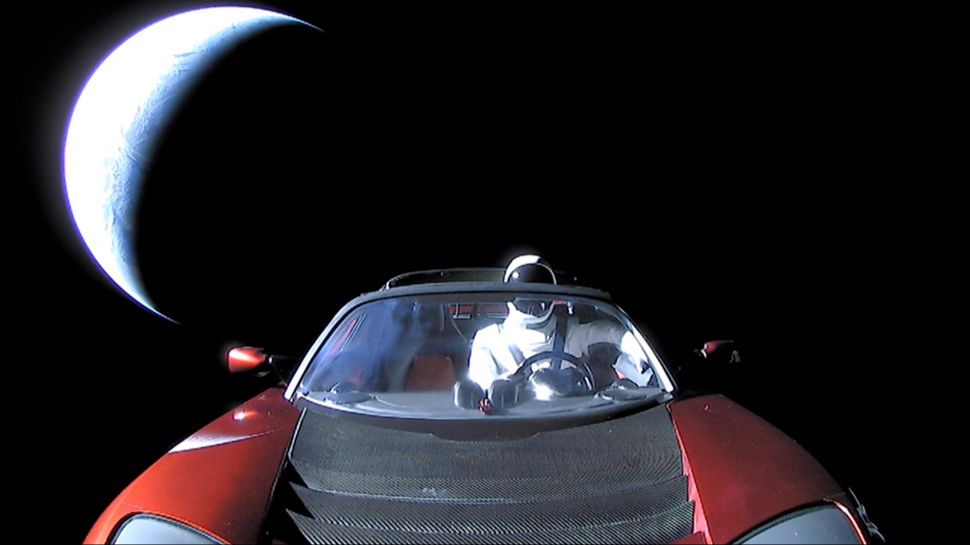 The red Tesla (TSLA) Roadster and its dummy driver, which launched on top of SpaceX's Falcon Heavy on Tuesday, have passed the Mars orbit and are now on their way to the Asteroid Belt. Meanwhile, back on earth, Tesla the company is going through income statements with investors, and the report doesn't look as impressive as the space photos.
Tesla released fourth-quarter and full-year earnings on Wednesday. The electric car maker posted the largest ever quarterly loss of $770 million for the three months ending on December 31, 2017. Total loss for fiscal 2017 was $2.24 billion, almost tripling the loss in 2016.
Quarterly revenue increased 44 percent to $3.3 billion from a year ago, thanks to rising sales of Model S sedans and Model X SUVs. Annual revenue increased 68 percent to $11.8 billion.
The record loss was a direct result of Tesla's increased spending in upgrading existing production scales and developing next-generation products, including the new Model 3 sedan and a semi-truck.
A closely watched point of discussion is the manufacturing progress of Model 3, the first Tesla car designed for mass production.
Production and delivery for Model 3 in the fourth quarter fell far behind forecasts, despite an all-time high delivery volume of Model S and Model X. (Reports show 28,320 units for the two models were delivered in the fourth quarter.) By contrast, Tesla only delivered 1,550 Model 3 units during the quarter, nearly half of the average estimate.
CEO Elon Musk said the company is on track to reach the Model 3 production goal.
Specifically, Tesla aims to build 2,500 Model 3s per week by the end of the first quarter of 2018, and reach the goal of 5,000 per week by the end of the second quarter. Currently it's making about 800 per week.
"If we can send a Roadster to the asteroid belt, we can probably solve Model 3 production. It's just a matter of time." he said at a conference call on Wednesday.
Model 3 went into production in July 2017. Mass production for this model will be key for Tesla to enter the mainstream automobile market. The current wait time for Model 3 delivery is 12 to 18 months, according to Tesla's website.
With Model 3 production hitting its goal, Musk expects the cash-tight company to turn a GAAP profit (excluding one-time large expenses) for the first time in 2018.