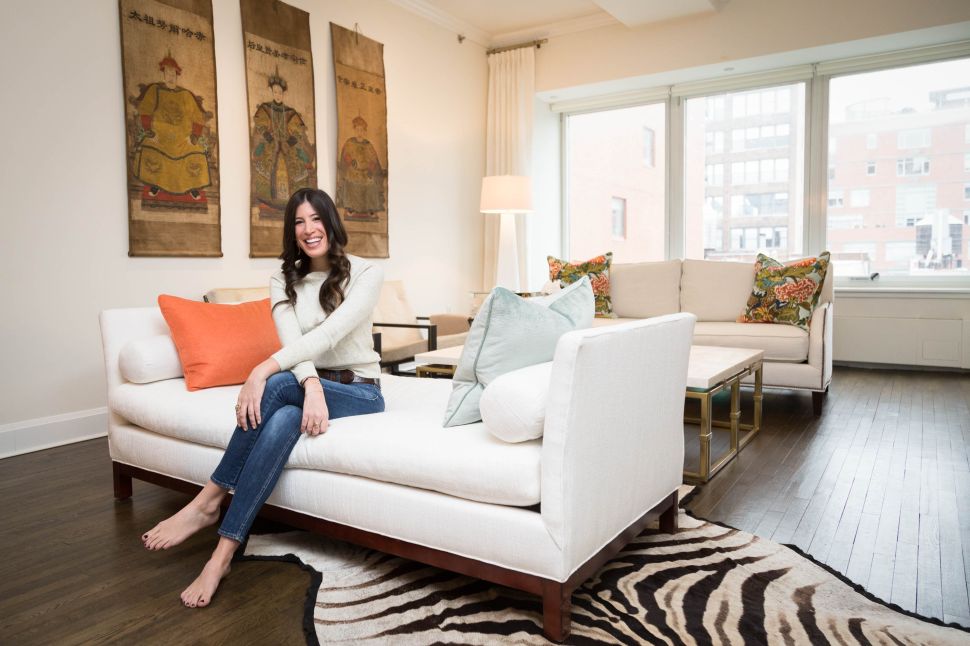 Nikki Lewis, co-founder of exclusive matchmaking service The Bevy, is never off the clock. When it came to pulling together her New York apartment, Lewis knew she wanted it to be a calming respite from her nonstop work schedule, but still able to function as an appropriate meeting space when necessary.
Lewis, who launched The Bevy with Greta Tufvesson in 2014, bought the Chelsea apartment nearly two years ago, even though she knew it needed work. "The living room walls were yellow, the bathroom walls were purple, it was green in the bedroom and it was a very shoddy paint job," Lewis told Observer. So she brought in designer Cynthia Evans to help transform the space into a suitable home, with not a green wall in sight.
Lewis invited Observer into her airy, comfortable and chic apartment to share her home design vision and discuss how she got into matchmaking in the first place.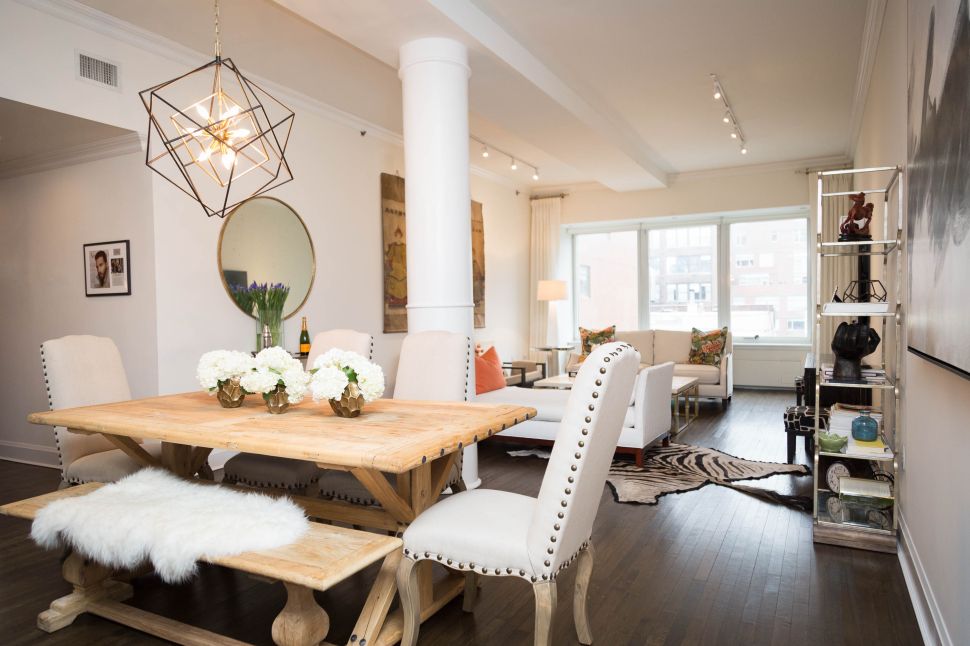 Tell us about your move to this apartment. 
I moved here in May of 2016. The day that I closed, I met my designer, Cynthia Evans. We decided everything we were going to do that day. We totally redid the floors, painted everything white and added crown and shoe molding everywhere. We did it very quickly; I would say it took three months. The furniture is all custom, so that took a few months as well.
What's the most special piece of custom furniture?
This [Design Center] coffee table. We were looking at different pieces in the showrooms, and when we saw it, it was just wow-worthy. My mom said, "What! You're spending your life savings." But I really needed a big table for this space. Funny thing is, she tried to buy that table for herself without telling me a few weeks ago.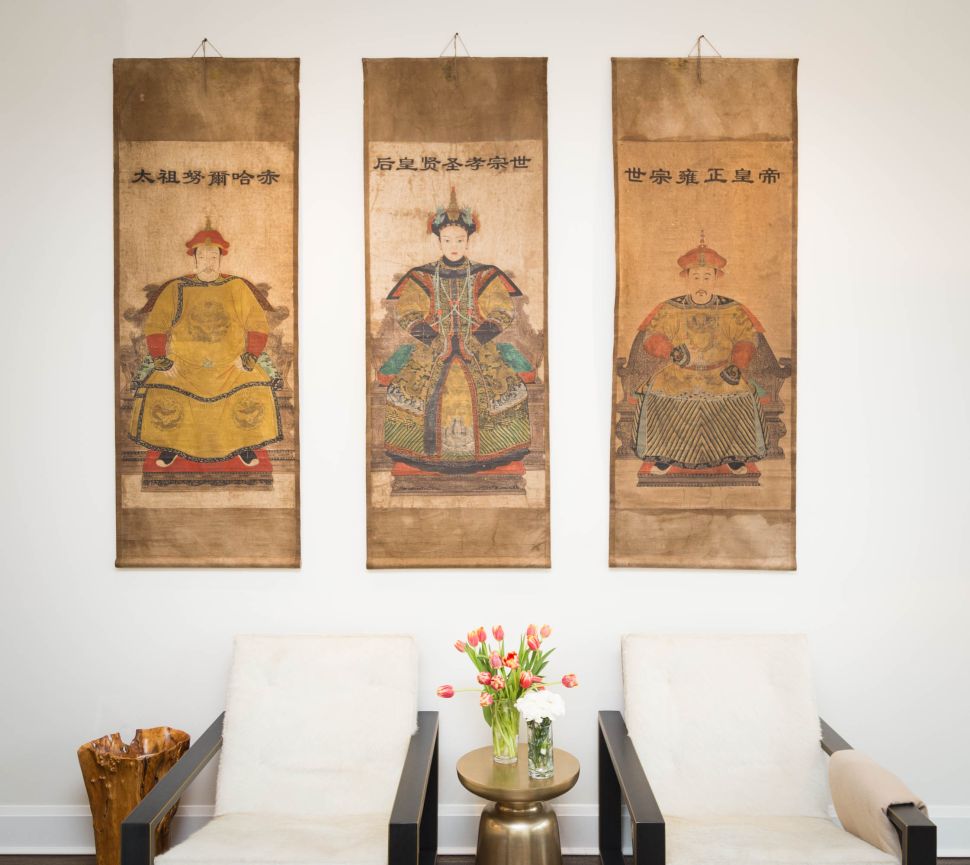 What's the story behind this trio of tapestries? 
We knew that we wanted to get something big for this wall, but we couldn't find anything that really resonated. There is this store two blocks away from me, Asian Barn, and the guy Sam there is so nice and so helpful. We got a few things like the console, this barn door table and the bench. As we were leaving, Cynthia goes, "What are those on the wall?" They were hidden by stacks of furniture; I couldn't see. They were a last minute purchase, very inexpensive and I think they look great.
Have you always lived in Chelsea? 
I'm originally from Los Angeles. I went to NYU, so I've been slightly bicoastal ever since—I spend a quarter of the year out in L.A., but I've lived in New York for twelve years. Most of the time, I've lived within two avenues [of this apartment]. It's been amazing; it's central to everything.
What brought you into the matchmaking business?
Almost a decade ago, Greta [Tufvesson] agreed to meet with me. Greta had worked at LVMH and for André Balazs; it was 2009, so people weren't really spending money on these luxury items. But she said, "You know what's recession proof? Love! I have so many beautiful, single, intelligent girlfriends who would never dream of dating online. I should use all of my personal connections to do something. But I need some help." I was her first hire. She trusted me, we hit it off famously and we built something incredible. We actually didn't own that company, so we launched The Bevy with quite a massive following at the beginning of 2014.
Tell us about The Bevy.
Some people say it's so challenging to start your own business, but for us, it was really natural. It's the best decision we ever made, and it's rewarding. Just yesterday a client called me with happy tears and said, "I don't know how I ever doubted you for one second. She's amazing, you knew all along. Thank you for seeing something that I couldn't." We steer our clients in the right direction, we do all the outsourcing and we do all the work. There's no maintenance on our client's parts, they just show up and have the most amazing time.
What sets The Bevy apart from any other type of dating or matchmaking service?
Greta and I don't delegate meetings to our associates. We are extremely hands-on and we've worked in this industry for almost a decade. We're restricted mostly to only referrals, which also differentiates us; I like to have personal references on everybody. This isn't something that everyone can come join, it's a very exclusive membership. We limit our male clients to no more than thirty nationwide at one time. There is no limit for women, because women comprise our complimentary membership. We try to do the most outstanding work by them and we have to; there's nothing worse than a one-sided date. We pride ourselves on constantly, consistently meeting incredible women.
When designing this space, did you think about entertaining clients at home? 
Not originally. I really try to separate my work and life just because my work can become so much of who I am. It's only on really special occasions that I will even offer [to come here]. For the men, I'll go meet them near their office for lunch or coffee. For the women, I'll go meet them for coffee, it depends. For a follow-up meeting, I tell them to come over for some tea.
I like to keep this place as my sanctuary. But it was always in the back of my mind that your home is a representation of you, and I think my home is a very good representation of who I am. If any of my clients come over or have concerns, I want them to feel like they can trust me in a really safe, open space.
When clients come over, where do you usually sit for tea?
People feel really comfortable in the sitting area; it's very light, open and you can just feel free to be yourself chit-chat. It's an easy place to get to know someone.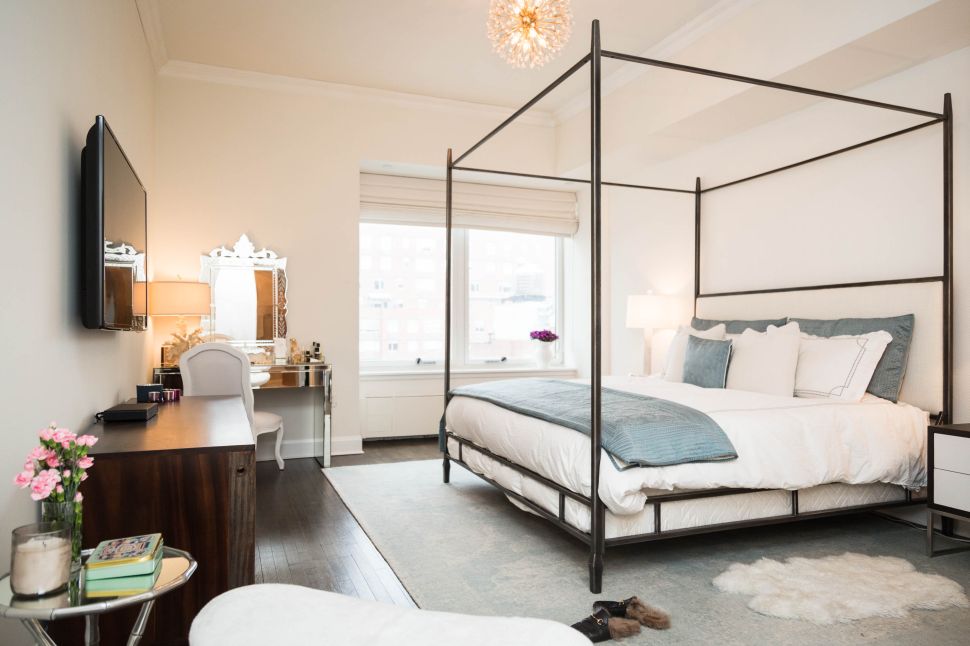 How do you take time to relax, away from work? 
Work is really 24/7. I love spending time at home; that is important to me because I am constantly running around. Honestly, I will open up my Kindle, I will read, watch television, light my candles and put my phone away—I have four closets with locks on all of them. I will literally lock both of my phones away and just zen out.