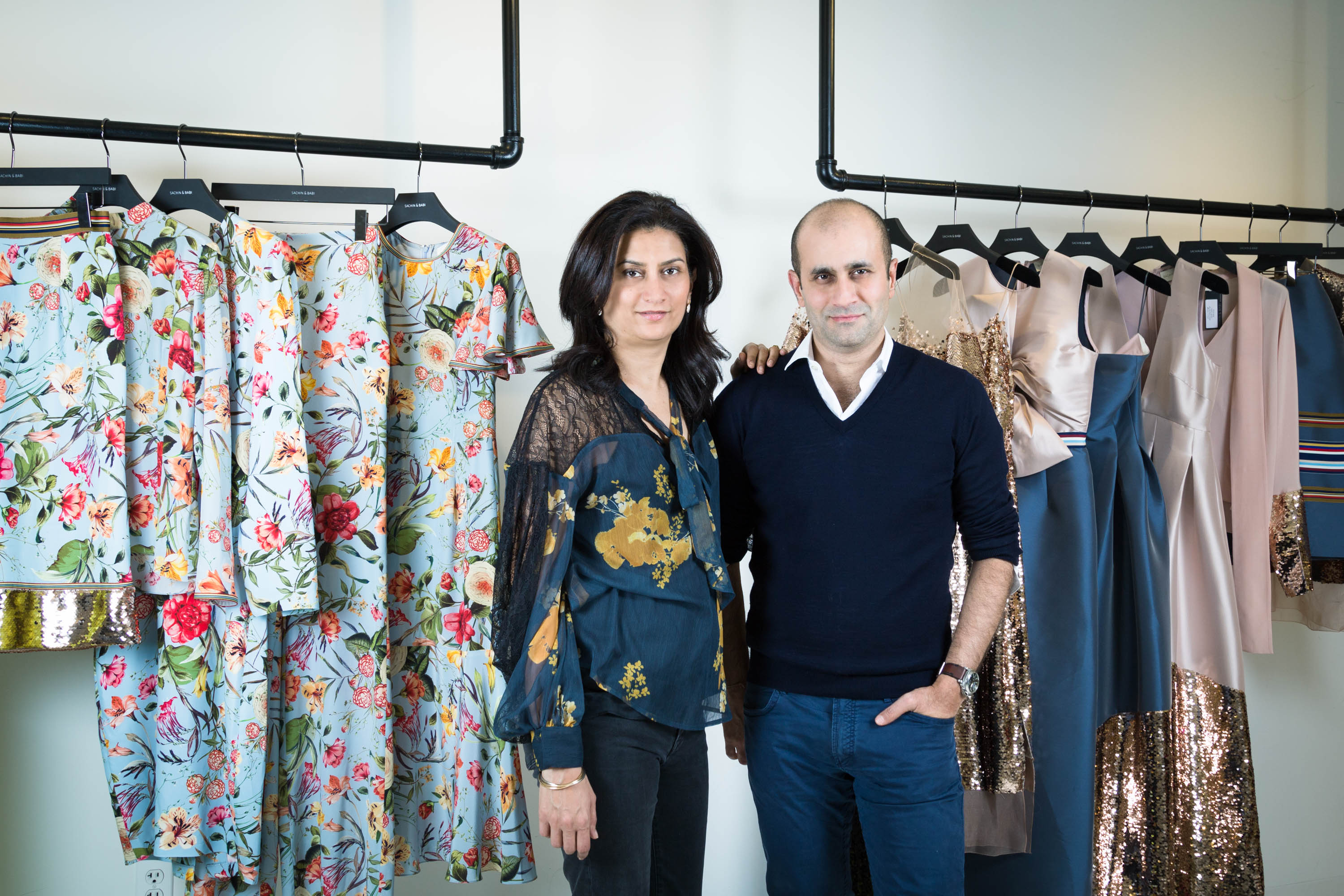 Some designers have their big break a few months after launching their clothing line, thanks to a write-up in The New York Times or getting picked up by a major retailer after a few years in business. But for Sachin and Babi Ahluwalia, their big break came well over a decade before they launched the label Sachin & Babi in 2009.
The couple, who both left their families in India to study at FIT in New York, met during their first semester ("I met Babi on the third day of school; she was the prettiest girl in the school," Sachin recalled) and after graduation decided to go into business together. In 1996 they took a loan from their parents and set up an agency, ANK International, that served as a resource for embroideries, fabrics and textiles. India was very much a part of this business; they hired local artisans who would scour the markets for threads, sequins and beads and put their personal touch on hand-embroidered creations. Plus, both of their mothers were designers back home, so they had the infrastructure in place—in addition to as much free advice as they needed.
Then, their big break arrived: "Six months into our business we didn't have a single client, but we met with Oscar [de la Renta] and started working with him," Sachin told Observer. "We have worked with him for almost 20 years, doing his embroideries, his embellishments. He has had an absolutely profound impact on both our lives."
The Ahluwalias aligned with de la Renta during the era in which he was designing for Balmain, back when he was the first American to take over a Parisian brand. They hit some bumps in the road while working alongside the late designer, like the one time that Sachin delivered an embroidered chicken instead of a rooster to de la Renta, just five days before a Balmain shoot. Eventually, the designer got what he wanted, just in time.
"It always works out," Sachin explained, adding: "Design is an aspect of interpretation."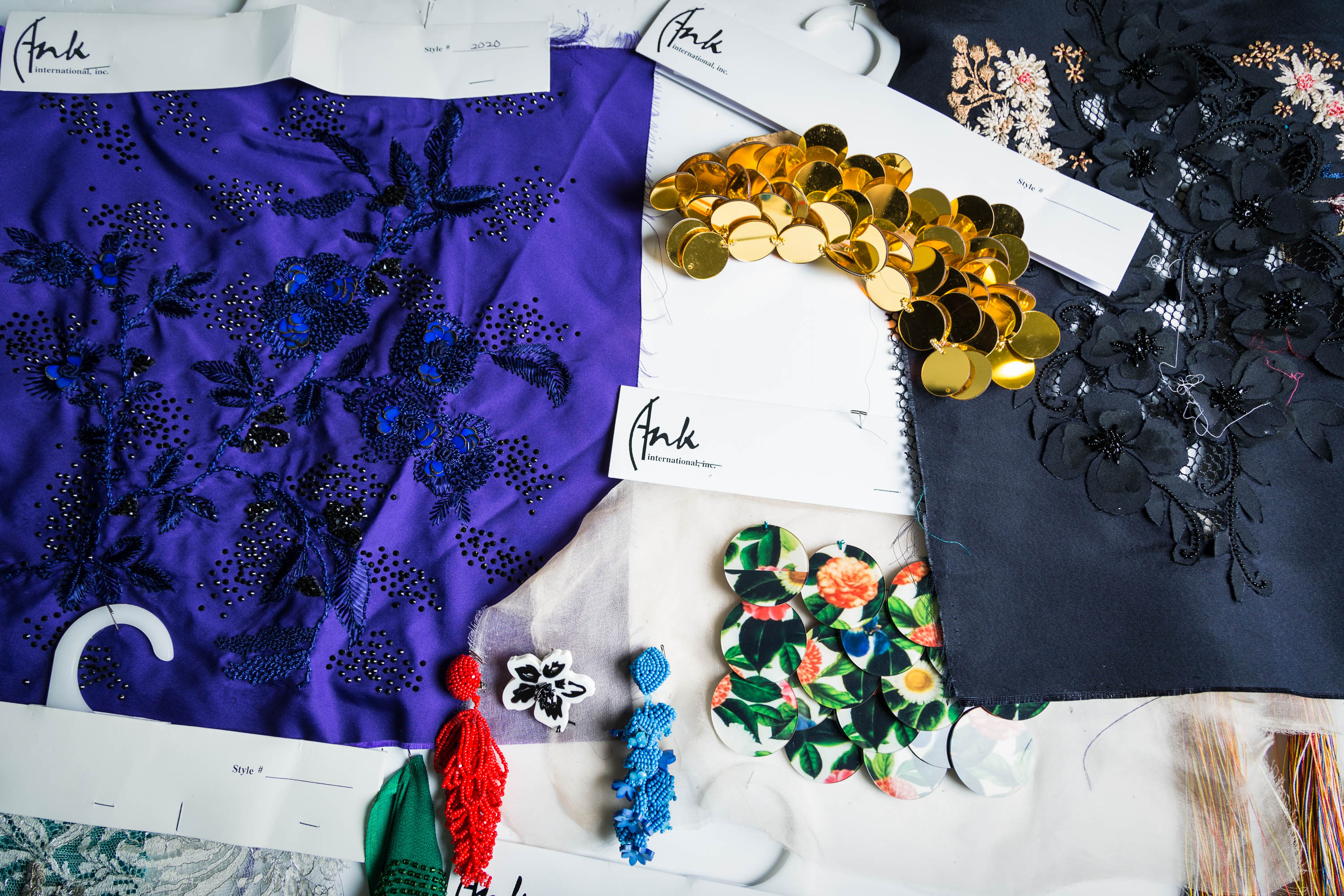 Over the years other labels such as Carolina Herrera and Manolo Blahnik have employed ANK International, working closely with the Ahluwalias; Lanvin, Saint Laurent and Valentino also briefly tapped their expertise.
"We spent many years working with Escada and they sort of trained us," Sachin said of the partnership that was formed around 15 years ago. "Every single tailor there was hand-picked and trained by German technicians because working with Escada, they were so meticulous; every sewing machine, every needle came from Europe."
But the real secret to the success of ANK International are the Indian artisans, who are the backbone of the business. One of the first artists hired by the agency was studying to be a botanist because he liked to draw flowers, however, after Sachin talked to his father, he was convinced to quit his job and join ANK. That former botanist is still with the company.
ANK International eventually expanded into a resource for other categories of design, including home, where they've carved a niche for bespoke embroideries and lavish furnishings. Over the years, they've designed custom pieces for yachts, private homes and the Wynn Las Vegas. For the latter, they embroidered everything from chair backs and wall panels to headboards and pillows. They even put their touch on the carousel in the casino lobby, by crafting the horse mounts. Their partnership with the Wynn is an ongoing one and will soon be seen at the hotel's Macau location.
The Ahluwalia's currently operate their own factory in Mumbai, in addition to working with seven other factories that exclusively produce product for ANK International. Working so closely with artisans has, in a way, returned the human factor back into the relatively inhuman fashion production cycle.
"An artisan comes into the factory and looks at one thing, and that's all he'll do for about six days until it's completed," Sachin explained. "So whatever he's going through, his kid was late to school, he missed his bus or missed his train, everything comes out. Almost every single piece, once it's embroidered, has an individual identity of its own." He went on to note that some of the more senior artisans can look at a piece of embroidery and know exactly who made it, due to those very personal details.
After racking up some serious experience as a resource for other designers, the Ahluwalias decided it was time to try their hand at the other side of the business. So they launched an eponymous range and decided to focus on refined evening wear, armed with a thorough design education they picked up along the way.
"It really came from working off of the strength of maestros, learning the best of the best from those designers, collaborators, whatever you make of us, and working with the finest. We honed our skills thanks to them, they got better thanks to us, it was a good marriage," said Babi.
The duo knew they wanted to offer their clients only the best, so they source fabric from Italy and, of course, employ their Indian artisans for the embroidery. In the years since founding, the lineup expanded to include more casual ready-to-wear offerings and delicately intricate bridal gowns. In Fall 2017 they also rolled out a line of earrings that have become must-have accessories, featuring hand-beaded spheres, dangling strands of fringe and bright acrylic flowers.
But were they ever worried that there might be too much overlap between their embroidery business and their very own fashion line? "Constantly," confirmed Sachin. "You don't want to step on other people's feet. We're very cognizant of it, and we are trying to establish our own aesthetic.
Babi added, "Now we're in a flow of things where you know our identity and we know our consumer base through our e-comm and our New York boutique, which is not even six months old. The more we dive deep into who our customer is, the easier it is for me to actually make things relevant for her."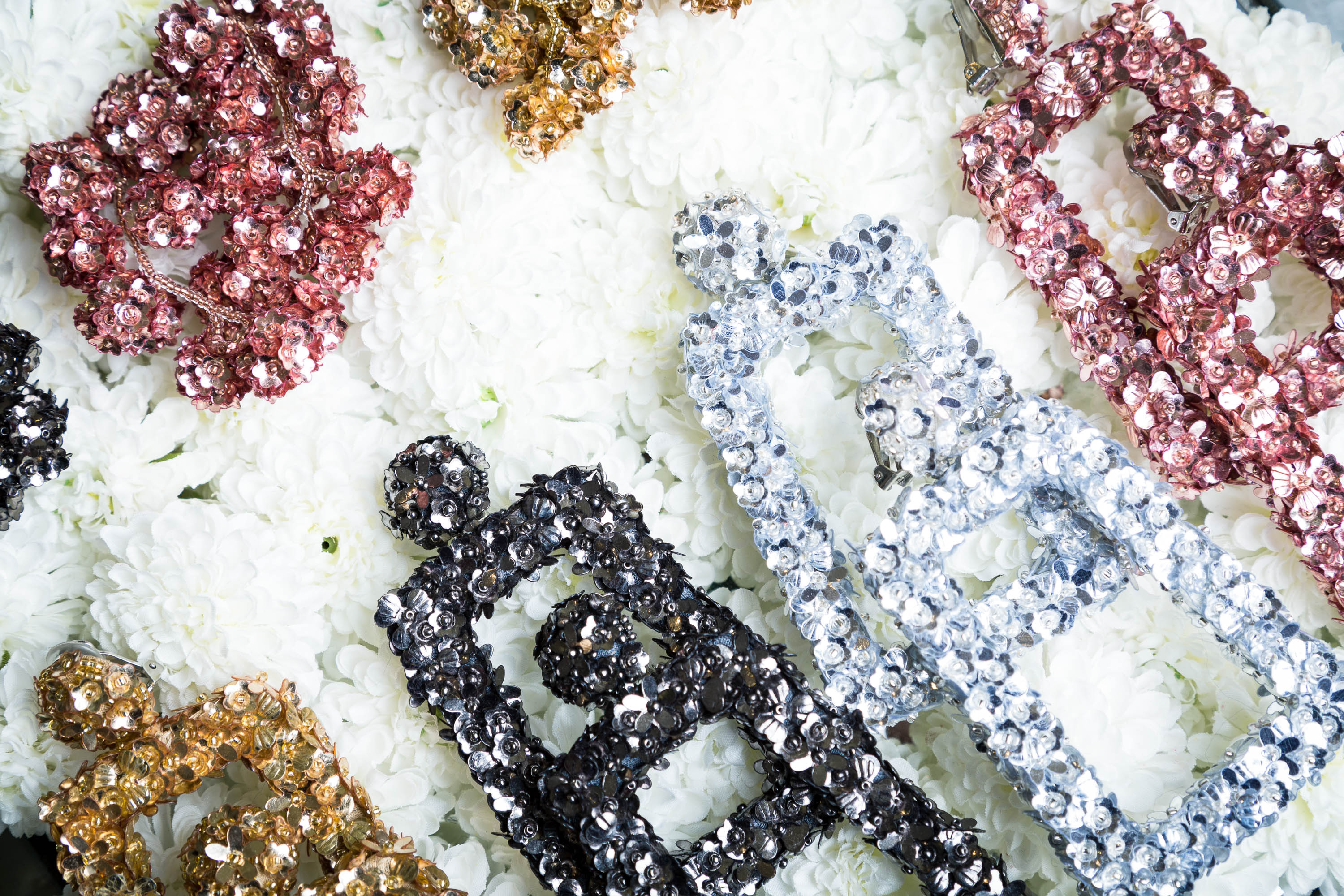 Sachin & Babi is even making waves in the high voltage red carpet scene; they quickly pulled together an all-black look for Chrissy Metz to support the Time's Up campaign at the Golden Globes (and the designers subsequently donated directly to the cause). They also swathed Laurie Metcalf in a dramatic black jacket for the Globes and a dazzling sequin column gown at the SAGs.
But don't expect to see Sachin & Babi staging a runway show during New York Fashion Week. They've found that their slightly older audience doesn't necessarily feel a connection to an over-the-top catwalk event starring lithe, young models. Instead, they'll be rolling out a lookbook later today that they shot with an older personality that was able to better embody the brand's more mature ethos.
"I think we're just getting started," Babi said of the brand's success. So expect to see much more from Sachin & Babi in the near future—or at least their discreet handiwork adorning a dress from the atelier of their fellow designers.