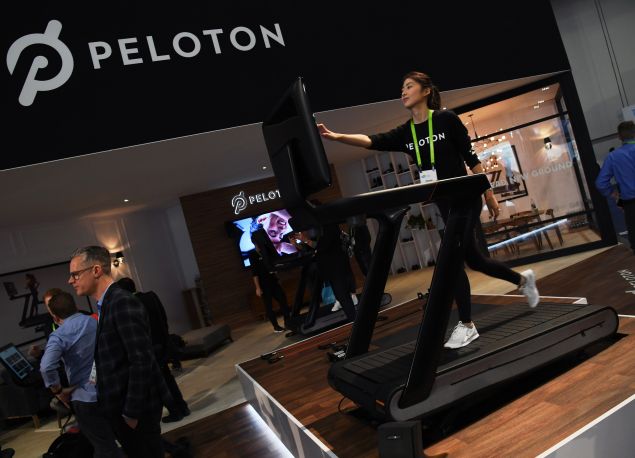 The Peloton studio on West 23rd Street in Chelsea, NYC resembles most of the boutique fitness spots popping up across major cities. Chic, understated interiors house state-of-the-art amenities, luxury workout amenities, and La Colombe cold brew on tap to cool down sweaty cyclists after every session. It's a high-end fitness haven relatively indistinguishable from your neighborhood Equinox, only with one exception: there are thousands of other cyclists biking along to the same grunt-inducing intervals and DJ-spun tracks from the comfort of their own homes, all across the world.
Peloton jumped into the innovative world of luxury fitness and technology when the goings were hot, and they've made a killing peddling $1,995 smart bikes packaged with $39 monthly online class subscriptions. Their newest venture is the Peloton Tread, marketed as a total body fitness studio in your living room, streaming live classes daily to bring the high-end fitness experience to the people. Well, to the people who are willing to spend $3,995 coupled with a monthly access fee.
Peloton revolutionized the home fitness industry by introducing the streaming concept; unlike its predecessors like the Bowflex and Elliptical trainers, Peloton offers content—a surefire way to keep consumers active and satisfied once the initial excitement of purchase wears off. Undeniably innovative, the question remains, will the treadmill take off? Is there a community of hardcore interval-training and bootcamp enthusiasts—which this pricey product is marketed towards—to create demand the way the cycling community went wild over the Peloton bike?
It's success will depend on its ability to capture the same cult-like following as the Peloton bike and a community of impassioned cyclers that view their purchase as an investment in a lifestyle rather than any old fitness commodity. Offering the same live classes as the bike, purchasers of the treadmill will receive the same HD-streamed motivation as the cyclists, hearing their names cheered out as the up the intensity.
The treadmill classes will be led by Peloton instructors Robin Arzon and Rebecca Kennedy, fitness celebrities and social media stars in their own right. For Arzon, Kennedy, and other Peloton trainers, the opportunity to create personal connections with their customers transcends the boundaries of the studio, where other trainees are biking alongside them online, following them on Instagram, and even recognizing them out in public. Part of Peloton's business model is to sell a community, which to many will be a powerful motivating factor to start sweating.