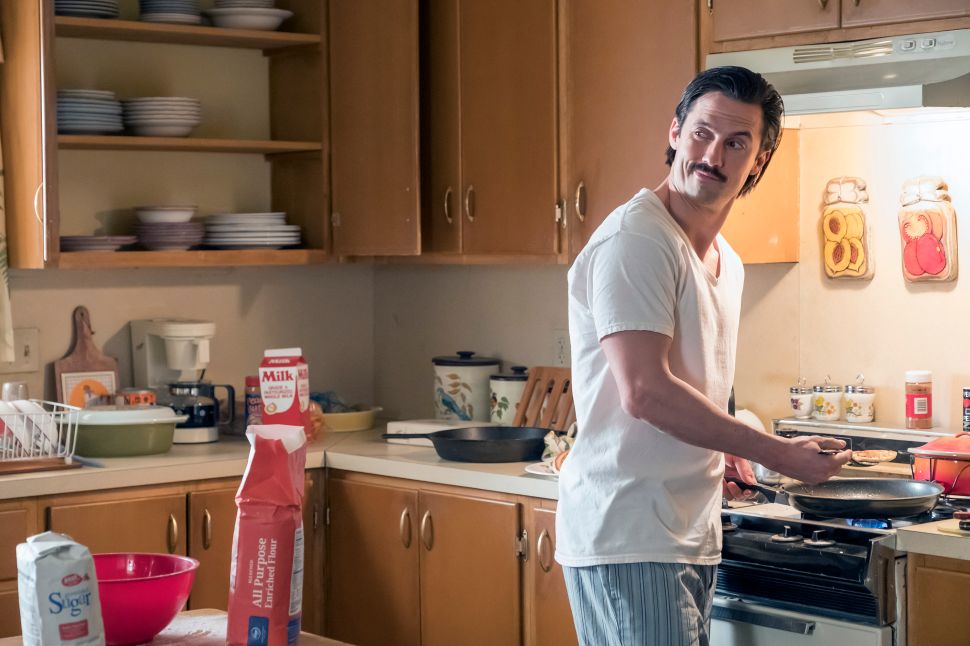 Call us crazy, but we were never big fans of the intense mystery NBC's This Is Us draped around Jack's death. In fact, the entire puzzle box distracted from the main story at hand. It didn't matter how he died; it mattered how that affected our characters in the past and present.
We understand why it was such a magnetic draw for audiences and we acknowledge that in today's splintered viewing battlefield, networks will do whatever it takes to attract eyeballs.
But drawing out the mystery of his exact cause of death—which was never as essential of a plot point for the story as his death in general—and building an entire show around time-hopping theory engines is a disservice to quality storytelling long-term.
And it doesn't sound as if This Is Us is going to stop doing that—even after the full reveal of the patriarch's tragic passing.
At the end of the Super Bowl episode, which scored big in the ratings, we jumped forward in time and saw Randall in the future with a grown-up Tess. While this provided a nice twist for the episode and a quality "Awww" moment for fans, it also opened up the door for creator Dan Fogelman, executive producer Isaac Aptaker and co-showrunner Elizabeth Berger to continue playing mix-and-match mysteries with the timelines.
This is no guarantee that the creative team will utilize the flash-forwards for another generation-spanning game of Clue. But just to be sure, we're here to tell them that the organic character drama This Is Us already provides is more than enough for us.
"It's not a one-time thing," Aptaker told THR of the flash-forward. "We didn't just do that to be splashy during the Super Bowl episode. Since the beginning that's been something we've known we were going to get to in the show. We had a lot of story we wanted to tell before we got there, but now that we've visited that time, nothing's off the table and we will certainly be returning there in the future."
Flash-forwards are fine on their own, but if This Is Us uses them to unspool another mystery, they become just another narrative crutch.
"It's so much fun for us as writers and storytellers, getting to imagine what these people are up to 10-15 years in the future," Aptaker said. "We haven't put an exact year on it. It's just like the possibilities are endless. It opens up the show in a way. It adds this whole new color and dynamic to the show because all of a sudden what [Randall] does at 37, we can see how it affects what the world is like 15 years later. We're very excited; it's a new toy for us to play with and we can't wait."
As This Is Us returns from its 2018 Winter Olympics hiatus, fans can expect a more upbeat final three episodes after the bulk of season two revolved around death and grief.
Specifically, our main characters are heading to Las Vegas (because no one ever actually works in a TV show) for Kate and Toby's bachelorette and bachelor parties. Aptaker promises a "fun-ness" and some "lightheartedness" this week, while also teasing what's to come in season three.
"They're always going to miss him, they're always going to mourn him, but looking forward they're hopefully going to be doing it in a more healthy way," he said. "I think there's a real excitement for the places these characters can get to in season three, really for Kevin and Kate. This season has been so marked by them trying to find closure on their relationship with their father. And then there's a couple moments at the end of the [finale] that are definitely 'whoa' moments that I can't talk about at all, unfortunately, but are going to get people very excited for what's next."