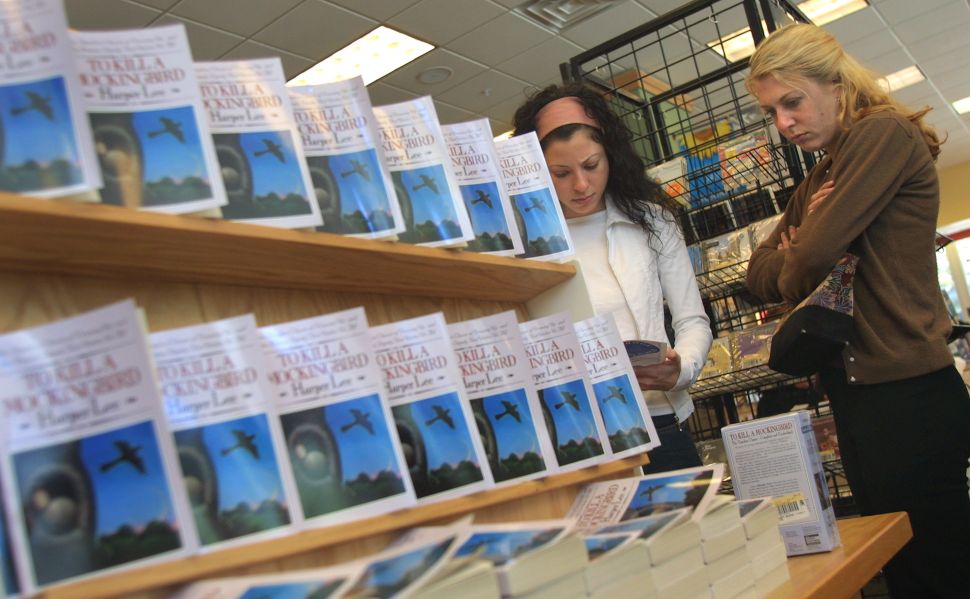 Atticus Finch is coming to Broadway.
Producer Scott Rudin announced last week that Aaron Sorkin's stage adaptation of Harper Lee's To Kill a Mockingbird would open on the Great White Way this fall. Jeff Daniels will play Atticus Finch, and the supporting cast is filled with Broadway veterans.
One aspect of Rudin's announcement turned heads, however: the casting of adults in the roles of Jem, Scout and Dill, who are all children in the novel.
Scout, who ages from six to nine over the course of Mockingbird, will be played by 40-year-old Celia Keenan-Bolger.
Jem, who ages from 10 to 13, will be played by 27-year-old Will Pullen.
Dill, who ages from seven to 10, will be played by 29-year-old Gideon Glick.
Sorkin made this drastic change because he is reimagining the book as a "memory play," in which grown-up Scout, Jem and Dill look back on their childhood exploits. Shows like The Glass Menagerie use the same approach.
The fact that Sorkin is employing this device isn't a huge surprise.
For nearly two years, he's said in interviews that his version of the material wouldn't be a carbon copy of Harper Lee's.
But that didn't stop commenters on Twitter and Broadway chat boards from pulling their hair out over Sorkin "ruining" their favorite book.
Only he might not be doing that at all. Lee's original book is itself a memory play. Adult Scout narrates the novel, which is based on her memories.
And anyone looking to discount Sorkin's version of the story before it even hits the stage would do well to remember what happened the last time Mockingbird's legacy was in doubt.
In February 2015, HarperCollins announced that it would publish Lee's long-lost second novel Go Set a Watchman. Fans of Mockingbird were thrilled by the news, but also wary—would the new book sully the reputation of Lee's 55-year-old masterpiece?
Things only grew murkier as Watchman's July 2015 release approached.
Lee's lawyer Tonja Carter offered conflicting accounts of her discovery of the novel. First she said she found it in a safe deposit box, then she claimed it had been discovered by a rare book expert at Sotheby's.
Worse yet, people in Lee's hometown of Monroeville, Alabama said her mental state was so fragile she couldn't possibly have agreed to the book's publication. Lee had a stroke in 2007 and suffered from severe hearing and vision problems. Her friends claimed Lee could only understand them if they yelled in her ear or wrote down questions for her to answer.
One friend described Lee as being "in her own world" and confused. Whenever anyone mentioned a second novel, she would ask what they were talking about (Lee died in 2016).
Once the book was actually published, its content also became part of the conversation.
Watchman's writing lacked the lyrical beauty of Mockingbird (which makes sense because it was only a first draft), and the novel was also filled with grammar errors since it only received a light copy edit.
But the plot detail which got the most press was the portrayal of Atticus Finch. The original novel's paragon of virtue had been transformed into an elderly bigot who insults the NAACP and says the "Negroes" are "still in their childhood as a people." Scout must deal with these outbursts alone because Jem has died of a heart condition.
The controversy faded after a few weeks, however, and Watchman took its place as an interesting footnote in Lee's career. It did not define her or change her legacy in American literature—and it certainly didn't minimize the power and impact of her original great work.
The same will be true of Sorkin's adaptation.
Whether people love it or hate it, it will serve as a supplement to Lee's great novel and not a replacement.
And Sorkin himself realizes this. While he is certainly changing some things (for example, depicting an adult Jem), he has said that he hopes audience members "remember how great Harper Lee is."
No matter what you think of Sorkin's famous "walk and talks," his goal for Mockingbird is an admirable one. Here's hoping the novel's many fans give his play a fair shake.