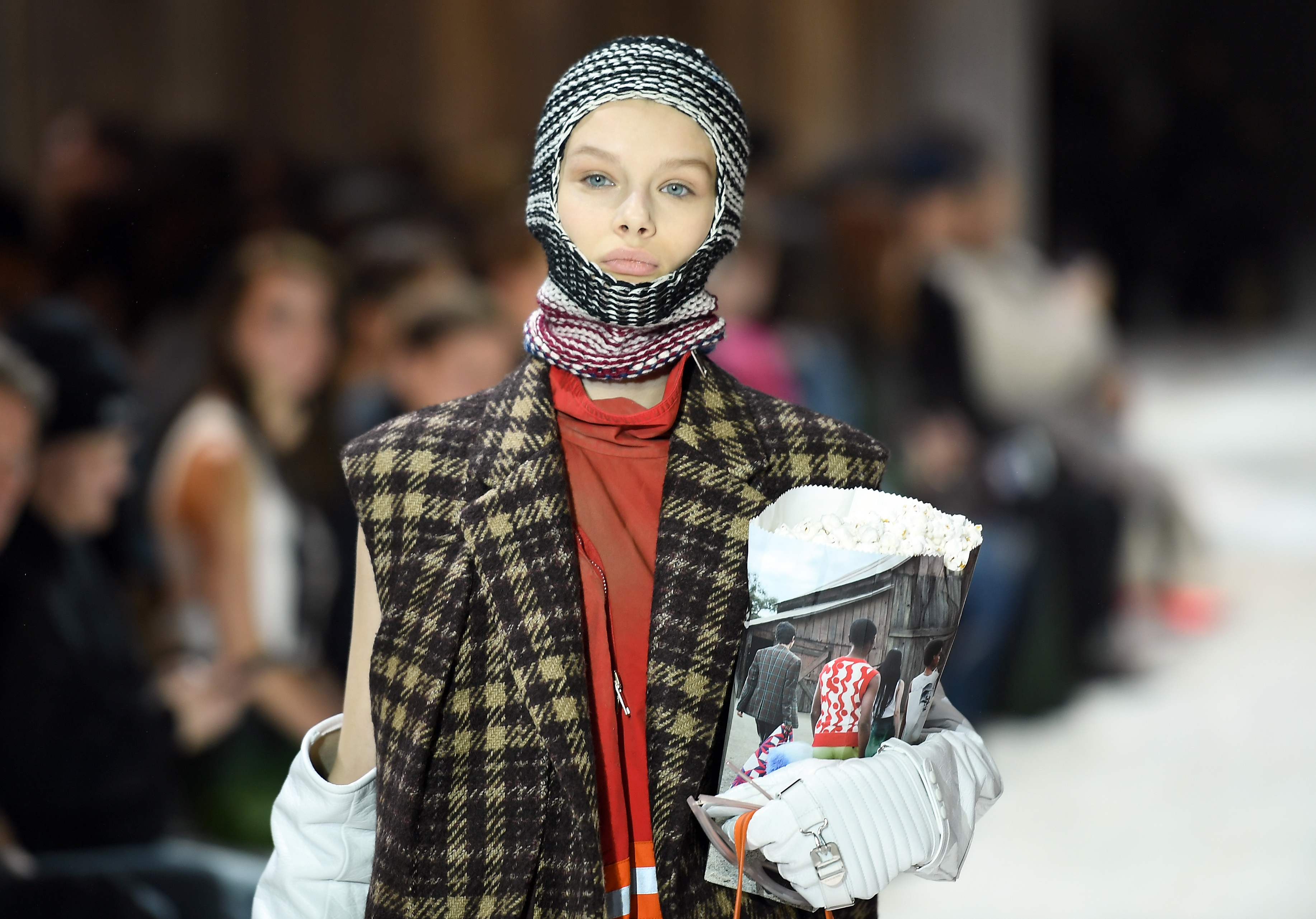 Fashion's relationship with food has always been somewhat fickle. It comes as little surprise for an industry so invested in looks, from an obsession with lithe models to the unending quest to take the perfect photo (be it an editorial for a magazine or a simple Instagram).
But for Fall 2018, junk food has emerged over and over again as a viable—and very accessible—accessory. And this is not just in an aesthetic manner; over the past few days, models on the New York Fashion Week runways have snacked while strutting and strolled through truckloads of food.
The tasty trend first emerged at Chromat, where designer Becca McCharen-Tran strapped a bag of Flamin' Hot Cheetos to a model's bright orange trousers and filled her pant pockets with cans of energy drinks. Known for casting a truly diverse lineup (this season included a breast cancer survivor, an amputee and a model wearing a hijab), McCharen-Tran is also notorious for producing a runway show that is just plain fun. Case in point? A handful of her models pulled Flamin' Hot Cheetos out of their crinkly plastic bags and actually ate the cheesy snack, all while posing for the photographers at the end of the runway. Fashion that you can eat? We're all for that.
In a similar vein, Raf Simons went a bit popcorn crazy at Calvin Klein 205W39NYC on Tuesday evening. Not only did the designer send out invitations—to the likes of Nicole Kidman, Laura Dern, Lupita Nyong'o, Cindy Crawford, A$AP Rocky and Millie Bobby Brown—on actual bags of the movie theatre treat, but he filled the floor of his show venue with the popped kernels. According to Popcorn Charlies, the company that supplied the runway treat, there were 50,000 gallons trucked in for the show.
Before the show, InStyle editor-in-chief Laura Brown laid in the stuff to make a "popcorn angel," while Michael B. Jordan dropped down and did a pushup among the salty residue (on a dare from Nyong'o). The models carefully stomped through a sea of popcorn, some of whom were carrying bags of the stuff. Oh, and all those posh editors and bloggers got popcorn dust all over their designer stilettos.
Earlier in the day, designer Rosie Assoulin matched a Fall 2018 multi-colored marble print to a cheesecake tart. It was truly a meta moment: editors snapped Instagrams of a marbled dress while nibbling on the sweet treat, which was designed by fashion's favorite caterer, Laila Gohar. The artful cook also created an abundance of boiled eggs with a similar marbled effect and a tower of meringues that was almost too pretty to eat. Guests at Assoulin's show also politely lined up to snag a brightly colored vegan crêpe from Williamsburg's Little Choc Apothecary—it was almost as if the food was as big of an attraction as the clothing.
But those were hardly the only snacks devoured by attendees at fashion shows this season: At the BOSS presentation, guests sipped milkshakes and nibbled on burgers and fries, all while checking out the revolving platform of models (and gossiping about the departure of artistic director Jason Wu). At The Row, Mary-Kate and Ashley Olsen provided their guests with scones that looked suspiciously like rocks.
Fashionista pointed out that this is hardly the first time that the style set has embraced their favorite snack of choice: there was a Moschino collection by Jeremy Scott that was heavily influenced by McDonald's, Telfar Clemens teamed up with White Castle and Dolce & Gabbana adorned lobes with glittering eggplant earrings, layered clementine necklaces and stuffed carrots into tote bags.
As they say, you're never fully dressed without a snack.