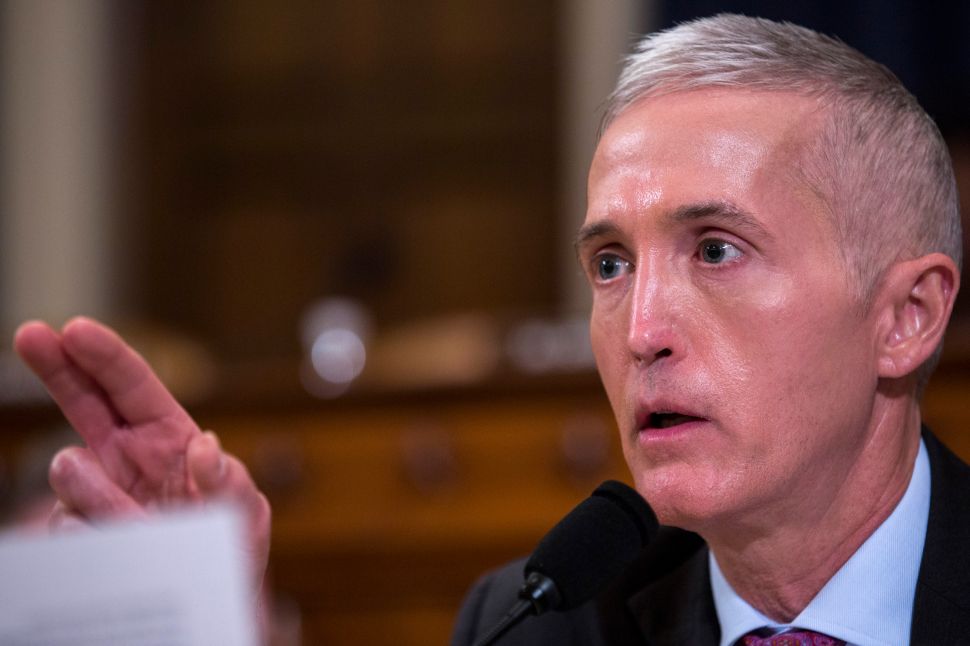 Congressman Trey Gowdy (R-S.C.) announced a House investigation into the Trump administration's employment of Rob Porter—the former White House staff secretary who resigned last week after allegations from his ex-wives of physical and emotional abuse surfaced.
"We are directing inquiries to people that we think have access to information we don't have," Gowdy told CNN on Wednesday morning. "You can call it official. You can call it unofficial. Those words don't mean anything to me. What means something to me is I'm going to direct questions to the FBI that I expect them to answer."
Though the distinction between an official and unofficial investigation doesn't "mean anything" to Gowdy, the congressman's rhetoric implies that an official investigation by the committee is not currently underway but is likely to emerge.
When asked if the committee planned to launch an investigation, the congressman confirmed that one had been started "last night."
As the House Oversight Committee Chairman, Gowdy holds the power to determine congressional hearings arising from mismanagement among federal branches and agencies.
Congressman Elijah Cummings (D-Md.)—the Democratic ranking member on the House Oversight Committee—wrote Gowdy last week requesting a panel to review the White House's security clearance process. Other lawmakers have echoed similar statements as the Porter scandal has become a matter of national security, raising the question: How did someone unable to obtain a security clearance, with multiple allegations of domestic abuse, rise to the top of the White House?
Gowdy added that he was "troubled" that Porter secured a top position with the White House given the allegations against him.
"You don't want people with domestic violence allegations hired, whether there's security clearance at issue or not," the congressman said.