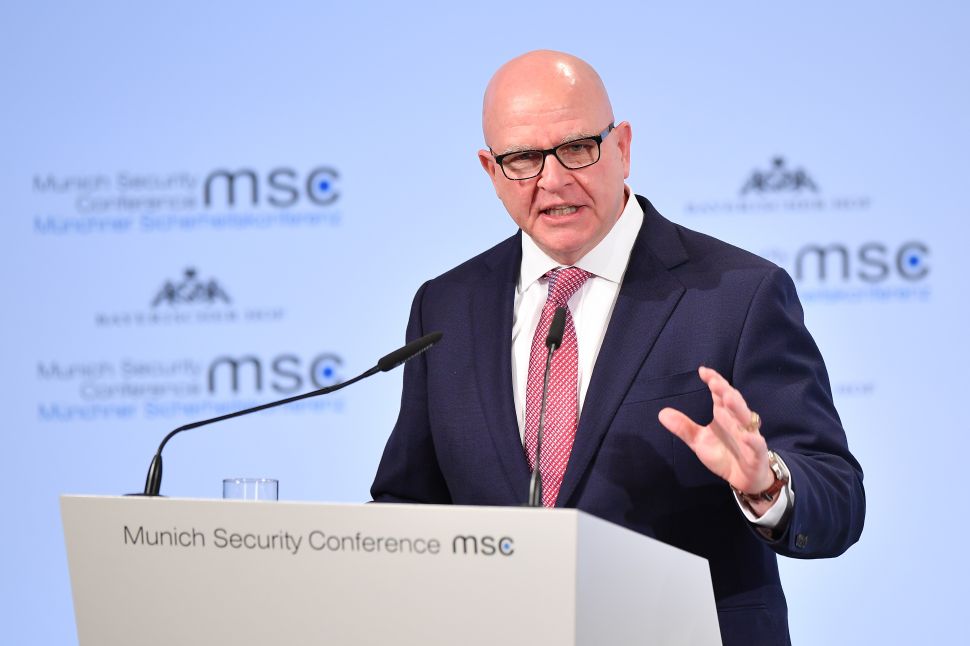 President Donald Trump castigated National Security Advisor H.R. McMaster for remarks delivered to Europe's foreign policy elite on Saturday.
Addressing the Justice Department's indictment of 13 Russian nationals on Friday, the general called Russian interference in the 2016 election "incontrovertible."
"As you can see with the FBI indictment, the evidence is now really incontrovertible and available in the public domain, whereas in the past it was difficult to attribute," said McMaster at the Munich Security Conference.
Promising to "expose" and "act against" Russian disinformation campaigns, the general's firm stance in Germany mirrored anti-Kremlin rhetoric recently pushed by the Trump administration—on Thursday, the White House threatened Russia with "international consequences" for a cyber-attack executed last year.
McMaster's message abroad struck a chord in Washington.
Despite the consistencies in tone, Trump criticized McMaster's omission of phrasing that would have lent legitimacy to his presidency.
"General McMaster forgot to say that the results of the 2016 election were not impacted or changed by the Russians," wrote the president over Twitter, adding that former presidential candidate Hillary Clinton and the powerful D.C. lobbying firm the Podesta Group colluded with the Russian government.
The tweets asserted a similar narrative that Trump pushed Friday after the Justice Department's indictments.
Echoing Deputy Attorney Rod Rosenstein's announcement earlier in the day that no American had been a "knowing participant" in Russian interference, Trump conceded that Russia launched an "anti-US campaign," but added that the "results of the election were not impacted."