"When the people here boo the media, what they're really doing is winking" a reporter told me in the media pen before President Donald Trump addressed the 2018 Conservative Political Action Conference (CPAC).
After two days of speeches from Republican leaders and celebrities, the president spoke at CPAC. Attendees crowded the main ballroom at the Gaylord Hotel in Maryland as space behind the media pen was cleared for Trump supporters wearing red Make America Great Again hats. The boos directed at reporters came from both the front of the room and the back, creating a literal echo-chamber.
Or a theatrical celebration, depending on one's nihilism toward modern politics.
"This is the largest crowd we've ever had here," CPAC chair Matt Schlapp told the audience before introducing the president. "This is CPAC history."
Trump's arrival received a standing ovation from the crowd.
"Look at that," said the president, pointing to a screen projecting his face. "I'd love to watch that guy speak."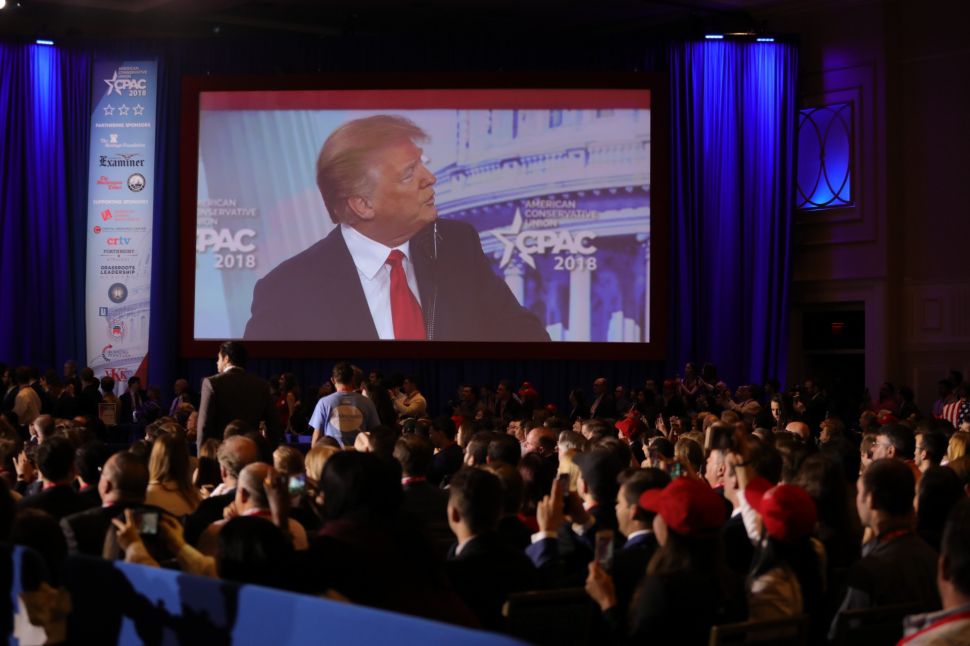 After a protestor was immediately ejected from the event, Trump dived into a speech laced with his signature nationalistic rhetoric reminiscent of one of his 2016 campaign rallies. There were promises to a build a wall along the U.S.-Mexico border and old digs at his former presidential foe Hillary Clinton—both of which earned chants of "Build that wall!" and "Lock her up!"
"The electoral college is much more difficult to win," bragged Trump. "The popular vote, you only need to get two or three states."
As reporters en masse furiously banged away at laptops, the president alternated between reading from the teleprompter and delivering off-the-cuff remarks, noting that prewritten speeches were "boring."
The speech adhered to the White House's "America First" platform, while warning against chain migration—at one point Trump even read aloud the lyrics to Al Wilson's popular rock song "The Snake."
"People who treat us badly, we treat much worse than they can ever possibly imagine," said Trump, while addressing North Korea and later announcing new sanctions the White House had imposed against the regime.
On the issue of gun reform and the recent school shooting in Parkland, Florida, the president's rhetoric resembled National Rifle Association (NRA) CEO Wayne LaPierre's speech the day prior. Trump advocated for more intensive background checks to legally obtain firearms, heavier security at schools and concealed weapons permits.
Outside the conference hall, security guards wielded semi-automatic rifles as an NRA booth dominated the downstairs show room featuring political organizations.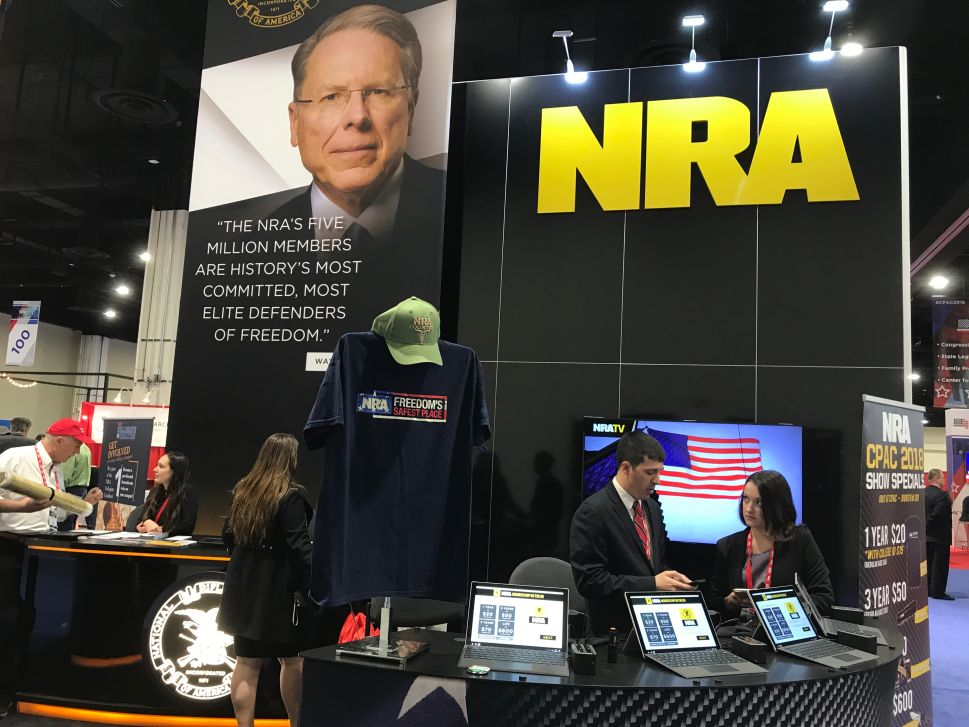 After an hour and a half of partisan quips, immigrant scapegoating and nationalist theater, the president left the stage. The White House press pool immediately emptied the media pen, chasing the Trumpian spectacle.
"So much security," an attendee grumbled in the line for the restroom. "For Trump though, it was worth it."