Given that President Donald Trump spends so much time on Twitter, many advocates use the social media site as a bullhorn to educate him on certain issues.
But one gun violence prevention group just took things up a notch.
Today, States United Against Gun Violence, a 19-year-old grassroots network of groups from 32 states, launched a new Twitter tool called Backfire. Users can automatically tweet @realDonaldTrump every time an American dies from gun violence to remind the president of the scope of the problem.
Victoria Coy is States United's only full-time staffer, and she also runs the Louisiana chapter. She and her 13-member board work with affiliate groups that have a collective membership of 530,000 people.
Coy told Observer that an anonymous outside marketing agency proposed Backfire to her as a "pro bono donation to end gun violence" soon after the Las Vegas mass shooting.
Given her partners' work in public education and digital outreach, she thought it would be worth trying to reach the president where he lives. She worked on the tool with gun control advocates and web developers, using data from the nonprofit, nonpartisan Gun Violence Archive.
Over 33,000 people die from gun violence every year, and Backfire aims to educate Trump about every one of them.
Each time the archive records another gun death, Trump will receive an automated message. The text of each tweet varies to skirt Twitter's filters, but most of them include statistics and pleas for for Trump to "do something."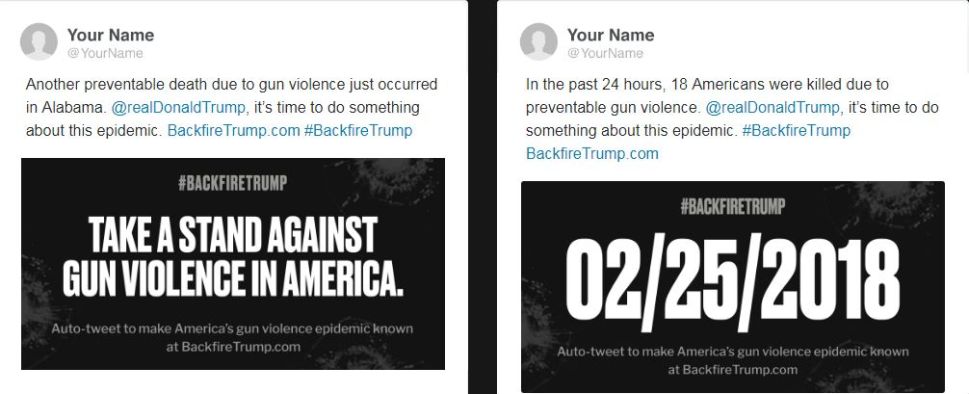 If users don't want dozens of automated tweets to come from their account each day, they can choose to send daily or weekly summaries. Those tweets are sent at 3 a.m. given Trump's penchant for late night Twitter usage,
"Our goal is to overwhelm President Trump," Coy said.
Indeed, the tool doesn't just focus on mass shootings—it also includes statistics on everyday urban gun violence and domestic violence. Suicides are not included, however, because gun-related suicides are not tracked in real time.
While Trump is Backfire's main target, Coy also hopes the American people, as a whole, learn from it.
"We want to show them that the volume and tenacity of gun violence is absolutely overwhelming, so they can't help but take action," she said.
To that end, States United and Backfire are taking part in protests like the March for Our Lives as a way to educate the masses.
Coy said her group had been particularly inspired by the grassroots efforts of the Florida students organizing the march.
"We weren't waiting for a high profile mass shooting (to launch), but because they happen so frequently, our responses and goals changed to support the amazing leadership from the Parkland students," she said.