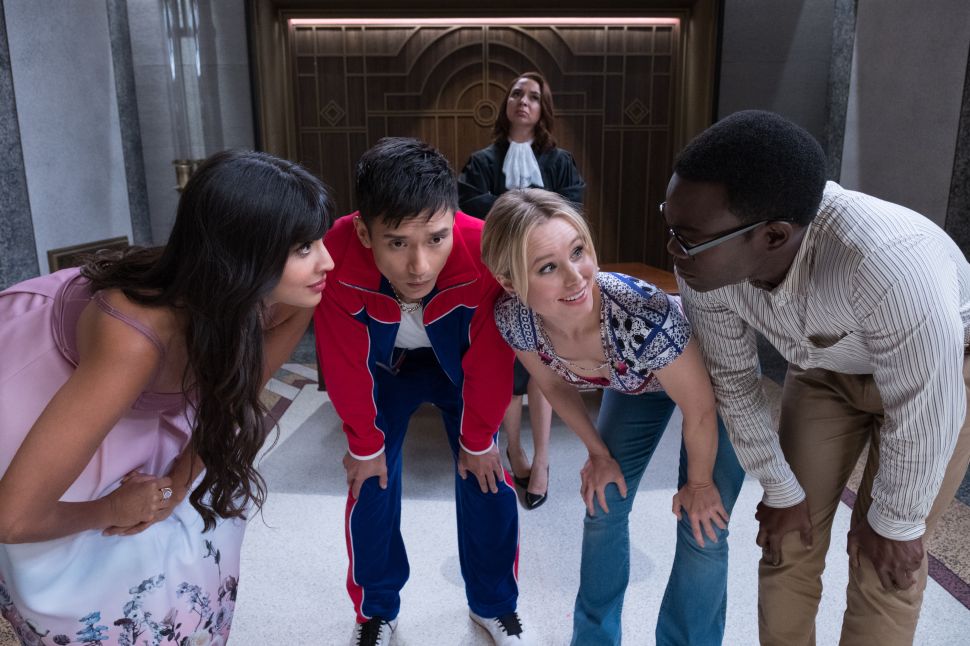 Finding content to fill days and days of airtime is no easy task for broadcast network executives, especially in today's peak TV era.
It all begins over the summer when ABC, CBS, Fox, NBC and The CW take upwards of 500 elevator pitches from writers and producers all around town. After that, the networks whittle them down to around 70 pitches they like. After further review, each channel usually orders between 15 and 20 pilot episodes.
That's where we are today, at the "end" of pilot season, where these first episodes have been ordered and producers are now scrambling to put everything together. When all is said and done, only about four to eight pilots will receive series orders, a failure rate that's comparable to baseball batting averages or that one guy you know from high school who is trying to make it as a competitive gamer.
Every network is desperately hoping to find the next Lost, Modern Family or This Is Us, mainstream commercial hits that attract big weekly audiences in this continually splintered viewing landscape.
So how did each network do this year? Let's break it down.
(Numbers compiled by The Hollywood Reporter.)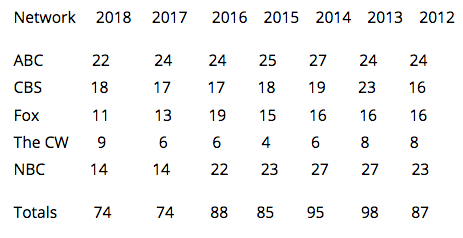 NBC
The Peacock Network finished 2017 ranked No. 2 in total viewers among all networks and No. 1 in the advertiser-friendly 18 to 49 demographic, according to Nielsen Data, per Indiewire.
It's damn impressive how far NBC has come, as its lineup, especially its once vaunted Thursday night comedy roster, was considered to be in disarray as recently as five years ago, while its ratings sunk to embarrassing lows.
But thanks to steady hits such as The Voice (9.9 million live weekly viewers) and This Is Us (11.3 million), not to mention renewed comedies such as Will and Grace and The Good Place, NBC has clawed its way back up the ranks. Despite the downturn in viewership this year, Sunday Night Football (18 million) is also a huge attention-grabber for the network.
In 2018, NBC Entertainment chief Bob Greenblatt is hoping to expand its family-friendly comedy offerings, but the network's biggest bet comes in on The Gilded Age. The 1880s-set period drama comes from Downton Abbey creator Julian Fellowes and has already received a 10-episode series order.
Fox
Fox faces the most uncertainty of all the broadcast networks following Disney's planned $52 billion acquisition of 21st Century Fox's major entertainment assets. If the deal is approved, Fox will retain control of its news and sports divisions, while the Mouse House will assume ownership of its other television properties (as well as film, but that's a story for another day).
Network heads Dana Walden and Gary Newman have no idea what will happen to them or their channel should the deal go through in 12 to 18 months. Also complicating Fox's pilot season is its shrinking window of airtime following the $3 billion-plus deal with the NFL for Thursday Night Football.
Overall, the network is putting a lot of faith into Cool Kids, a multi-camera comedy starring TV legend Vicki Lawrence, after finishing in last place among the Big Four networks in total viewers last year (though they finished No. 2 in the key demo).
CBS
Speaking of the rankings, CBS topped all networks in total viewers last year and came in at No. 3 in the 18 to 49 target audience range. However, the older-skewing network took a lot of heat in 2017 for its lack of racial and gender diversity among its lineup and behind the camera.
New Entertainment president Kelly Kahl attempted to address this issue with a handful of female-fronted series and placing a greater emphasis on diversity in casting.
Still, we can't expect CBS to start getting too adventurous all of a sudden.
The network still ordered reboots of popular shows of yesteryear, including Cagney and Lacey, L.A. Confidential and Magnum P.I., as well as a Murphy Brown revival. To quote another TV series that isn't anywhere near broadcast, "What is dead may never die." (It's a Game of Thrones line).
Perhaps most intriguing is CBS' upcoming straight-to-series procedural FBI, which comes from Dick Wolf, who has long been NBC's golden goose.
ABC
ABC is also in a state of flux.
The network finished 2017 ranked No. 3 in total viewers and No. 4 in the key demo and is looking at a potential overhaul of its lineup. Modern Family (6 million) and The Goldbergs (5.7 million) are likely heading into their final seasons, Shonda Rhimes just skipped town to Netflix right as Scandal (5 million) is ending, and Once Upon a Time (2.4 million) has been canceled.
ABC is at a crucial juncture similar to a playoff team that gets too old and can either re-tool on the fly or crumble.
Similar to Fox, it's unknown just how Disney's big purchase will impact the network. It could receive a nice helping of Fox programming or be left out in the cold as Disney beefs up its streaming platforms.
In the immediate future, ABC's pilot season took a step back when Alex Baldwin exited the untitled family comedy from Kenya Barris, though the network is hoping that Nathan Fillion can re-create that Castle magic with The Rookie.
The CW
The CW is one scrappy network. Never nearly as big as, well, the Big Four, The CW has managed to cultivate a well-liked teen soap opera vibe, develop shows that support its brand and prop up arguably the most successful small-screen superhero universe.
Despite the disadvantage in resources and reach, The CW finished last year ranked No. 10 in total viewers and No. 8 in the 18 to 49 demo.
This year, the Warner Bros. Television and CBS Television Studios co-owned network set a record with nine pilot pickups. Specifically, the little channel that could is hoping reboots of Roswell and Charmed do the trick, though the latter has been facing some criticism for branding itself as a "feminist reboot."