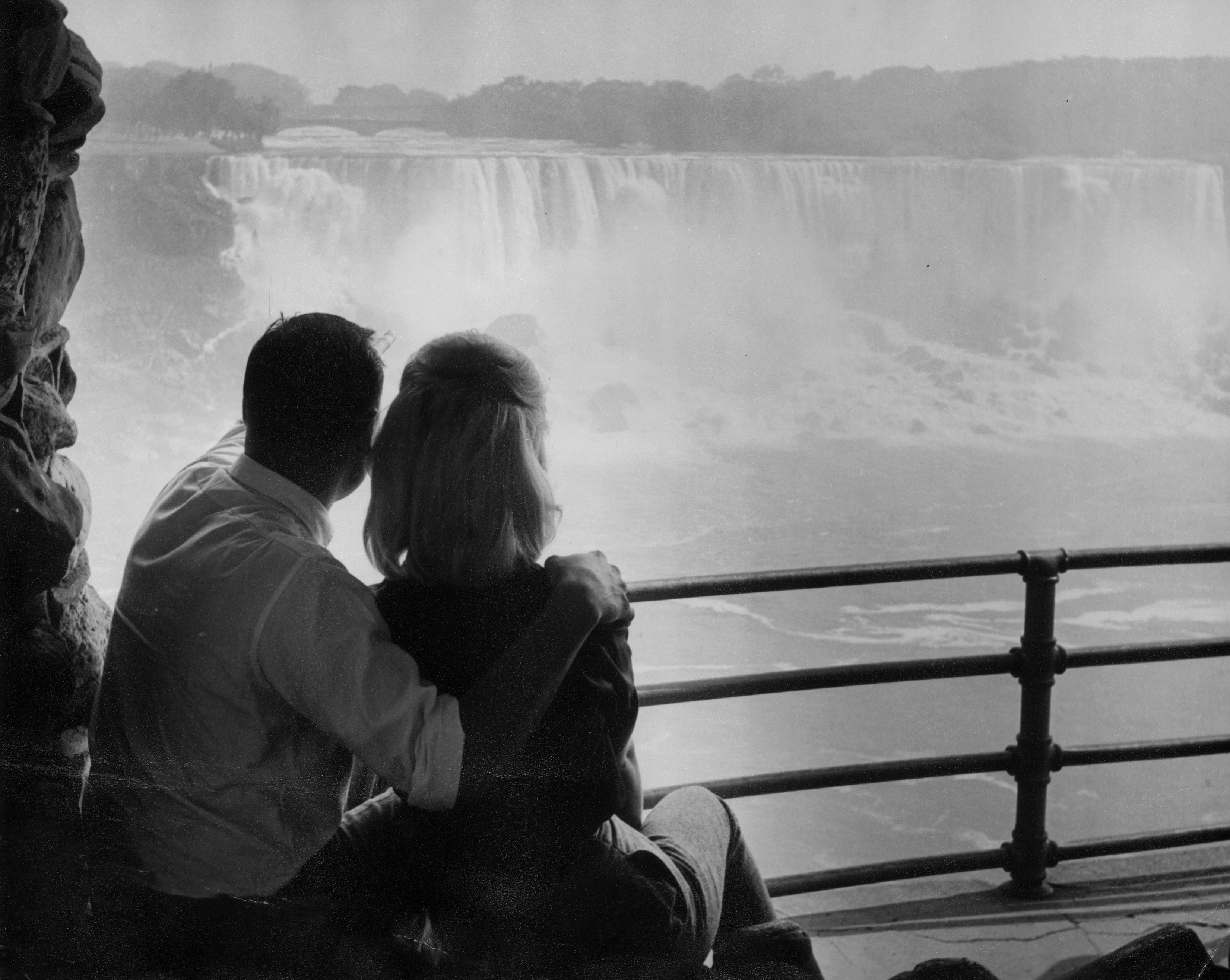 Last year for Valentine's Day, we celebrated by rounding up the most romantic comedy-worthy "meet-cutes" in New York City. This year, we went around the world to find the best first date and proposal stories.
Baked by Melissa founder Melissa Ben-Ishay met her husband the day she opened her tiny cupcake store, author Jordan Reid slid into her future husband's DMs on MySpace and Hallmark Channel star Mark Steines was introduced to his wife by an Instagram famous therapy dog named Norbert. We also rounded up a Craigslist love story, a doorman introduction and a CrossFit couple.
Jordan Reid and Kendrick Strauch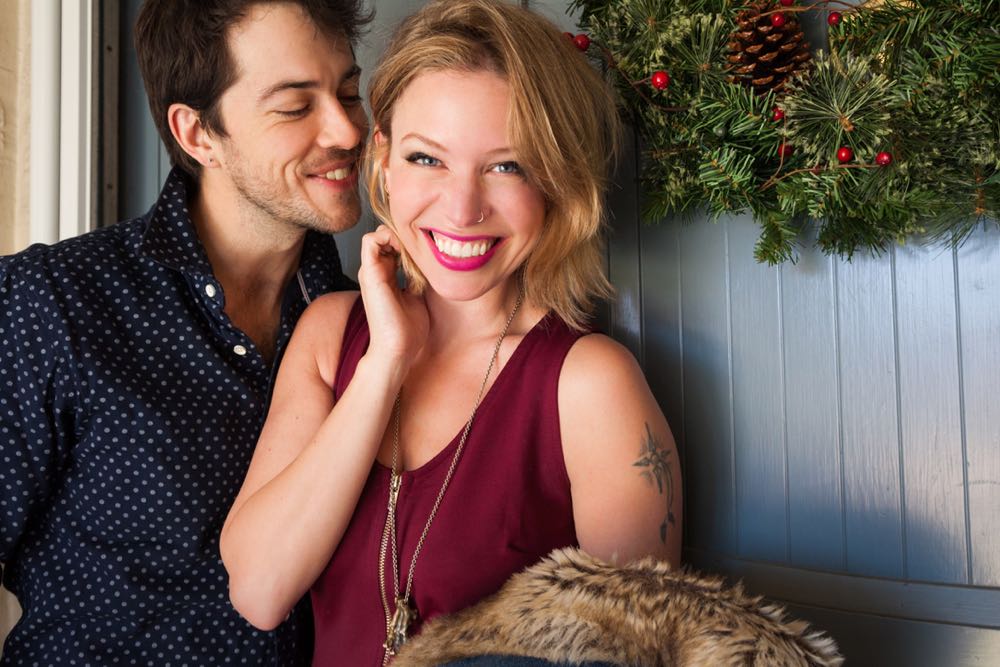 Author and blogger Jordan Reid met Kendrick Strauch, former keyboardist for Harlem Shakes, on MySpace. 
Jordan: I was living in Los Angeles and working (not really working) as an actress, and I friend-requested his Brooklyn-based band, Harlem Shakes, on MySpace because I had gone to high school with the lead singer. One of the guys from the band messaged me, and we started emailing. I read one of the emails to my mom, and she said, "You're going to marry him." "I know," I said. A couple of weeks later I was in New York doing this crazy Fashion Week PR stunt where I wandered around shows with bodyguards holding a cat and pretending to be a Romanian princess. He asked me to go out with him, but I had to finish up at NYFW afterparties, so I wasn't free until 3 a.m.
Kendrick: I was in my best suit, with a bottle of white wine in one hand and a bottle of red in the other, and I was looking for a Romanian princess who would probably have diamonds dripping from her ears and wrists and be petting a fluffy, angry cat. But then I saw the most American girl I'd ever seen, in blue jeans and a white t-shirt, projecting absolute confidence.
Jordan: Our second date could not have been more different. He came out to California with his band and invited me to a show in Silver Lake. He stayed at my place that night, and in the morning we walked my dog over to the donut shop and fell in love.
Melissa and Adi Ben-Ishay
Baked by Melissa founder Melissa Ben-Ishay met her husband Adi met when her first store opened. 
Melissa: Adi was bartending at the cafe where we opened our first store. On opening day, I was sitting at the bar thinking, "Who's going to stop at this hole in the wall and buy cupcakes they've never heard of before?" Sitting next to me was a regular who knew the bartender well. He looked at the bartender, then looked at me and said "Adi, who is this beautiful girl"? Adi responded, "That's my wife."
Adi: She was very sweet, glowing and nervous at the same time.
Melissa: At first I thought "What a jerk, who would say something like that?" But he looked at me like I was the most beautiful girl in the world, and I fell in love with him pretty quickly. For our first date, Adi took me to Central Park.
Adi: After flirting with each other for a few weeks, Melissa needed to find a new apartment. I offered my help as a realtor. We scouted a few places in Chelsea, and our last for the day was a multi-unit townhouse on 11th and 6th Ave. In the apartment, we had our first kiss.
Melissa: When he proposed, he took me to where we had our first kiss. The date was also coincidentally 6/11.
Jérémie Kanza and Lola Rykiel Kanza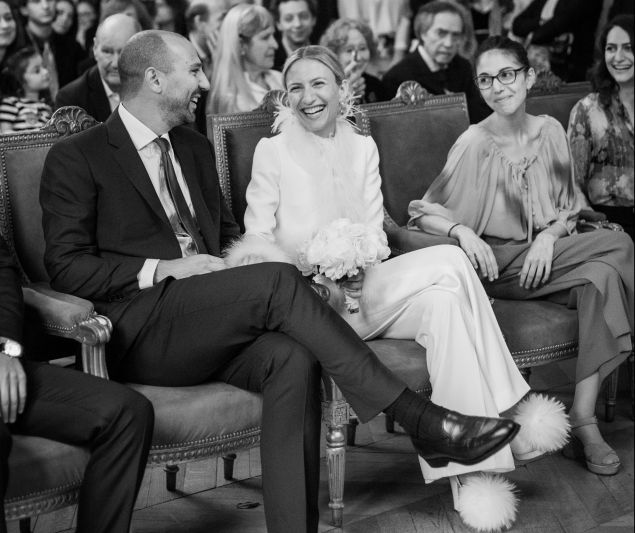 The restauranteur met the founder of Le Chocolat Noir (and the granddaughter of the late designer Sonia Rykiel) as children.  
Jérémie: We met in school when we were 13. Lola was the first girl I talked to. I was way too shy at the time. It was during class, where we randomly sat next to each other. I found her beautiful, clever and funny.
Lola: I could tell right away that he had a good heart because he agreed to do my computer science homework. I didn't understand a thing and from that moment we started to always sit together in class. Our real first date was after we kissed, just two years ago. We had a coffee the next day in Paris "to discuss what happened last night."
Jérémie: The proposal was hectic but highly emotional. We were supposed to go to Greece where I had everything planned for the proposal, but one of us (I won't say who) lost their passport.
Lola: I realized that the day before we were supposed to leave that I lost my passport. We couldn't travel, so we were stuck in Paris, trying to get an emergency passport (emergencies and Paris don't go well together). The police told us we had about a month to wait. We spent the whole week arguing. He got so mad and told me that he had planned to propose in Greece. Then he proposed.
Jérémie: At one point, since I had the ring on me, I took Lola to The Jardins du Luxembourg, where we used to spend all our afternoons when we were kids. Once we sat, I proposed and joy replaced sadness.
Matt and Laura Grodsky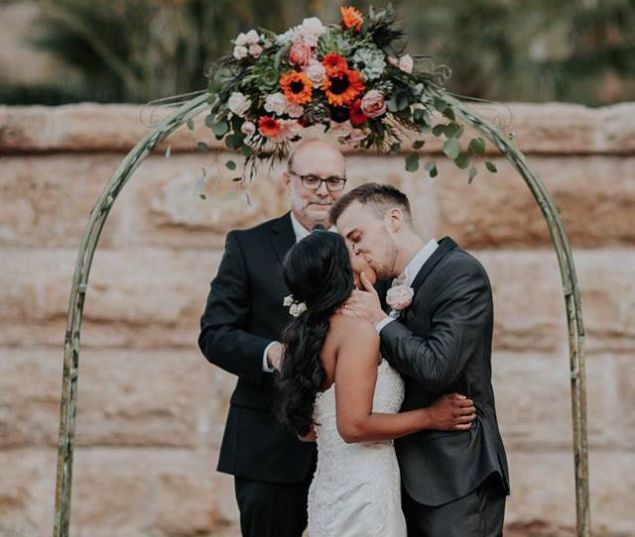 Matt and Laura Grodsky met in pre-school, where he proposed 20 years later.
Laura: I thought he was a goofy kid. We did almost everything together when we were younger. We were inseparable from the start. We loved to watch movies together and Matt would repeat the lines back to me. He was my best friend and I was so happy that we had each other. Our first date was in high school. 
Matt: I proposed at the preschool where we met. The whole car ride she kept asking me why I seemed anxious. I kept checking my pocket when she wasn't looking to make sure the ring was still there. I dropped down on one knee while my brother came in with the phone, snapping photos. Laura was shocked.
Andreas and Renée Typaldos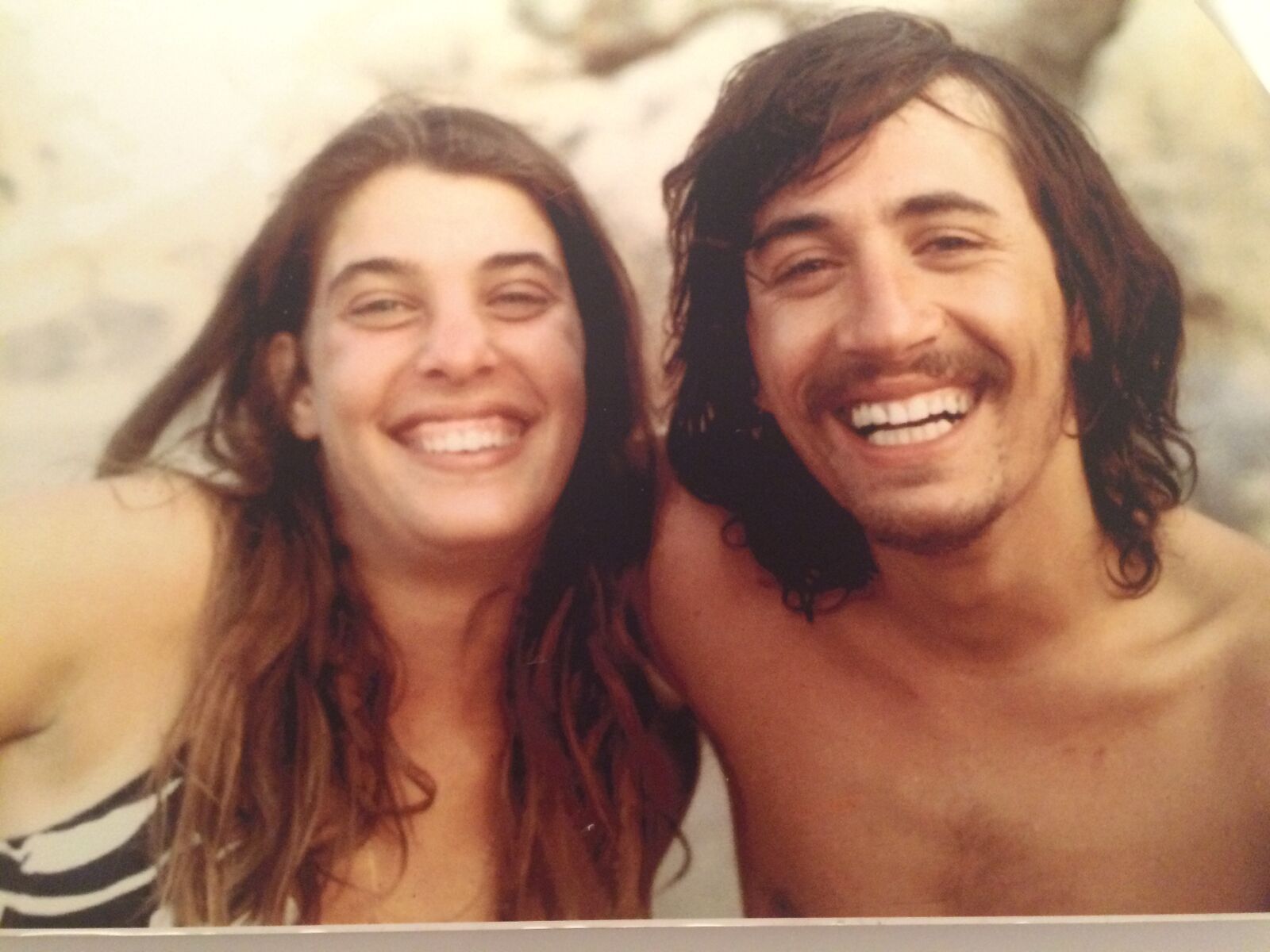 The owners of Merakia: Greek MountainThief Spithouse + Steak met in the Bronx in 1966. 
Andreas: I was a student at Columbia University. I wasn't into parties but on New Year's Eve, some Greek friends who lived in the Bronx convinced me to go to theirs. When I first saw Renee I was blown away by her freshness and beauty. So, I hit on her hard, eager to talk and share my excitement about everything I was reading, doing and experiencing.
Renée: I was waiting for another guy who had previously taken me for a spin in his white Corvette Stingray. I think I was more enthralled with the car and was hoping he'd show up again.
Andreas: The fact that she was waiting for a date who had a Corvette, and even that she was still in high school, were details that couldn't stop me. I convinced Renee to let us talk for a while, and finally to let me kiss her at midnight. She gave me her phone number which I had to memorize since I had neither pen nor paper.
Renée: Andy made a beeline for me no less than three times to ask me to dance but I held out. Alas, Corvette guy never showed so I finally gave in. He called me the following week after clearly memorizing my phone number. I was shocked.
Andreas: On our first date, I took her to the West Village, to a MacDougal street basement—those days when the village was incubating Bob Dylan and Joan Baez. We both knew that very night that we were soulmates.
Renée: Even though Andy didn't look like he had two nickels to rub together yet, he picked me up and swooped me downtown to the West Village by taxi to an exotic, thrilling, international club called the Café Feenjon.
Andreas: We were both students in college and anxious to live together—which to us and to our parents (with whom Renee was still living) meant marriage. Somehow, one day when we were studying together, we just said that we should be living together. A week later we were married. Not even a wedding per se. Just a cake and a subway run back down to the village and the Feenjon.
Alaia 

Baldwin Aronow and 

Andrew Aronow
Model Alaia Baldwin met her husband on vacation in Turks and Caicos. 
Alaia: We were on vacation at Parrot Cay in Turks and Caicos. I was invited by my family friend, Sailor [Brinkley Cook], and Andrew was with his family. My friend's mom told me there was a "cute boy waiting for me on the island." We officially met at my friend's birthday party there.
Andrew: I thought she was adorably shy and stunningly beautiful.
Alaia: We went on a family trip through Italy and then the last three days we spent alone. We went to Tuscany and stayed at a beautiful old castle hotel. The day we arrived, we had a dinner scheduled at 7:30 p.m. and all I knew was that it was a "nice" dinner. On our way, I could tell Andrew was quiet, so I started to get nervous. We got to the restaurant and walked into a private room with candles everywhere, a huge bouquet of flowers, champagne and three waiters. They poured us champagne and left, then Andrew asked if I would marry him.
Mark and Julie Steines
Hallmark Channel "Home & Family" host Mark Steines and his wife Julie were introduced by her therapy dog. 
Julie: I was living in a small New England town, writing and publishing children's books and volunteering at a children's hospital with my three-pound therapy dog, Norbert. Norbert's Facebook page attracted the attention of Hallmark Channel's Home & Family show, and I was invited to do a segment on our work as a therapy animal team. When I met co-host Mark Steines on set in Hollywood, I was a bit nervous about being on national television, but he smiled and put me right at ease with his Midwestern charm. He shook my hand, looked at Norbert and said, "You're gonna be a great wingman someday!" That comment intrigued me. I later learned he was a single dad.
Mark: I shook Julie's hand, felt a spark of energy, and amazingly knew all at once in that moment that my life would never be the same. After the show, she e-mailed me to ask me out for dinner, but I was already booked, so she returned to New England. We texted back and forth, then chatted often by phone.
Julie: Mark asked me to attend the Hero Dog Awards program in L.A. with him.  Since he was still at work when I arrived in LA, I went directly to his guest house where I found a huge basket filled with all kinds of things I loved that he had remembered from our phone conversations—lotions, snacks, candles and flowers.
Mark: Before I put my foot on the first step, I paused knowing that everything in my life from this point forward would be different. To make the red carpet event special for her, I offered to arrange for professional hair, makeup and wardrobe for the red carpet.
Julie: We had an incredible week after which I flew back East, sold my house and moved to L.A.
Mark: We got married at a surprise pop-up wedding at home; guests thought it would be a party to celebrate the next season.
Karen Dubbin and Reed Goodwin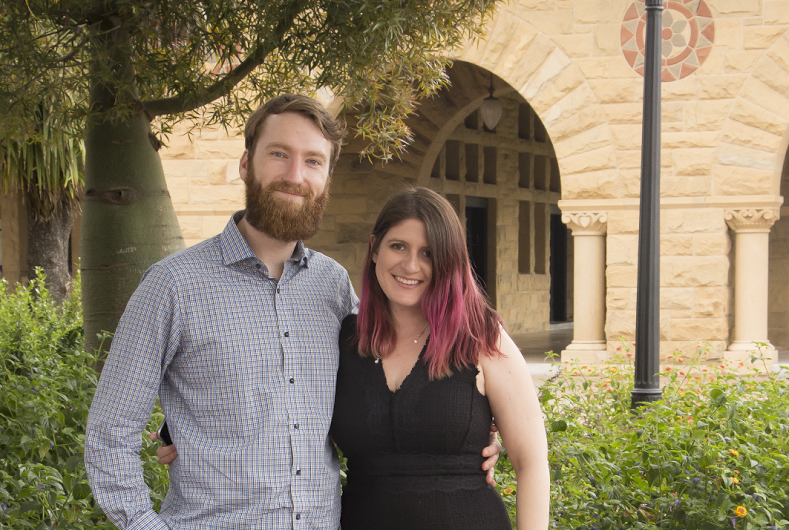 The Science Director at Aether and Forbes 30 Under 30 member met her boyfriend on Craigslist. 
Karen: Reed and I met about five hours after he replied to a Craigslist post of mine looking for a roommate for our three bedroom apartment in Palo Alto. I'd been interviewing many people and was a little over meeting new people, but he was super friendly and loved my dog so it was hard to be antisocial.
Reed: I stepped off the elevator to my roommate interview and Karen was standing in the hallway holding the cutest dog I've ever seen. I really liked her purple hair (and her dog).
Karen: We didn't have a traditional first date. When our other roommate was out of town we started hanging out more. I even helped him make a Tinder profile because he had recently broken up with an ex (he never used it). We eventually decided to be more than roommates.
Reed: Our morning schedules began matching up and we started eating breakfast together at the kitchen table. I already felt like I had more in common with her than the other roommates, but our breakfast "dates" were what made me realize that I had stronger feelings.
Matt and Jill Atkins
PGA Tour professional golfer Matt Atkins and his wife Jill were introduced by an 11-year-old. 
Jill: We met after an 11-year-old girl, Macey, persistently asked us to consider dating. She was one of my dancers on the school dance team I coached. I kept hearing about this Matt guy and how he could be my soulmate. One day, Macey Googled Matt, which took me by surprise because I really had no idea why she would be doing that to find a picture of her friend. I knew zero about golf so I figured this guy would never be interested in a middle school teacher who could barely catch a ball gracefully. When I saw his picture, I said, "He's cute! Where has he been all my life?" which made her push even harder for us to meet somehow.
Matt: I helped Macey with golf when I was home and I kept hearing about "Ms. Erwin." Macey told me she was single and ready to mingle.
Jill: A few days after Christmas, I received an invitation to a family New Year's Eve party from Macey's mom. Macey's mom texted me the day before the party saying she had a date for me…Matt Atkins. My mom persuaded me to just go for fun. We met at a family New Year's Eve party at our local high school, where Macey's dad is the assistant principal. When I walked in the gym, around 30 middle school girls were screaming that I had arrived. Young girls get into their favorite teacher finding her Prince Charming.
Matt: I didn't see her walk in, but all of the little girls at the party made sure to make her appearance known by running into the high school gym yelling at me "Ms. Erwin is here! She's here!" She ended up leaving her phone number on a paper plate that Macey's grandmother forced her to write on. I decided to text her later to wish her a happy New Year and that is where our love story began.
Jill: I was tired of being set up so I just went into the meeting with no expectations. I only planned on staying for 30 minutes. I even brought a friend with me as backup so I could leave if it wasn't worth staying. I ended up staying for three hours. Matt proposed about 10 months after we first met. He handed me a blue book filled with pictures of things we had done together with sweet captions underneath. The last page said, "The day she said yes!"
Matt: She was flipping through the book crying because she thought it was a sweet thing to do and when she got to the last page I dropped down on one knee and asked her to marry me. She doesn't remember even saying yes, but I heard it.
Paulina Serrato and Joseph Orr
The couple met at WeWork and founded maniorpedi.com together. 
Paulina: We were both working in WeWork City Hall on the 26th floor. I was an intern for BEAU, a custom-made suiting company, and Joseph was working for a different company. It was my first day and he came up to my desk and introduced himself.
Joseph: I came to visit her office to gossip with everyone, saw Paulina the intern, and introduced myself with a big smile on my face. The first time I really connected with her was in the common area during lunch, weeks later. I asked if I could sit down and eat my lunch, and of course, she didn't mind. We ended up talking about dating and relationships, and promising each other we wouldn't get back into another one for a long time. We were both lying.
Paulina: We were supposed to have lunch together, but due to a business meeting he couldn't make it. He asked if I wanted to grab dinner instead, and I said yes. We went to Toloache, one of my favorite Mexican restaurants, then to a hookah lounge. We were having such a great time that we ended the night at a local bar on the Upper East Side. We haven't spent a day apart since that night (not even joking).
Summer Sanders and Erik Schlopy 
The TV host and Olympic swimmer met her husband, an alpine ski racer and fellow Olympian, on a blind date.
Summer: My very good friend and agent set us up at a fundraiser for the U.S. ski team called the Ski Ball. Erik walked right over to me and we had already planned that we were going to give each other a handshake with a kiss on the cheek.
Erik: I just went with what was comfortable. She apparently ran this through her mind several times and we landed on the same thing. My first impression was I'm in trouble, in a good way.
Summer: Once I calmed down because I was very, very nervous, we started chatting and it maybe took him 20 minutes before he told me all about his swimming career when he was six years old, how he broke a record and immediately retired after that. We were talking and laughing so much that the car stopped, everyone was out and we didn't even know it. As we walk out, my agent said, "Make sure you invite me to the wedding, alright?" We've been married thirteen years this July.
Erik: I remember every minute of the first date. When she came in she said, "Is Becky here?" and disappeared. I thought I didn't make a great first impression. She came back and I said "Can I get you a drink? Wine, beer, club soda, anything?" I wanted to get her settled. She goes, "How about a shot of Jack?"
Summer: We'd both been married once before. The proposal wasn't a big, grand thing. I was watching Rafael Nadal during his French Open on TV and in he slides, like Risky Business, with my breakfast and a ring.
The media strategist and digital advertiser were introduced by their doorman.
The Williamsburg couple met after their doorman introduced them. 
Marissa: John, our doorman, worked extra hard to make sure I knew the guy on floor 12 thought I was cute. Eventually, through a series of trips up and down the elevator, on John's last day he arranged for Michael to stop by my apartment for a party.
Michael: Marissa moved into my building over the summer. I noticed her walking through our lobby, and mentioned to our doorman that I was checking her out. Later that day, he knocked on my door to let me know he told Marissa all about it. She hadn't noticed me, but after a few awkward messages sent between us by John, she invited me to a party that night at her apartment.
Marissa: Since it was pretty much a blind first meeting, I was pleasantly surprised he was so handsome.
Michael: I brought a bottle of bourbon and my roommate, who I made miss a date to join me, and is now dating Marissa's sister. Marissa, as beautiful as I remembered and as fun as I hoped, invited me in, where I ended up having a blast and drinking half the bourbon while hanging out her and her friends. After making the rounds at a few local bars, Marissa, two of her friends and I piled into my old Dodge and drove to Ft. Tilden beach to nurse our hangovers. Three years later, I proposed on the same beach, on the same exact day.
The former Miss Nevada and the professional fighter met at a poker tournament in Las Vegas. 
Lisa: I met Cory in very Vegas fashion: at a charity poker tournament in Planet Hollywood. We had random table and seat assignments that happened to sit us right next to each other.
Cory: I had done my best to not go but ended up getting roped into it. I'm glad I did.
Lisa: I arrived at the tournament late, so I just noticed a younger looking, attractive guy seated at my table, but past that, I didn't really pay attention. As the game progressed, other players were talking about Cory and the UFC, so I started checking him out of the corner of my eye, which is when I started noticing his athletic build and frame.
Cory: I thought she was way out of my league—I guess I better go for it.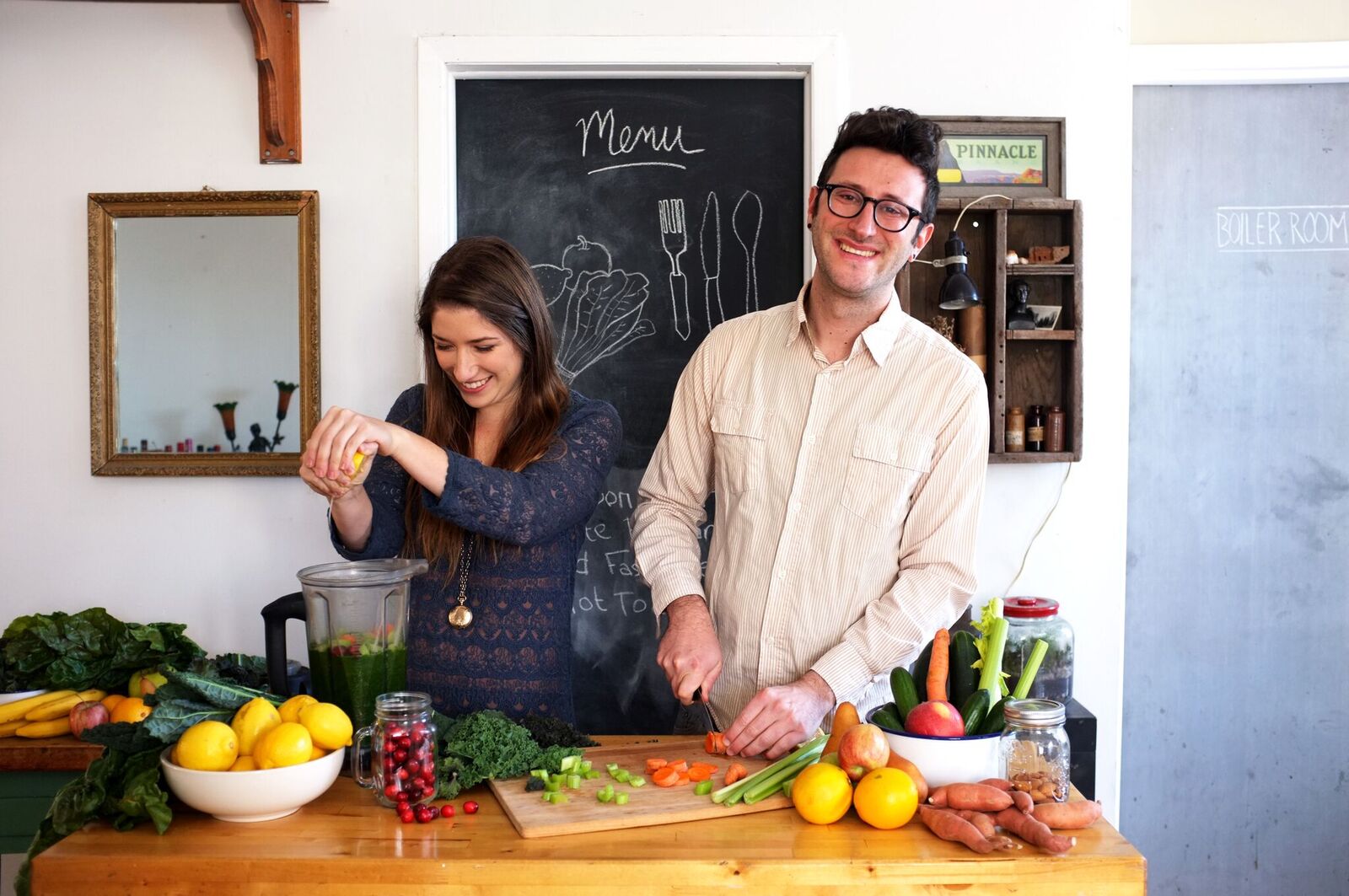 Jenna Tanenbaum and Amir Cohen met at a CrossFit party and founded GreenBlender together. 
Jenna: I met Amir at CrossFit Virtuosity in Brooklyn. I had been doing CrossFit since college and loved the intensity, community and parties. I noticed a new face and started chatting with Amir. I thought he was just as into working out as I was at the time. Turns out, he had just joined two weeks earlier. After we started dating, he stopped going!
Amir: I thought Jenna was cute, so I kept trying to chat with her. Without fail, she would give me a few minutes, then head to dance with her friends. Before the end of the night, I asked for her number. I wasn't quite sure if she wanted to go out on a date.
Jenna: Our first date was like five dates in one. We lived close together, so we had brunch at Cafe Mogador. I was planning to head home after, but he asked if I wanted to bike to the Brooklyn Bridge. That led to afternoon drinks, dinner and finally a party in Manhattan.
Amir: I planned a romantic proposal during sunset at Sand Dollar Beach. What I hadn't planned for was a giant wall of fog that met us.
Jenna: We were staying in a yurt at an eco-lodge by the coast, which was stunning. The whole day Amir was pushing for us to watch the sunset on the beach. I wasn't quite sure why, since it was a really foggy day and visibility was almost zero. When he popped the question, I suddenly realized what he'd been up to.