This Valentine's Day, Miami is taking it up a notch with a private restaurant experience on the rooftop of an oceanfront penthouse. It's called "Valentine's Day in the Sky."
Hosted at The Conrad, a five-star resort in Fort Lauderdale that opened last fall, the property's 24th-floor terrace will be transformed into an intimate restaurant where seven lucky couples will take part in tableside chef presentations, bottomless Dom Perignon and an artfully-designed meal. Each couple will be waited on by their own dedicated server, too. Yes, this dinner is meant to be as over-the-top as it sounds.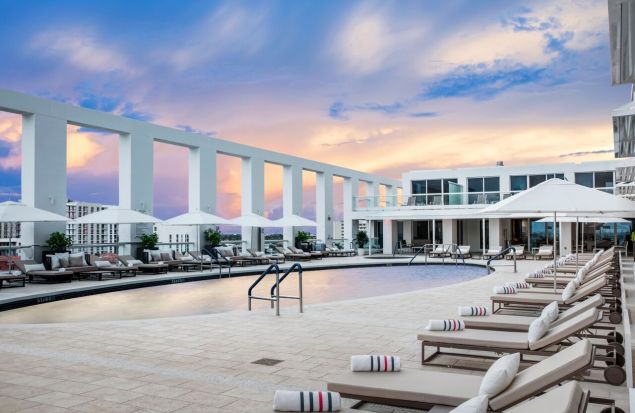 But like most Miami luxuries, this experience requires big bucks. Each table rings in at $1,000 per couple—and that's before tax and tip. We got a rundown on the once-in-a-lifetime offer from Nadim Barrage, the hotel's director of operations. 
"Our mission is to provide experiences that can't be found elsewhere in South Florida," Barrage says. "Each couple will have everything, from a dedicated host that greets them to hand-crafted dishes with just-caught seafood."
After being greeted by a personal host, couples will snack on hors-d'oeuvres, crafted cocktails, and bottomless Dom Perignon. Then comes the main meal. Jorge Ramos, the hotel's executive chef, will prepare each dish in the penthouse's gourmet kitchen. Diners can even get a look at the chef in action by stepping inside Ramos' kitchen for live demos. He will also periodically visit each table to perform presentations, drizzling sauces here and adding other finishing touches there.
The six-course menu features champagne-compressed melon with osetra caviar; Maine scallop crudo in a passionfruit broth and pink peppercorn; Jamon croquettes filled with manchego cheese and potato puree; uni risotto and a 28-day dry aged strip loin; and a dark chocolate mousse with milk chocolate, caramel, a praline disc, and warm chocolate sauce. Each table will also have its own private musician, who will play pre-selected tunes all evening long.
"As this is the resort's first Valentine's Day dinner, we instantly knew that intertwining culinary, musical and artistic elements would create something special that had never been done before," Barrage says. "As our team brainstormed ideas inside the penthouse, we took unique initiatives suggested by many different members, who then all played a role in creating what the evening will look like."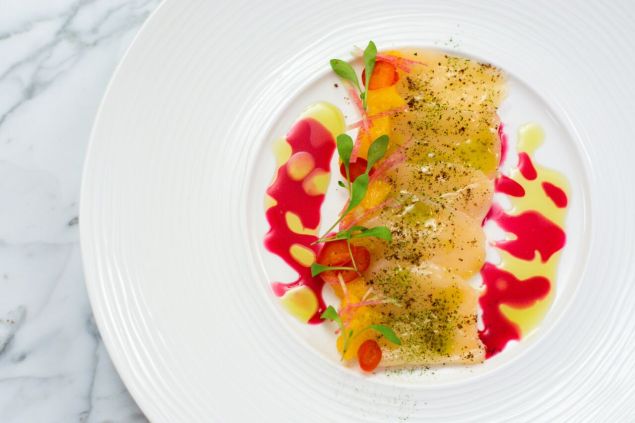 This will also be the first time that the hotel will host a restaurant pop-up on its rooftop. "Our priority is to push the limits of luxury and creativity," Barrage says. "This steps outside of traditional boundaries."
The Conrad still has availability for the one-night-only event, ideal for those who have $1,000 to drop on a single dinner. Alternatively, there are hundreds of other restaurants across town that will host Valentine's Day-themed dinners. Here's a taste—a Japanese dinner with an oceanfront movie, a vegetarian prix-fixe meal, and a boozy Galentine's soiree. Regardless of where you go, make your reservations before it's too late.